"Just Too Good to Be True"
John Lloyd Young with "My Turn"
Café Carlyle, 980 Madison Avenue (at 76th Street).
(212) 744-1600
Opened February 12, 2013
Tues. through Sat. at 8:45 PM
Cover charge Tues-Thurs: $65 per person ($45 bar seating) Cover charge Fri-Sat: $75 per person ($45 bar seating)
Closes February 23, 2013
Reviewed by Elizabeth Ahlfors February 12, 2013
It's "My Turn" for John Lloyd Young. Photo by Tristan Fuge
It was memory time at the Café Carlyle, remembering as John Lloyd Young's confident tenor and strikingly clear falsetto hit the money notes in the '50's and '60's oldies. Young is on a short break from Broadway, where he is currently performing in a limited run as Frankie Valli in, "Jersey Boys." In 2006, Young won a Tony, Drama Desk and Theater World awards for the long-running popular blockbuster that still draws audiences.

The cabaret show, however, was not about the Four Seasons songbook. Its focus was to introduce Young's new CD, "My Turn," and on his opening night, Young chose to sing only one "Jersey Boys" song, "Can't Take My Eyes Off You" by Bob Crewe and Bob Gaudio. Still, the rest of his repertoire remained largely in the same era with its infectiously melodramatic love songs like "Hurt So Bad" and "Baby, I'm Yours," accompanied by a seven-piece band. Flawlessly, they evoked the sound and arrangements of the original hits with their winning harmonies and catchy doo-wop beat.
Looking a bit nervous at first, Young warmed up quickly. From the audience, he introduced Marshall Brickman and Rick Elice, book-writers of "Jersey Boys," and commented that they had advised him to share with the audience "his humble beginning" and they would like him. It worked. After indulging in a little too much Café Carlyle history, Young limited himself to light personal patter and a lot of familiar songs. The audience was in his pocket.
Young, age 37, is an amiable, good-looking guy with a dry sense of humor but it was his vocals that caught and held listeners in an appreciative grip. Soaring to the heights with "Only You" and "Hey, There, Lonely Girl" brought instant applause and a self-deprecating quip from Young, "You kind of have to do something you're famous for." He must be acknowledged as well for impressive breath control and an immaculate tone that caresses the long notes of "In the Still of the Night," "Unchained Melody" and "You Belong to Me." His encore was "Hold Me, Thrill Me, Kiss Me," and by now, the Café Carlyle was John Lloyd Young's living room.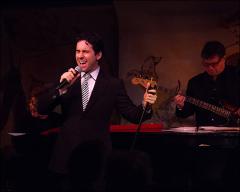 Feels so good for John Lloyd Young at the Café Carlyle. Photo by Tristan Fuge
The golden oldies make for a fun show but a career for a talent like Young's can expand much further. It would be interesting to find out what, if anything, these songs mean to him, aside from the "Jersey Boys" connection. What are his favorite songs? What genres is he drawn to and who are his musical inspirations? Two unfamiliar songs lent a promise of what might be expected from future Young performances: Randy Newman's "Just One Smile," a yearning ballad ("Just one smile to make my life worth living/ A little dream to build my world upon"). About the second song, "Say No More" (Ronnie Bird and Pierre Papadiamandis) Young claims it is "the best Roy Orbison song that was never released." (It actually can be found recorded on a Roy Orbison import, "Big Hits from the Big O.") Songs like these might point to new directions for John Lloyd Young.
The band's exuberant sound supports Young without overwhelming his vocals. Led by musical director/pianist/keyboard player Tommy Faragher (music producer of "Glee") the band includes; John Putnam on guitar, bassist Paul Socolow; Eric Kalb on drums, violinist Goke Erem, Eddy Malave on viola, and cellist Leigh Stuart.