Why Must the Show Go On?

"Can't Something Be Done?: An Evening with Edward Hibbert!"
54 Below, 254 West 54 Street
Opened February 11, 2013
Mon. at 7:00 PM
Cover charge Tues-Thurs: $25 - $35 per person. $25 food and drink minimum.
Closes February 18, 2013
Reviewed by Elizabeth Ahlfors February 18, 2013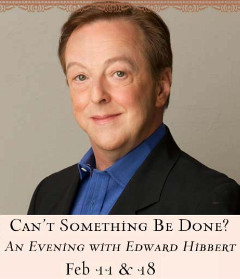 Edward Hibbert, familiar to many as "Gil Chesterton," gourmet critic on the TV series, "Frasier," does not bound onto the cabaret stage, rarin' to go. Stylishly, he sails through the audience, head high, back straight, and slight smile, and places himself before the microphone. Slowly his smile expands to a mischievous grin and, with utmost Noel Coward élan, performs "Why Must the Show Go On?" And so begins his one-man show, "Can't Something Be Done?: An Evening with Edward Hibbert!," the show where, he says, "I popped my cabaret cherry." A program of clever anecdotes punctuated with songs by Cole Porter, Noel Coward, Cy Coleman and more, whimsically traces his journey from theater to television and now intimate cabaret at 54 Below.
With a British accent as plummy as tea and scones, the debonair Hibbert defines his American connection. Since his father, actor Geoffrey Hibbert, was appearing on Broadway in "The Boyfriend" in 1955, Hibbert was born in New York, specifically "Queens." The family returned to England after the musical's run and Hibbert describes his involvement with theater beginning at age ten, when he set up a "fairy forest" theater in his back yard, with plays directed by and staring himself, judiciously auditioning local children for secondary roles.
He went on to study at the Royal Academy of Dramatic Arts and met actors who became influences like Laurence Olivier, Alec Guinness and Maggie Smith, now a close friend about whom Hilbert exclaims, "What that woman can do with a vowel…It's a symphony!" He comments how the actresses of the '50's and '60's had luscious throaty lines like, "Pour me a martini, I'm a stretcher case," regretfully, adding, "They don't make actresses like that anymore." While his British theatrical career never reached the stages of the West End, Hibbert related amusing memories of traveling in the provinces and meeting chaps like one who loved farce so much he exclaimed, "I laughed so hard I nearly did myself a bit of mischief."
Hibbert finally decided to revisit his birthplace of New York, working in theater and television. While television gave him the role of "Gil Chesterton" in "Frasier," a role that Hibbert played for "glorious eleven seasons," he describes the remake of "Fantasy Island" as "a lump of shit." He disliked filming in "Wai-ki-ki" and yearned to return to New York. Anecdotes include spot-on imitations, many told with self-deprecating wit like the time a taxi driver (a native New Yorker), said to Hibbert, "Man, I gotta tell you. Your music changed my life, especially 'Band on the Run.'." Hibbert let him know he was not Paul McCartney. He includes a hilarious imitation of Bette Davis who said about Joan Crawford, "Joan was a slut with a capital C."
Hibbert, while not a strong singer, possesses credible breath control and makes good use of his thespian experiences with astute phrasing. Smartly directed by Mark Waldrop, the anecdotes and songs neatly highlighted each other. With precise diction and acerbic wit, he elicits the humor and the love of words that Coward excelled in with songs like, "I Like America" ("It's Society/ Offers infinite variety") and relishes the complex rhyming schemes in Porter's, "Mrs. Wentworth Brewster." Hibbert is equally on target with more introspective songs like Porter's bittersweet "The Extra Man" and "I Walk A Little Faster," (Cy Coleman and the talented Carolyn Leigh).
He appeared often on Broadway, in the past few years, appearing as the campy director in Broadway's "Curtains" and in "The Drowsy Chaperone," which Hibbert lovingly recalls as, "a little piece of nirvana." Hibbert most recently appeared in the Paper Mill Playhouse in "The Sound of Music" as impresario, Max, whom he described as a blend of Nazi sympathizer and "Auntie Mame."
Irreverent, urbane and amiable, Edward Hibbert closed his show, not with Noel Coward or Cole Porter, but with a touching ballad, "Goodbye to Boston," written by Sam Davis, his musical director and accompanist.