No Nepotism Needed at 54 Below
Adam Guettel
54 Below, 254 West 54 Street
Opened February 19, 2013
Feb. 19, 22, 23 at 8:30pm, Feb. 20, 21. at 7:00pm, Feb. 22, 23 at 11pm
Cover charge Tues-Thurs: $25 - $35 per person. $25 food and drink minimum.
Closes February 18, 2013
Reviewed by Elizabeth Ahlfors February 20, 2013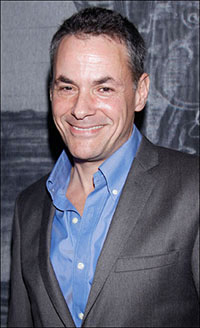 Adam Guettel shines his own light at 54 Below. Photo by Joseph Marzullo/WENN
The son of Mary Rodgers ("Once Upon a Mattress") and grandson of Richard Rodgers (composing partner to Lorenz Hart and Oscar Hammerstein II), Adam Guettel has developed a singular music sound of his own. While handsome enough to star in one of his own musicals and an expressive singer as well, Guettel invited Stephen DiPasquale and Whitney Bashore, two exquisite performers to join him in a 90-minute show at 54 Below. Accompanied by pianist Kimberly Grisby, Tim Albright on trombone, drummer Trey Files, and on bass, Dave Phillips, audiences were treated to an intimate concert of Guettel's often extraordinary theater music. Some songs were familiar, like "The Light in the Piazza" (winner of six Tony Awards) and his first musical, "Floyd Collins" (Lucille Lortel and Obie Awards) while others were works-in-progress.
Guettel's complex works-in-progress take years to develop. His music does not merely skirt around the edges of human emotions but delves deeply into the heart and mind, finding humor, despair, fear, romance and hope. From the influences of pop, folk, and classical music, he establishes and expresses characters and tells their stories, using harmony and dissonance to express emotion and chaos. His pieces evolve into creations of expanse and depth, making his musicals challenging for many listeners, but intensely satisfying for those who appreciate the complexity.
Several high points in this show included a touching non-theater song, "Baby Moon," about a woman who is anticipating the birth of her child, performed exquisitely by Whitney Bashore. From "Light in the Piazza," Stephen DiPasquale performed a stirring, "Il Mondo Era Vuoto," reflecting Fabrizio's love for Clara, and from the same show, DiPasquale and Bashore beautifully blended their voices in, "Say It Somehow." DiPasquale joined Guettel in "The Riddle Song" from "Floyd Collins," a song, claimed Stephen Sondheim, he wished he had written himself. From one of his works-in-progress, "Days of Wine and Roses," Guettel sang, "There Go I," a recognition of danger and its lure. "Find Me" is one of several songs he is working on for "Millions," a musical about a child who finds a bag of money.
While presenting his music, Guettel displayed a natural stage presence and sense of humor. Fittingly, he brought this essential show to an end with two moving soliloquies. One was an optimistic ode to faith, "How Glory Goes" ("Floyd Collins") and the other, "Awaiting You" ("Myths and Hymns"), an angry and demanding challenge to God.
At one point in the show, Guettel commented that he wants to write something that listeners can take away with them. The treats in this show are two-fold, including the intimate renditions of favorite songs from previously produced musicals (like these final two impressive soliloquies). In addition, listeners can also look forward to discovering the intrigue and promise of Adam Guettel's music yet to come.