The A-Maz-ing Marilyn Mayes is Back and 54 Below's Got Her
"Maye-den Voyage"
54 Below, 254 West 54 Street
Opened March 5, 2013
Tues-Thurs. at 7:00 PM. Fri.-Sat. at 8:00 PM
Cover charge Tues-Thurs: $35 - $45 per person. $25 food and drink minimum.
Closes March 16, 2013
Reviewed by Elizabeth Ahlfors March 12, 2013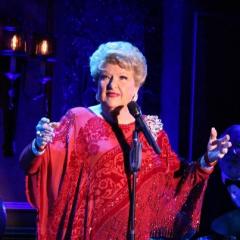 Marilyn a-maye-zes her audience at 54 Below. Photo by Russ Weatherford.
Conductor Peter Nero stated, "She sets the standard for the way any pop, jazz or big band singer would like to sound." That still holds true. At almost 85, the irrepressible Marilyn Maye remains as good as it gets. As Johnny Carson commented on The Tonight Show, "And that, young singers - is the way it's done."
Maye has a strong sense of swing, secure sense of time and her improvisational ideas and easy scat stress the jazz aura in most of her songs. Her vocals are confident, her repertoire vast and her love of entertaining evident. She has worked all her life, all the time, all over the country since age ten but only in the past seven years has New York discovered the A-maye-zing Maye in a major way. "This is my 47th show in seven years in New York."
In her "Maye-den Voyage" in the spacious Broadway nightclub, 54 Below, Maye's verve and enthusiasm out-sparkled her sequins and the glittering jewelry she collects. Accompanied by a peerless trio with conductor/pianist Tedd Firth, Tom Hubbard on bass and Jim Eklof on drums, Maye arranged her show in sections, opening with a Cole Porter medley and going on to a total of 26 songs. The selections were chosen meticulously, first aiming to welcome the audience with Porter standards like "Looking At You" and "All of You." She went on to showcase her naturally upbeat outlook with a "happy" medley featuring a full-throated belt and strutting across the stage to, "Sometimes I'm Happy" (Vincent Youmans and Irving Caesar).
Outstanding was a series of musical conversations about a woman and her romances that formed an understated one-act play of life, love and loss. It is a study in acting and perception of the lyrics joined together with Maye's keen jazz sensibility. She set up the medley with the impressionistic breathiness of, "Lazy Afternoon" (John Latouche and Jerome Moross). A touching Blossom Dearie and Jack Segal classic, "Bye Bye Country Boy," related the tale of a star's fling with…yes, you guessed it…a country boy. Going on to the tale of an older woman who spots her husband in an intimate bar with another woman, she offered, "Guess Who I Saw Today" (Murray Grand and Elisse Boyd). This was followed by two heart-rending ballads, "Lover Man" (Jimmy Davis, Roger Ramirez, James Sherman) with harmonic solidity, and E.A. Swan's "When Your Lover Has Gone," delivered with dry-eyed emotion that never melted into maudlin. The intriguing melody line and story of Billy Barnes' "Something Cool" was a poignant study of loneliness, demonstrating why her master classes are such sell-outs.
The rhythms of her songs vary and Maye's rubato is now her signature as she holds back or speeds up a song's tempo, injecting nuance. A tour de force, "Take Five" by Paul Desmond for Dave Brubeck, has become regular for Maye, and not an easy one. Maye slyly pointed out that the jazz standard was written in 5/4 time ("Get it?") and she stormed ahead with Dave and Iola Brubeck's breakneck lyrics. Supported by her trio, Maye took the complex work around the world and back again, Firth providing an extended stand-out solo of creativity.
After a salute to New York, remembering the now-closed hotel rooms where she had once performed, Marilyn Maye, like Jerry Herman's "Mame," reminded her listeners that her theme song iserman''s, "It's Today." "It's a time for making merry," she sings and continues to prove she is a Masterpiece.