Down Home Diva


Patricia Racette in "Diva on Detour"
54 Below, 254 West 54 Street
Opens March 26, 2013
Tues., Thurs at 7:00 PM. Wed. at 9:30pm. Fri., Sat. and 800:PM
Music charge $30 - $40 per person. $25. drink or food minimum.
Closes March 30, 2013
Reviewed by Elizabeth Ahlfors March 28, 2013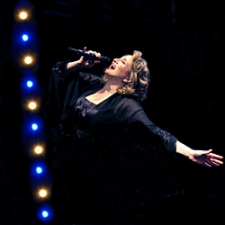 Racette in cabaret mode at 54 Below. Photo courtesy of 54 Below.
Patricia Racette is not opera's first world-class soprano to share her down-to-earth side in an intimate cabaret. She is, however, one of the few who is a natural. In her show at 54 Below, "Diva on Detour," Racette demonstrated a sharp acting talent and a flair for comedy. With her well-tempered chest voice, this star of opera houses like the Metropolitan Opera and La Scala chose some of the American songbooks' favorite standards and some of the most heart-wrenching ballads and embraced them in true cabaret diva passion.
Racette has an facility for audience communication with entertaining anecdotes and delivers a hilarious interpretation of her mother, Jackie, giving motherly advice with a dab of "mother knows best" advice("Sing with your chest voice"). Early in the show she sunk down deep for a "Here's That Rainy Day" by Jimmy Van Heusen and Johnny Burke, elongating the introspective long lines and showing impressive breath control. She wove an intriguing jazz accent through "Angel Eyes" (Matt Dennis and Earl Brent), which heightened the emotion. She gave "The Man Who Got Away" (Harold Arlen and Ira Gershwin) full-throated theatricality, softening her voice with dismissal in the words, "Good riddance," before building into the passion of the driving finale.
Ballads were her strength, closing to an apogee with selections painting a woman and her doomed romances. After the ethereal attraction in a fanciful, "Where or When" (Richard Rodgers and Lorenz Hart), trouble in paradise was suspected with "You've Changed" (Bill Carey and Carl Fischer). Murray Grand and Elisse Boyd's "Guess Who I Saw Today" drove the nail into this particular coffin, leading to the heartbreaking chore reflected in "Where Do You Start" (Johnny Mandel/Alan and Marilyn Bergman). Her selections were well-detailed and Racette understood and communicated the intent of the songs. In a surprising turn for Cole Porter's "So In Love," she veered from the usual semi-operatic delivery to a jazzier, qucker pace, lending a mood of desperation.

Racette in opera mode as Tosca in "Tosca." Photo by Scott Suchman.
If ballads were her strength, the crowd-pleasers were her French selections. After discussing her French-Canadian roots, she performed three Edith Piaf favorites beginning with, "Milord," the story of a prostitute by Georges Moustaki and Marguerite Monnot. She followed with the "stalker" song, "Padam" (Henri Contet and Norbert Glanzberg) and ended with a splendid "La Vie En Rose," written by Piaf with Monnot and Louis Guglielmi. These many always remain Piaf songs but Racette powered them home with an intense vibrato, and added a stunning fourth selection, "Mon Dieu" by Michel Vaucaire / Charles Dumont.
Between wrist-slashers, Racette included some light-hearted moments like Rodgers and Hart's "To Keep My Love Alive" from "A Connecticut Yankee" and "I'm Calm" (Stephen Sondheim), a takeoff of stage fright when she steps on stage to sing "Madame Butterfly."
She moves effortlessly from chest tones to head tones and her voice is warm and mellow, which works as easily in "Not a Day Goes By" (Sondheim) as in Puccini's "Tosca." She uses the microphone for the sultrier sound of cabaret. In addition, she has stellar diction in both English and French. With so many high points, one standout might be "Come Rain or Come Shine" (Harold Arlen and Johnny Mercer), accompanist and pianist, Craig Terry which set to the adagio accompaniment of Bach's "C Major Prelude." This adds a unique and intriguing gravitas to the torrid love song usual heard with more theatricality. Terry matches all of Racette's moods with similar passion and excitement.
Patricia Racette is one diva who was not "on detour" in a cabaret setting. She was right at home, just as she is on an opera stage.