Prince of Broadway comes to the cabaret

Faith Prince with "Have a Little Faith"
54 Below, 254 West 54 Street
Opens June 3, 2013
Tues., Wed., Thurs at 7:00 PM. Fri., Sat. at 8:30PM
Music charge $30 - $40 per person. $25. drink or food minimum.
Closes June 8, 2013
Reviewed by Elizabeth Ahlfors, June 3, 2013

She describes her latest show at 54 Below as a "smorgasbord of Faith Prince," hinting at the banquet of songs, characters, memories and laughs to come. You can also expect a well-trained, multi-faceted, Tony-Award winner (Best Actress in a Musical for "Guys and Dolls"). Add to this, three more Tony nominations ("Jerome Robbins' Broadway," "Bells are Ringing" and "A Catered Affair."), Broadway dramas, symphony orchestras appearances, and her latest CD, "Total Faith: Live from the Royal Room at The Colony," released in April.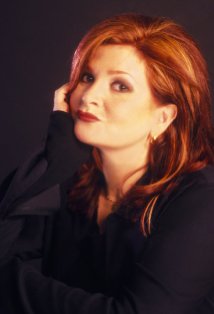 Faith Prince in "Have a Little Faith."
Awards and training, however, do not always translate into a successful cabaret show. Cabaret is intimate. There must be a personal connection between what the performer is offering and caring what the audience feels. And this is where Faith Prince moves right up to the front of the line. She is as warm as your favorite next-door neighbor, chatty and down-to-earth with a comfy sense of humor, but a neighbor who also happens to have a powerhouse voice and tells her stories with down-to-earth believability.
Prince is not a prototype of the colorful characters she has played; the long-suffering fiancee, Miss Adelaide ("Guys and Dolls"), helpful Ella ("Bells Are Ringing"), or one of her offbeat television women, but on a cabaret stage, she brings touches of all these women. Building to a power belt in Alan Jay Lerner and Burton Lane's, "What Did I Have That I Don't Have" ("On A Clear Day You Can See Forever"), or expressing the loneliness in Dave Frishberg's anthem road song, "Sweet Kentucky Ham," the stories are distinctively evocative. Adding to the sentiment of "Sweet Kentucky Ham," Prince is accompanied by one special guitarist in her life, her 17-year-old son, Henry Lunetta, lending poignancy to the difficulty of her days of leaving the family and going on the road.
Directed by Dan Foster, she opens her show with Stephen Sondheim's "Broadway Baby" ("Follies") and wraps it around Frank Loesser's crowd-pleaser, "Adelaide's Lament." They evince the pathos of pounding the Broadway pavements and the sweet humor of Adelaide bemoaning her love life. Both songs illustrate Prince's rangy vocal tone, bold, brassy, and brash and turning whispery tender for ballads. Her breath control is strong and she holds melody lines just past the point of believability. Witty phrasing reveals the pitfalls of love in Johnny Burke and Jimmy Van Heusen's "I Have To Do It the Hard Way." Especially bittersweet is Maltby and Shire's "Crossword Puzzle" ("Starting Here, Starting Now") when Prince's delivery of Maltby's clever lyrics reveal the reasons for a failed love affair. It is brilliantly comical to everyone but the heartbroken singer.
Anecdotes are conversational highlights. She tells the story of being offered the role of Audrey in the original "Little Shop of Horrors" while she was contracted to do an industrial show. Music director and accompanist, Alex Rybeck begins singing the ballad, "Somewhere That's Green" and when Prince responds with "Suddenly Seymour," the two songs join in a soft study in young love and yearning.
She also reveals a summer stock experience with Jack Jones in "On a Clear Day…." While Jones is a handsome, masterful baritone, he was lyrically challenged, especially by "Come Back to Me" with its frantic suggestions, "Take a train, steal a car/ Hop a freight, grab a star… On a mule, in a jet." Prince vowed to help him, taping the word "Mule" around various spots of the turntable stage where he could see it clearly. Hopefully it would spark the lyrics. Right. Unfortunately, the surrounding audience could see the sign but Jones did not. Not a happy ending but a funny tale.
The show becomes a family affair with the melody interlude of Earle Hager's haunting, "Harlem Nocturne." Prince's husband, trumpet player Larry Lunetta enters and soloes with a jazz-flavored "Man With a Horn" (Ray Anthony). He is then joined by Henry and Faith for a "Guys and Dolls" classic, "If I Were A Bell."
Prince's encore stresses again her depth. With throaty over-the-top rasps, she delivered the comical Mary Rodgers/Stephen Sondheim, "The Boy From…" ("The Mad Show") and follows this with a soft charming ballad by Alex Rybeck and Ira Gasman, "Bless Your Hearts." With it all, Faith Prince is a natural and everyone knows it.