Sherie Rene Scott and a well-done "Piece of Meat"
Sherie Rene Scott with "Piece of Meat"
54 Below
254 W 54 Street, (212) 744-1600
Opens June 17 2013
June 17,19, 20, 24, 26, 27 at 7PM. June 21, 22, 28, 29 at 8PM. June 28, 29 also at 11PM.
Cover Charge: Tues. – Thurs. General Seating: $65 per person/ Bar Seating: $45 / Premium Seating: $115
Closes June 29, 2013
Reviewed by Elizabeth Ahlfors, June 19, 2013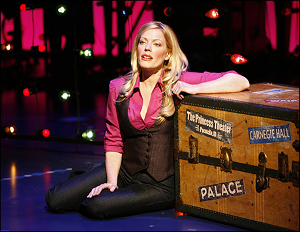 Sherie Rene Scott Performing in "Piece of Meat." Photo by Carol Rosegg.

Wild, wicked and sensational, Sherie Rene Scott takes us on a journey that I suspect will never end, her passionate search for understanding, love and joy in the energy of the universe. In her cabaret show, "Piece of Meat" at 54 Below, Scott is a sexy and energetic performer just as she was in her Tony nominated Broadway show, "Everyday Rapture." Her twisted road takes her from point one to point still-to-be-determined, hilarious and musical, brilliant with dashes of ditziness. Spiced with poignant moments and wacky, laugh-packed personal stories and songs, this piece of meat is exceptionally well done.

For 26 years, Scott was a busy theater performer ("Aida," "Last Five Years"), living on Tic-Tacs and applause. But then, "I got hungry." She wanted meat, her metaphor for complete truth including savoring basic human physical and emotional desires. But how does she fit this hunger and satisfying her temptations into the disciplined, vegetarian lifestyle she has long followed?

With spots of introspection broken up with bubbly frothiness, Scott takes the audience back through the years. She turned to her mentors, Sir Paul McCartney (who inspired her during his "ideal" marriage to Linda) and the Dalai Lama, quipping she has a lot in common with the Dalai Lama besides the question of "To eat or not to eat." She finally boiled her goals down to the basics. What does she hang on to? What does she let go of? And when?

With direction by Lear DeBessonet and Musical Director Todd Almond's piano and vocals, Scott chose songs by a range of artists to dovetail her lusty anecdotes. With Mary Ann McSweeney on bass and Eric Halvorson on drums, her varied selections included Annie Lennox, Kate Bush, and Noah and the Whales' freewheeling, "Five Years Time," showcasing the fresh touch of Scott's power vocals and interpretative skills. She inhabits songs like Paul Anka's "It Doesn't Matter Anymore" from 1959 as smoothly as a 1939 Sammy Fain/Jack Yennin tune, "Are You Havin' Any Fun?" As soulful explanations of her journey as you will hear anywhere, are McCartney's "Another Day," "Life During Wartime" (Talking Heads), and Lennox' "Honesty," as she perches beside Almond at the piano. Adding to the Sherie Rene Scott story are Todd Almond's moving, "Oh, Sean" and, "This Is Why We Do This" (written with Adam Bock).

Scott is riveting to watch. She is expressive and vocally and physically dramatic. At one point, she steps off the stage to dance across a long center table to meet a shirtless hunk with a perky bow-tie who hands her a disco ball. Not for nothing has she earned and been nominated for multiple awards for theatrical works including, "Women on the Verge of a Nervous Breakdown," "The Little Mermaid," and "Dirty Rotten Scoundrels." There are reasons she has been invited to record with Elton John and jazz pianist, Bill Charlap.

"Piece of Meat" highlights a mixture of wide-eyed brassy vulnerability in a program that is sincere and thoughtful. She quips that she likes to live by the words, "Good, fast and cheap."
Yet, one line in Joni Mitchell's "All I Want," points out what might be a more serious Scott sentiment, "All I really really want our love to do/Is to bring out the best in me and in you too." She's probably a mix of both comments, which makes this is a journey I'd love to follow as it continues, and I think it will.