A Smooth Texas Blend
Broadway at Birdland Presents Sharon Montgomery, Sally Mayes & Billy Stritch in "The Return of Montgomery, Mayes and Stritch"
Birdland
315 W. 44th St. NYC (212) 581-3080 980
One Night Only: September 23, 2013
Cover Charge: $30 Side Seating, $40 Center Seating, $10 minimum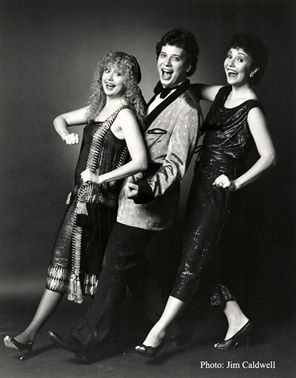 Sally Mayes, Billy Stritch, Sharon Montgomery
photo by Jim Caldwell
This eclectic trio never cut a record. They only performed together for a few years but in those years, they were hot. Sharon Montgomery, Sally Mayes and Billy Stritch created "Montgomery, Mayes and Stritch" when they were drama students at the University of Houston and went on to capture not only the heart of Houston but the heart of Dixie. With its stylized focus, the trio, traveled around the country and the New York cabaret world. They performed at Carnegie Hall, the Newport Jazz Festival, and the North Sea Jazz Festival. When Sally Mayes left the group for a solo career, she was replaced by Rebecca Plant, but by the mid-1980's, this unique trio was fini.
Thirty-two years after their University of Houston debut, the originals, Sharon Montgomery, Sally Mayes and Billy Stritch returned with their sound, fury and passion to Birdland. They raised the roof and thrilled the audience, looking cool and loose although their vocal blend was tight and seamless displaying their individual strengths in both ballads and adrenaline-pumping up-tempo tunes. Sophisticated harmonies, infectious energy, and jazz spontaneity bubbled with the energy of a Swing Street jive joint and crooned with the intimacy of a downtown boite. They listened and tuned into each other, each voice shadowing in and around the others.
With urbane singer/pianist Billy Stritch at the piano, singers Sally Mayes and Sharon Montgomery charged in with a conceptualized blast from the past, Cole Porter's "I Get a Kick Out of You," a smartly streamlined blend of three-part harmonies, vocalese and plenty of humor. "Hold Tight", because later in the show they bopped in with a jivey, funny, and sexy Andrews Sisters' hit from the '40's, "Seafood Mama." The pace revved up even more with a zany race-through of David Rose's "Holiday For Strings." They took a loping pace beginning "Bei Mir Bist Du Schoen" but their encore of "Opus One" was a final fierce attack of swing, scat, and jive.
All three performers have continued with solo careers after the trio years. Stritch appeared on Broadway (42nd Street, Minnelli On Minnelli at the Palace Theater), television, and tours. He records and is a favored accompanist for performers like Liza Minnelli, Marilyn Maye, Christine Ebersole and Linda Lavin. He proved a soulful balladeer singing what could be called a perfect love song, "It Amazes Me" by Cy Coleman and Carolyn Leigh.
Sally Mayes, a blonde with Texas pluckiness and Broadway versatility, also appears in concerts, cabarets and theater (She Loves Me, off-Broadway's Closer Than Ever, Pete 'N' Keely). She shone her fine comic flair on Sammy Kaye's 1941 hit, "Hey, Daddy" and brought out an undercurrent of Hart-felt poignancy in "My Funny Valentine" (Richard Rodgers and Lorenz Hart). Sharon Montgomery remains a popular jazz and swing singer in the Houston area, delivering her irrepressible effervescence and polished tones. Here she gave a tender reading of "Ship in a Bottle" by Amanda McBroom, another Texan.

Director Matt Berman kept the music playing with each singer taking solo turns and joining together. Outstanding was the segment where Mayes and Montgomery, posed back to back in a touching musical dialogue between a wife and mistress, asking, "Does He Love You?" Written by Billy Stritch and Sandy Knox, the song won a Grammy Award in 1993 for Best Country Vocal Collaboration for Reba McEntire and Linda Davis.
This was one of those nights to remember. It was also a performance to record and hopefully, to return again.