Holiday in a Barbour Shop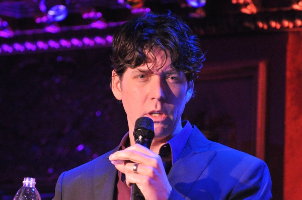 James Barbour
James Barbour with his "Sixth Annual Holiday Concert: A Broadway Tradition"
54 Below, 254 West 54 Street
First Show Dec. 7, 2013
December 7 at 11:00pm and December 12 at 7:00pm.
Music charge $30 - $40 per person. $25. drink or food minimum.
Second Show Dec. 12, 2013
Reviewed by Elizabeth Ahlfors, Dec. 12, 2013
"It's the Most Wonderful Time of the Year" -- the 1963 holiday favorite, could not have rung more true. You usually hear the captivating richness of Broadway baritone, James Barbour, on the Broadway stage, acclaimed in major musicals like his portrayal of Sidney Carton in the short-lived, "A Tale of Two Cities." Catching him upfront and personal in the intimacy of a cabaret room, however, brings special rewards. His brooding face and lanky disarray effected a cozy fit in the cabaret space of 54 Below. With natural charm and snippets of humor, he shared stories of his life and beliefs. He interacted with an enthusiastic audience of fans barely a foot from the stage, creating the necessary intimacy to draw in listeners. He occasionally stopped in the middle of a song to smile obligingly as a fan aimed a camera. Now, this can be annoying but with his casual demeanor and the feel-good music, Barbour managed to create a comfortable informal respite in the middle of a busy holiday season.
Barbour's selection of music highlighted his theatrical sophistication, rich vocal tone and a keen sensitivity, outstanding with poignancy in "Believe" (Glen Ballard and Alan Silvestri's song in "The Polar Express") with its advice, "Believe in what your heart is saying." He communicated the nostalgic feeling in tunes like, "White Christmas," "I'll Be Home for Christmas," and "Silent Night." In a lighter vein, he delivered a salute to Barbra Streisand's racing version of "Jingle Bells" and a high point was bringing the audience into the party spirit with "Twelve Days of Christmas."
On piano, Barbour was accompanied by Jeremy Roberts and, as in previous shows, Barbour added some performing pals. The first show included Stephen Wallem and Tony Harnell. In the second show, reviewed here, a surprise visitor was a two-year old tiny tot with drum sticks and a lot of stage presence who almost overshadowed the star. Pearson Stevenson was the son of commanding guest R&B pianist/singer Jesse Stevenson. As Stevenson was called onstage to perform "The Christmas Song," his plucky son marched up the steps, was perched on a stool and accompanied his father with the sticks (no drum). Yes, he lost interest occasionally, and yes, he was sometimes distracted by the front-row audience, but then he would re-focus and find the beat again. This little charmer was perfectly at ease. When his father's song ended, they left the stage and Pearson sat on his dad's lap watching the rest of the show, sticks in hand.
Pearson returned when Barbour's second guest, Broadway actress/singer Mary Testa called him up to accompany her with his sticks and a small drum in a winsome version of "Little Drummer Boy." He also joined his dad for Jesse Stevenson's impassioned, "Hallelujah."
Despite the accomplished guest performances, the show belonged to James Barbour's stirring renditions linked by comments about his family. Always close to his late mother, he included her favorite Christmas carol, "Oh, Holy Night," starting in a reverential somberness and rising slowly in his beautifully nuanced baritone. His late father had barely missed death in World War II and 47-year-old Barbour pointed out that he would not even be here if his father had not been rescued by a passer-by. He is disappointed that his parents never lived to see his own two young daughters. Their parental influence, however, has helped him learn to appreciate the testaments to endurance shown by leaders like Nelson Mandela. In that spirit, he sang Frank Wildhorn's "Bring Me Giants," (from "Cyrano de Bergerac: The Musical"), referring to Cyrano as he sheds his insecurity and acquires the strength to tackle any giants trying to block his goals. In his master classes, and in this show, Barbour proved his dedication to encouraging confidence and taking risks.