Life Is Just a Bowl of Cherries at Lyrics and Lyricists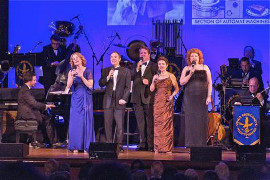 Erin Dilly, Jason Graae, John Treacy Egan, Christine Andreas, Klea Blackhurst, "Sweeping the Clouds Away". Photo by Richard Termine.
Lyrics & Lyricists, "Sweepin' the Clouds Away"
92nd Street Y, Theresa L. Kaufmann Concert Hall
Lexington Avenue at 92nd Street
First Show on Feb. 22, 2014
Feb. 22 at 8:00pm, Feb. 23 at 2:00pm and 7:00pm, Feb. 24 at 2:00pm and 7:30pm.
Music charge from $55
Last Show on Feb. 24, 2014
Reviewed by Elizabeth Ahlfors, Feb. 23, 2014

You got rhythm, you got music, you got your men - who could ask for anything more? it was all there at Lyrics and Lyricists' second show of the season at the 92nd Street Y. With the high-voltage jazz band of Vince Giordano with Peter Yarin at the piano supplying rhythm, music and men, "Sweepin' the Clouds Away, Boom, Bust and High Spirits" revisited the boom of the Roaring '20's to the bust of the Great Depression. The hands of time reached out to address how the country coped with the slide from high times to bum times. One answer was in its music.
From theater and cabaret, Christine Andreas, Klea Blackhurst, Erin Dilly, John Treacy Egan and Jason Graae presented a range of tunes. Host, music historian Robert Kimball, pointed out that the Great Depression did not affect the country in a major way until a few years after the Wall Street collapse. Most of the 32 songs presented here reflected the sunny side of life from 1929 to 1932, some as high-spirited as Ira Gershwin, Billy Rose and Harry Warren's "Cheerful Little Earful" sung by Klea Blackhurst, a pretty cheerful belter herself. Later, Blackhurst, strumming her ukulele, reminded folks that even in those threatening times "Life Is Just a Bowl of Cherries" so "live and laugh at it all." This tune was written for Ethel Merman by Ray Henderson, Buddy G. DeSylva and Lew Brown, a team that lasted only six years but produced a bundle of enduring hits.
Many songs turned to love in one form or another. In Walter Donaldson's "You're Driving Me Crazy," Blackhurst paired with Jason Graae for some snappy bickering. A versatile entertainer with a sly sense of humor, Graae's high point came when he was strolling down "les boulevards" as a world-weary Frenchman, admitting, with vibrato and a Gallic shrug, that he was "Just a Gigolo" (Julius Brammer/Irving Caesar/Leonello Casucci).
Not neglected was the darker side of the times. Christine Andreas lent shaded acting and sublime singing to "Body and Soul" (Edward Heyman/Robert Sour/Frank Eyton/Johnny Green) that was impassioned without falling into melodrama. Similarly her restrained rendition of Cole Porter's "Love for Sale" portrayed a hooker's gritty street reality with wry maturity. Erin Dilly ("A Christmas Story"), lent a guileless shading to the taxi dancer's plaint, "Ten Cents a Dance" by Lorenz Hart and Richard Rodgers. A lament for all lovers and still a jazz favorite today, was Andy Razaf and Eubie Blake's sophisticated "Memories of You," performed by Andreas.
Baritone John Treacy Egan joined Andreas in "Embraceable You" (George and Ira Gershwin), one of the lustrous love songs of the period that have become classics. Egan's melodic delivery, "Time on My Hands" (Harold Adamson, Mack Gordon, Vincent Youmans) and Dilly's poignant "Something to Remember You By" (Howard Dietz and Arthur Schwartz) were notable dance tunes.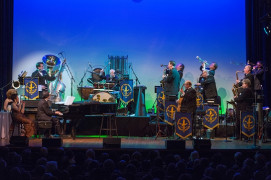 Vince Giordano and The Nighthawks. Photo by Richard Termine
Above all, it was Giordano's ebullient band that set the mood of determination and get-to-it spirit that lifted Americans through the worst of the times. (Of course, we quickly moved into the second World War, but that's another program). Giordano has a vast collection of vintage arrangements and one high point in the show he featured the early swing brass extravaganza, "Jazznocracy," written by Will Hudson in 1934 for the Jimmie Lunceford Orchestra. The band also showcased the vigorous spontaneity of jazz with Duke Ellington's "Rockin' in Rhythm."
Pianist Peter Yarin, who co-directed the show with Vince Giordano, supported the singers with whatever was needed, keyboard bounce or subtle back-up. Stage director, David Garrison seated the performers on stage to watch the band from small, candle-lighted tables in a nightclub setting. With John Kelly's ambient lighting and screened projections of photos and sheet music, the mood was as evocative as the music. It was all brought home by the ensemble in the Herman Hupfeld classic reminder that the fundamental things still apply "As Time Goes By," written in 1931 and made famous in 1942's film, "Casablanca."
Upcoming shows in this season's Lyrics and Lyricists are:
"Getting to Know You: Rodgers and Hammerstein" with Ted Chapin serving as Artistic Director and Host. The cast will include Rebecca Luker, Brandon Victor Dixon, Jonathan Groff, Phillipa Soo. (April 5,6, 7).
"Ziegfeld Girl: The Many Faces of Fanny Brice," Ted Sperling is Artistic Director, Stage Director Writer and Host. The cast includes Capathia Jenkins, Leslie Kritzer, Faith Prince, Clarke Thorell (May 3,4,5)
"Panning For Gold: Great Songs From Flop Shows" with David Zippel, Artistic Director, Co-Stage Director, Writer and Host. The cast here includes Brent Barrett, Christiane Noll, Jessica Lea Patty, Lillias White (additional artists TBA). (May 31, June 1,2).
.