Twice Around for Karen Wyman

Karen Wyman with "The Second Time Around"
Metropolitan Room
34 West 22nd Street (212-206-0440)
Opened March 6, 2013
Wednesdays, March 12 19, 26 at 7PM
Music charge: $25 per person. Two drink minimum.
Closes March 26, 2014
Reviewed by Elizabeth Ahlfors, March 12, 2013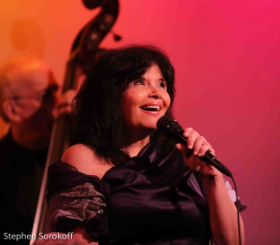 Photo from "The Second Time Around". Photo by Stephen Sorokoff.
The first time around, Karen Wyman was a 16-year-old Bronx belting sensational who sparked viewers of TV's "The Dean Martin Show" to sit up and take notice. This young performer demanded attention and she got it in on "The Ed Sullivan Show," "The Tonight Show Starring Johnny Carson," and just about every other variety show on television and in 1969, variety shows were the key to success. Nightclubs and recordings followed and Karen Wyman was looking at stardom.
But circumstances change, audiences hear other voices, newer singers. Wyman decided to devote her time to her new family. Today, the 16-year-old sensation is a 61-year-old smash facing a career comeback with "The Second Time Around" in a repeat performance at the Metropolitan Room. Scanning the room, she goes on to present the show like a holiday surprise. Her vocals are solid though more textured, her breath control is substantial and her insight to the lyrics show a lot more understanding. She is comfortable and communicative on stage and the belt is anchored by ebullience. "Hurry! It's Lovely Up Here!" by Burton Lane and Alan Jay Lerner, explodes with natural optimism and, after singing the title song, she asks the audience, "You know what?" with a hint of the Bronx, "This is our second time around."
She also understands that she needs the best team behind her to present a first-class performance and highlight her assets. While John Oddo is her musical director/pianist, in this show, she has Kenny Asher serving her tastefully on piano, Jay Leonhart on bass and Eddie Caccavale on drums. With Dennis Deal as stage director, the smooth flow of the show is a showcase of how to put on an entertaining, professional, successful cabaret show.
Most important, Wyman also understands what she is singing about. She has said, "It feels different than when I broke in. I was a kid. I was intuitive, but now I know what the songs are really about. I've lived. I'm not a kid, I'm a woman!" She shot that message home in final encore selection, "Why Can't I Walk Away? (Hugo Peretti, Luigi Creatore and George David Weiss). It was a song she performed as a teenager on "The Ed Sullivan Show" when her vocal power and control were polished yet her delivery was empty of interpretation. Her rendition today is authentic, with phrasing and stress striking the heart of the song.
Married and divorced a few times, she has experience to draw on. Taking her time with a subdued, "After You've Gone," (Turner Layton and Henry Creamer), she still manages to unveil layers of fury and disappointment. At one point, she states simply, "when you grow lonely," before bringing the song home to her final long, controlled line.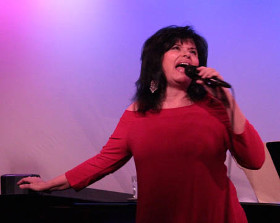 Photo from "The Second Time Around". Photo by Russ Weatherford.
Wyman evidently finds her comfort level in the no-holds-barred show-biz power belts like a Peter Matz up-tempo arrangement of "Night and Day" (Cole Porter), energized with rhythm and strength. Her ballads, however, are quite effective, showing shadows of thought and emotion. Delivering both types of music reveals where she is at this point in her life and accenting the depths and heights of life's roller coast ride and the unexpected turns. She reflects the uncertainties and pain in "Where Do You Start? (Johnny Mandel and Alan/Marilyn Bergman), paired with "A House Is Not A Home," backed by Asher in a simple piano accompaniment. Most subdued and touching is her tribute to her idol, Eydie Gormé, who died last August. Putting down the microphone, Wyman renders, "Softly, As I Leave You" (Antonio DeVita, Hal Shaper with English lyrics) at the end of her medley from Gormé's songbook.
As much as I enjoyed the electricity in her up-tempo passion of "Come Rain or Come Shine" (Harold Arlen and Johnny Mercer), her rendition of Irving Berlin's "Always" brought a hush to the room. I found myself wishing for more ballads that she could neatly dive into.
It looks like Karen Wyman is looking at stardom for the second time around.