| go to index of reviews | go to entry page | | go to other departments |

Burn the Floor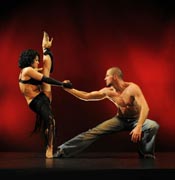 "Burn the Floor" -- photo by Kevin Berne
"Burn the Floor"
Directed and Choreographed by Jason Gilkison
Longacre Theatre, 220 West 48th Street, NYC
www.burnthefloor.com
Opened August 2, 2009, closes October, 30, 2009.
Reviewed By Edward Rubin, August 5, 2009
Being an exhibition dancer during my teens and an Arthur Murray ballroom dancing instructor while at college – they were desperate for young men to move fat ladies across the floor – "Burn the Floor," currently dancing its way to filled houses at the Longacre Theatre on Broadway, had me sitting both ecstatically and nostalgically on the edge of my seat for nearly two hours.
Directed and choreographed by Jackson Gilkison, Burn was first created as a 20 minute entertainment for Elton John's 50th birthday celebration in 1997. Subsequently turned into a full length evening, it has been traveling around the world for over a decade. Part cabaret and a whole lot Las Vegas, "Burn the Floor," also reminiscent of those wonderful musical nightclub movie numbers from the 40s, is a compendium of ballroom dances, letter perfectly performed, by an international lineup of award winning dancers. Comprised mostly of Latino dances with a few waltzes, a bit of Lindy, Jive and Swing, with two sexy singers thrown in, the show, from beginning to end, had the audience oohing and aahing at each electrifying dance and song number. So captivating were the beats that we all had to restrain ourselves, at least till the final curtain call, from getting up to dance.
"Burn the Floor" is all about the sexy beats and rhythms of dance and music, impossible bodily contortions, tight and scanty costumes, the eye-catching candy of young bodies, and if your gonads are intact and you can rise to the occasion, your hot and bothered imagination. I mean, who doesn't like to watch young and hot nubile dancers moving every which way and loose, which is why Dancing With the Stars and So You Think You Can Dance, on which Gilkison was guest choreographer, are two of TV's biggest hits. Not coincidently, Karina Smirnoff and Maksim Chmerkovskiy, well known from their numerous appearances on Dancing With the Stars, are the two featured stars of Burn the Floor. On the day that I attended the obviously TV savvy audience went crazy the minute Karina and Maksim showed their faces. Pulling the show perfectly together, and always at the just right time, was a small stellar band and two wonderful vocalists, Ricky Rojas and Rebecca Tapia. Aimed at our heart, the intimate love songs of these sexily voiced balladeers hit their target every time.
The standout of the evening was the beautiful and ever exciting Giselle Peacock. Aptly named after the colorful bird of paradise, this surprisingly petit, tightly wound ball of pure muscular energy was the high-flying highlight of the evening. [Rubin]