"Shalom Dammit! An Evening with Rabbi Sol Solomon"
Written and Directed by David Lefkowitz
Musical Director: Richard Stone
Roy Arias Theater Center
300 West 43rd Street
New York, New York 10036
Preview Tuesday, August 1, 2012
Opening Night Wednesday, August 1, 2012
Closing Night August 12, 2012
Performances are Tuesday 7 PM, Wednesday 2PM & 7 PM, Thursday 7PM,
Friday at 7 PM, Saturday at 2 PM, 7 PM, Sunday 1 PM, 5:30 PM.
Tickets $18 (students/seniors $15) can be purchased online at www.brownpapertickets.com,
in person at the box office or by calling 800- 838-3006.
David Lefkowitz; writer director and actor of the "Shalom Dammit!" show.
All Things Jewish seems to be all the rage here in New York City. Old Jews Telling Jokes, a fun-filled revue starring Marilyn Sokol is packing them in like nobody's business at the Westside Theatre. Soul Doctor, the hit musical based on the life of singer-songwriter Rabbi Shlomo Carlebach – it recently closed at the New York Theatre Workshop after a three week run – is currently looking to reopen in a larger space. And David Lefkowitz' Shalom Dammit!, a rollicking, rolling, one man 'work in progress' which had two sold-out runs earlier in the year – the first at the Richmond Shepard Theater, the last at the Roy Arias Theatre Center – is threatening to come back to the Big Apple again. I might add by popular demand. Yes, the rabbi has a huge following.
Written, directed, and acted out to a fare thee well by triple threat David Lefkowitz – who channels the fictitious Rabbi Sol Solomon – Shalom Dammit! is a theatrical primer on what it is to be a Jew in the 21st Century. The play is stuffed to the gills with song and dance, a generous sampling of smut, inflammatory jokes, trenchant observations, and a plethora of clever play on words, all delivered at the speed of a comet. Better yet is Rabbi Sol's athletically explosive performance. He leaves no stone, or for that matter, no audience member unturned. And this is just act one. Come act two, the good rabbi cum sideshow barker, taking the temperature of the entire world, robustly tackles the history of the Jews, good, bad, past, present, and a possible future.
Even before Rabbi Sol steps foot onto the stage the audience's brain, soon to be seriously scrambled, if not reprogrammed, is given a hint of the wild ride coming down the pike by musical director and accompanist, Richard Shore, whose audience welcoming introduction, more than a bit like the play itself, veers from tongue in cheek serious to smilingly funny. "In this era of social unrest and religious uncertainty" leads to Shore's amusing enumeration of Rabbi Sol's credentials. "He is a proud graduate of the Solomon Schechter Jewish Theological Nursery School of Ocean Parkway, valedictorian of the Hebrew Institute of Culinary Distress in East Jerusalem, and for the past twelve years, the spiritual leader of Temple Sons of Bitches in Great Neck, New York."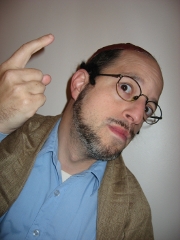 David Lelkowitz as Rabbi Sol Solomon.
Enter the larger than life the rabbi dressed in Chassidic-style garb: dark pants, white shirt, dark coat prayer shawl, yarmulke, glasses, and dark sensible shoes. Aping his introduction, first serious then funny, he begins by telling us how thrilled he is to be here with us. Immediately doing an about face – a favorite ploy of his — the good rabbi, in shades of Henny Youngman's 'Take My Wife' Catskill Jewish humor, informs us that there are plenty of other places in the world where he could be right now. "I could davening at the Wailing Wall, dining in Miami Beach, swimming in the YMHA pool, or merely having a nice long pish . . . in YMHA pool. All of these things are wonderful, but they are not as wonderful as being here with you: my congregation for the evening. I take you all to my heart. Although, if you saw the condition of my heart…" Badda-Bing, Badda- Bang! And the play begins.
Shalom Dammit!, in two acts, 10 scenes, and seven cleverly worded songs, nicely sung by the rabbi, is both laughingly funny and deadly serious in its intention to educate its audience as to what is to be a Jew, and by extension a human being. Of course knowing his audience, the good rabbi uses humor, song and kinky dance moves to make the informational packed medicine go down. In Show & Kvell – my favorite skit of the evening – Rabbi Sol, utilizing images of allegedly "famous" orthodox rabbis, all encased in solemnly serious black garb, turns the theatre into one big laugh as he exposes the fictitious life of each rabbi. "This was the not-so-great Rebbe of Lithuania. But he taught us an important lesson. He was a rather insular Rebbe, very stingy. Only towards the end did they find out that every single week he saved up and saved up, and, anonymously, made a donation through the local bank. (pause) It was a sperm bank, but still…
While act one playfully sets the stage, act two goes in for the kill. Here Rabbi Sol slices the air with damning facts tempered ever so slightly with non PC jokes. On WWII and Israel: "Anti-Semites can say Jews are sneaky, we're pushy, and we're an international conspiracy. No, no, no. We are simply a nation of noodges. Because if we weren't, there would not be an Israel, and we would all be corpses in Eastern Europe. On Arabs: "Maybe this is racist to say, but the biggest slackers tend to be the Arabs. Lockerbie, Madrid, Beirut, Mumbai, Algeria, Munich…from the people who gave us Leon Klinghoffer and the USS Cole and World Trade Center I, it's World Trade Center II – complete with 3000 reasons to hate these fakakteh people. To relieve the tension, he follows with "Two Arab children are talking. One says to the other, "So, what do you wanna be when you blow up?" Am I being hard on the Muslims? Good! Decades of terrorism will do that to a person."
Going one step further – obviously with a deeply embedded anger and a sorrow that rendered the audience silent, how could it not be? – is Yankel and Irving, the rabbi's favorite joke in the world "because it says everything you need to know about the Jewish mindset: the fear, the resilience, the rage, the guilt, the desire to fit in…" Yankel and Irving, two old friends, are in Auschwitz. They're standing, naked, over an open pit about to be shot by an SS guard. And the guard says, "Well, filthy Jews. Any last words?" Irving looks around and says, "You pigs. You poisonous blood clots from the cunts of your syphilitic mothers. I hope your families die in such agony that vultures will be afraid to touch their corpses. You fucking animals. You godforsaken monsters!" At which point, Yankel comes up to him and says, "Shh, Irving! Don't make trouble."
Breaking News! In a recent conversation with Rabbi Sol, currently holed up at the Jackie Mason Playwright Rehabilitation Center, Shalom Dammit!, like the playwright himself, is being put on a diet. Both plan to return to the Big Apple, as a svelte 90-minute one act. I am placing money on Rabbi Sol. If anybody can pull this off, surely the good rabbi can.