BenDeLaCreme
Going Solo in Terminally Delightful

Concept/Book/Original Lyrics: BenDeCreme
Dream Ballet Choreography: Kitten N'Lou
Original composition and Terminally Delightful theme song lyrics: Major Scales
Costume Design: Danial Helman
Lighting Design: Mike Faba
Sound Design: Kevin Heard
Video Special Effects: Ben Laurance
Laurie Beechman Theatre
407 West 42nd Street
New York, New York 10036
Opening Night: Wednesday, May 21, 2014
Closing Night: Sunday, May 25, 2014
Wed-Thurs 9PM, Friday 7PM & Midnight, Saturday & Sunday Midnight.
Tix are $22, $40, VIP Tix also available.
Reviewed by Edward Rubin: Wednesday, May 21, 2014
To purchase tickets: 212-352-3101 or www.spincyclenyc.com



Photo by Jigi Lee.
The wonderfully intimate, 80-seat, Laurie Beecham Theatre, situated across from Theatre Row, and a few blocks west of Broadway is one of my favorite theatrical venues. Located on the lower level at the West Bank Café, itself one of my favorite Pre and Post Theatre Drink and Dinner Haunts—their drinks are divine and the menu's addictive black linguini with shrimp, tomato, and sweet garlic, served at the both restaurant and theater, is to die for.
The talent on view which includes, among others, Joan Rivers, she delivers some forty stand-up shows during the year, is always unique, and more often than not, eye-popping. Even the theatre's over-the-top, party-going audience, all worshippers at the altar of whatever is on stage, bolstered by drink no doubt, is several exciting cuts above your average boring theatergoer—the reason being this venue, mercifully, is mostly kid and tourist free.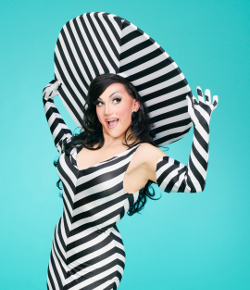 Photo by Jigi Lee.
Confession: After reading that the Seattle based performer and Ru Paul alumnus BenDeLaCreme was making his solo debut in Terminally Delightful at the Beecham Theatre, I just had to book myself in for a performance. The tail that wagged the dog was Spin Cycle's press release which mentioned that BenDeLaCreme was one of the hottest stars on RuPaul's Drag Race Season 6, a cable TV show that I always wanted to see but never did. Now was my chance to get a whiff of what Drag Race was all about.
Furthering my interest was the fact that all three of LaCreme's scheduled performances sold out in a heartbeat, and Kitty La Rue and Lou Henry Hoover, both amazing performers in their own right, were to be part of the show. To accommodate BenDeLaCreme's groupies, a few midnight shows – another good sign that a lot of fun was to be had – were added. These too quickly sold out.
With much fanfare, whistles, hollers, shouts from the audience, and a rousing musical introduction, the larger than life, black-haired and fully made up LaCreme, wearing a glistening blue sequined gown with a sash that read Miss Congeniality, took to the stage.
The sash could have also read Miss Personality Plus, as the next 90 minutes, without missing a beat, the extremely talkative and nubile LaCreme, with unflagging energy and a voice which at times seemed to be paying homage to Carol Channing, had the audience eating out of his/her hands.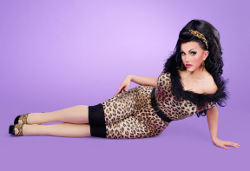 Photo by Jigi Lee.
LaCreme's first song, Terminally Delightful, clued us in as to what to expect—good clean, down-home fun, stripped of your usual, in-your-face, drag queen chutzpa, bitchiness, and filthy jokes.
What's in a name, a question that I asked after seeing BenDeLaCreme's name in print, was still on my mind when early on in the show, LaCreme, breaking into song (or was it a riff?) explained the meaning of her moniker.
"It's a play on the term Crème de la Crème which is French for Cream of the Cream which just sounds like a dirty mess," she laughed.
"I consider BenDeLaCreme to be the very best of Ben which is the name of the gentleman that I share a body with. DeLa is how I refer to the lady part of me. If you say Ben you're talking to that guy. If you say DeLa you are talking to me."
Though much of the show is standard fare – a bit of song, dance, and patter, with a piñata of contorted faces and head tilts – several numbers were simply wonderful.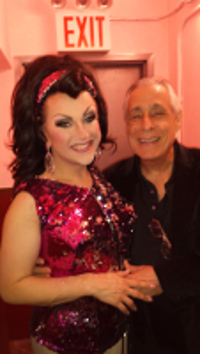 Kitty La Rue and Lou Henry Hoover. Photo by Edward Rubin.
In Ask DeLa – a Q & A session – a sassy LaCreme interacted with eight of her alleged diehard fans via a large video screen. Each of the people and their questions which LaCreme treated seriously, were zanier than the next. What made this skit so shockingly wonderful is that each character, old, young, man and woman, all of who I first thought were hired actors – later on Kitten LaRue clued me in – was in actuality a totally unrecognizable LaCreme. It turns out – who knew - that both Ben and LaCreme are fine actors.
In another inventive routine, LaCreme, wrapped, from head to toe in a plain black sack, and moving faster than the speed of light, morphs into a series of comic characters, each sporting a different mood, by simply rearranging various stick-on eyes, noses, and mouths, onto her cloth-covered face.
At another point in the show, we get a jubilant dream dance sequence, complete with flying ribbons and hand-held masks, featuring the face of Ben as a young boy. Here LaCreme is joined by the show's two choreographers, Kitten LaRue and Lou Henry Hoover who are married in real life. The punch line of this humorous routine, reminiscent of Imogene Coca's, Lucille Ball's and Carol Burnett's hysterical yesteryear balletic escapades – we are talking a formidable history here – is LaCreme at her daffiest. Lost in her own world, and totally out of step with the others, she teeters blindly around the stage.
Kitty La Rue and Lou Henry Hoover. Photo by Edward Rubin.
When I got home, wanting to know more about this wonderful trio, I immediately went online to check out LaCreme's, Kitten's, and Lou's websites. I followed up by logging onto YouTube where I found a great many exciting video postings for all three. I got to watch all of BenDeLaCreme's fabulous, in-your-face appearances on Ru Paul's Drag Race, as well as two videos, one featuring Kitten and Lou dancing, the other, a wildly unique video taken at their wedding.
What I found both strange and inexplicable – and I am still pondering this – is that the videos, with better costumes and scenarios, were a lot more entertaining than the show itself. Flabbergasted, I asked myself why such obvious genius failed to make it to the stage. Was it the First Time Out in New York Jitters? Did somebody get lazy? Was the venue misjudged, or did the lack of other Ru Paul drag race challengers put a damper on LaCreme's "I need to win" fighting mode?
This said, I fully expect that the next time around – the word is out that LaCreme will be returning to the Laurie Beechman theatre by popular demand – that adjustments will be made, ammunition will be brought to the fore, and both Ben (I would like to see more of him) and LaCreme, and Kitten and Lou, if they are invited along for the ride, will blow us all out of the water.
Cast: BenDeLaCreme, Kitten LaRue (dream ballet), Lou Henry Hoover (dream ballet).