Marjorie Prime at the Mark Taper Forum

"Marjorie Prime"
Playwright: Jordan Harrison
Director: Les Waters
Set Designer: Mimi Lein
Costume Designer: ILona Somogyl
Lighting Designer: Lap Chi Chu
Sound Designer: Adam Phalen
Mark Taper Forum at the Music Center
135 North Grand Avenue
Los Angeles, California 90012
Opened: Wednesday, September 10, 2014
Closes: Sunday, October 19, 2014
Wed- Fri 8PM, Thurs 7PM, Sat 2:30PM, 8PM, Sun 1PM, 6:30PM
Tickets range from $20 - $70, Available by subscription only by calling 213-972-4444.
For Single Tickets call 213- 628-2772 or order online at www.CenterTheatreGroup.org, or buy at the box office.
Reviewed by Edward Rubin: September 23, 2014


Jeff Ward and Lois Smith. Photo bt Craig Schwartz.
With the population aging – think baby boomers, as well as their parents and grandparents – Alzheimer, dementia, and loss of memory, if you push aside the daily barrage of updates on Ebola, ISIS, terrorism, and the many wars being fought around the world, are among the hottest of the hot button topics around.
It used to be articles on the spread of AIDS, and then it was a couple of Gulf Wars, and do not forget 9/11 that held us prisoner. Having survived this, today it is all about aging and the loss of memory that is capturing our attention. As such, everybody that I speak with knows somebody suffering from Alzheimer's, or some sort of dementia. It seems to be an epidemic.
Since art follows life, there also appears to be an upsurge, not only in the media, but in film, theatre and TV, on the various ways of leaving the planet with a large chunk, if not all, of your memory going, going, gone.
Among the major movies featuring loss of memory as the locus is the extremely romantic love story with a shocking ending, Amour which won an Oscar for Best Foreign Film in 2013, Away From Her (2006) based on a short story by Alice Munro starring Julie Christie – she was nominated for an academy award as best actress – and The Notebook (2014) in which Gena Rowlands, playing an Alzheimer patent in a nursing home, has her memory intermittently rekindled by James Garner reading stories to her.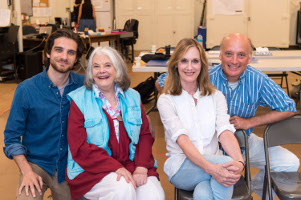 L-R: Jeff ward, Marjorie Smith, Lisa Emery and Frank Wood. Photo by Craig Schwartz.
As far as loss of memory, topping the list in plays, as far as exposure, is Sharr White's The Other Place which opened Off Broadway in 2011 before moving to Broadway in 2012. Directed by Joe Mantello and starring Laurie Metcalf, in both productions, as a pharmaceutical company scientist promoting a new drug she discovered for the treatment of dementia; the irony being she is slowly losing her own memory. Her highly touted performance garnered Metcalf an Obie Award, as well as a Tony nomination in 2013 for Best Performance by an Actress in a Leading role.
Another play dealing with a similar subject is Jordan Harrison's play Marjorie Prime. Currently playing at the Mark Taper Forum in Los Angeles through October 19, it too deals with aging, death, and the subject of memory, both its loss and reconstruction. Starring the 83 year old actress Lois Smith, as its calling card – all of the reviewers tripped over their feet in canonizing her very appearance – makes it more than likely that Marjorie Prime will be making its way to New York City in near the future.
The play is both simple, complicated, and more than a mite confusing. The simple part is that Marjorie (Lois Smith), age 85 in the play, and suffering from memory loss, is living in an assisted-living facility. Her visitors include her daughter Tess (Lisa Emery), son-in-law Jon (Frank Wood), and her husband Walter (Jeff Ward).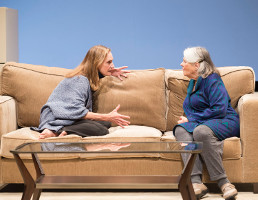 Lisa Emery and Lois Smith. Photo by Craig Schwartz
The complexity, a taste of hi-tech with a dollop of sci-fi, is that her diseased husband Walter, played here by a much younger version of himself, is what the playwright term's a Prime, a holographic projection whose very memory of his life with Marjorie is created by the information supplied by others, in Marjorie's case, her daughter and son-in-law.
The confusion is that the audience has no idea who the young man is much less that he is a 'virtual' character, though a clue is dropped when the young Walter, responding to something Marjorie says, answers, "I'm afraid I don't have that information."
As the play, somewhat predictably unfolds, each of Harrison's characters explore Marjorie's degeneration, their own memories of Marjorie, as well as their attitudes towards aging and mortality. Tess examines her rocky relationship with her mother. Marjorie revisits her past with and Tess and Jon, and her husband Walter, who is initially introduced in an attempt to reverse Marjorie's declining memory. His first, as he relates their past together, starts with My Best Friend's Wedding, a movie that she does not remember that they saw together. And Jon as the warmest, most understanding character in the play – beautifully inhabited by Wood, the only one to turn in a truly moving performance – attempts to hold everything together.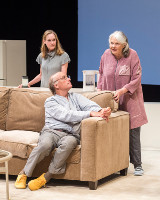 L-R: Lisa Emery, Frank Wood and Lois Smith. Photo by Craig Schwartz
The movie Her, which the play echoes in part, tackles a similar concept to greater affect, as Joaquin Phoenix falls in love with a computer generated voice (Scarlett Johansson), an artificial intelligence program whose intimate knowledge of him is supplied by any and all information available. Both the play and the movie take place in an undesignated future. Not unexpectedly, both the holographic husband, and the computer generated voice have moments of wishing that they too were able to experience human emotions.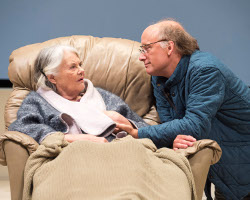 Lois Smith and Frank Wood. Photo by Craig Schwartz
While Marjorie Prime introduces a number of interesting ideas and triggers a few, mostly afterthoughts, the play itself – some 88 minutes without intermission – comes across, more an acting exercise, perhaps even a play reading, than an emotionally engaging experience. Ideas are put forth, the actors' read their lines, and that's about it. This is not a reflection on director Les Waters who no doubt did the best he could with what he was given. There is only so much you can do with a play that is more concept than character driven.
An aside: In reading the script, which I found a good deal more engaging then the production itself – perhaps because it gave me more time to both weigh and think – I noticed throughout that the playwright instructs the actors, Walter, Tess, and Marjorie, predominantly, to deliver their lines in a "faintly generic" manner which might account for the confusion, among actors and audience alike, as to who is real and who is not, who is alive and who is dead.