Joey Arias Is With You Now
(Taking No Prisoners at Joe's Pub)
"Joey Arias Is With You Now"
Musical Director: Ben Allison
At Joe's Pub at the Public Theater
425 Lafayette Street
New York, NY 10003 Three Performances Oct 2, 9, 16 at 9:30 PM
The Box Office window opens daily at 2 PM
To Order Tickets by phone call 212-967-7555
Running Time: 90 minutes Reviewed: Saturday, October 16, 2016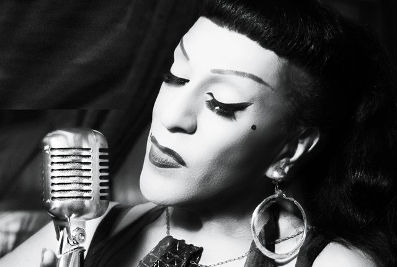 Joey Arias by Heath McBride
The otherworldly sensationalist Joey Arias is an avid experimentalist both off stage and off. I have been told – and my sources do not lie – that the daring chanteuse is up for just about anything. And if there is anything that he has not tried yet, well, rest assured, one way or another, Arias will get around to it, and if you are really lucky he may get around to you too. Just keep the faith.
It is this very sex-tinged promise that anything can happen at any moment and often does that guarantees Arias full houses and sold out shows. Add to this a voice that can channel jazz legend Billie Holiday, as well as hit the stratospheric notes of the late Peruvian soprano Yma Sumac and you just might understand why his followers, and I count myself among them, are addicted to all things Joey.
Joey Arias by Heath McBride
Though Arias was born a star, a small one let's say, it has taken him three decades of hard work and working hard to reach supernova status. Like many "in your face and tell it like it is" downtown luminaries who got their start in lower Manhattan – Penny Arcade, Chris Tanner, and Agosto Machado come quickly to mind – Arias started off small, unknown, and totally ballsy. And not unlike the above performers he has been honing his act around the world for some thirty plus years.
Along the way Arias worked for Capital Records in Los Angeles, was the lead singer in the rock group Strange Party (an influence on the Talking Heads), and performed alongside David Bowie, Klaus Nomi, Sherry Vine, Basil Twist, Lady Bunny, and a slew of other creative over-the-toppers. Here in New York City he made his glittery debut as a performing sales clerk dancing in the windows of Fiorucci's, the legendary clothing store which closed in the early 80s. During the 90s Arias held court at the late great Jackie 60, Squeezebox, and Bar d'O, three of the city's hottest night spots. Topping it off during the 2000s, for some six years, he starred as the flamboyantly risqué emcee in Cirque du Soleil's Las Vegas production of the sexually themed Zumanity. Originating the role he also co-wrote 3 songs for the show.
Arias, back at Joe's Pub at the Public Theatre by popular demand, wearing his customary, sheer, tight-fitting, all black outfit complete with 7 inch spiked heels, and sexy garters, looking more dominatrix than drag, held his die-hard audience in the palm of his hands for some 90 minutes. Pulling out all stops on stage with his back up band, as well as in the audience where he smooched with a couple of patrons and asked outrageously provocative questions. As usual, he took no prisoners.

His first question delivered early on from the stage "Does anyone want to have sex with me tonight?" gave everybody a titillating peek at what was to follow. Other provocative questions asked of individuals, as he weaved in and out among the tables, "Are you a whore in bed?" "When was the last time you had sex, and "Are you high on coke?" Every question brought forth gales of laughter.
While the audience hung on his every word, indeed, egged him on, it was his wide range of singing styles that sent them over the moon. His low notes, high notes, notes that only dogs could hear, bluesy moaning, jazzy scatting, punk rock screams, yelps, and occasional howls held them in awe. Most exciting was Arias' "dueling" with the way out guitarist Brandon Seabrook where he met every ultra high note that Seabrook whipped out on his electric guitar. I couldn't help but think of the astonishing "duets" between singer Cleo Lane who was able to hit a G above high C and her alto sax playing husband, the late John Dankworth.
Making a guest appearance was Arias' long time friend, a low-keyed Ann Magnuson who sang a song that she had written and offered some conventional patter. Knowing the crowd she also threw in some anti Trump words and sang a duet with Arias. While this interlude was tolerated, I mean she is Joey's dear friend which he continued to mention a dozen times, many of us – dare I say all – were chopping at the bit waiting for Joey to get back to singing.
Joey Arias by Sarah Krulwich
And back to singing he got none too soon. It was here, with his boffo back up band, consisting of musical director Ben Allison on the base, Steve Cardenas and Brandon Seabrook on the guitar and Allan Mednard on the drums, that Arias' extraordinary vocal calisthenics showed its amazing face. With each song arranged to fit him like a glove he sang House of the Rising Sun which tells of a life gone wrong in New Orleans, Dylan's Lay Lady Lay, Phil Spector's Be My Baby, first recorded by the Ronettes in 1965, Cream's White Room (1968), and Good Bless The Child in which Arias sang as close to Billie Holiday's phrasing as he could get.
At the end of the evening, after one encore – the crowd did not want him to leave the stage – he asked the audience, "Do you want me to come back to Joe's Pub? For a full two minutes all you could hear, from audience and wait staff alike, was Yes, Yes, Yes. So, God Willing, and if the creek don't rise, Arias will be returning, again by popular demand, and we will all be waiting.