"Sea Wall/A Life"
Love And Loss On A Bare Stage

"Sea Wall/A Life" opened on Broadway on August 8, 2019 at the Hudson Theatre at 141 West 44th Street. It closes September 26, 2019 Playwrights: Nick Payne (A Life) and Simon Stephen (Sea Wall). Running time is 1 hour and 30 minutes with intermission. For more information, or to buy tickets check out www.seawallalife.com or call 855-801-5878
Tom Sturridge, Jake Gyllenhaal. Photo Richard Hubert Smith.
"Sea Wall/A Life," two extraordinarily powerful one act plays, presented in monologue form, are holding court at the Hudson Theatre on Broadway. Fueled by strong reviews, and the star power of film and stage actors, Jake Gyllenhaal and Tom Strurridge, it is one of the most deeply moving productions currently gracing the stage here in New York City.
With word of mouth religiously shouting hosannas, this starry-eyed production is already being touted (by those that tout) as a Tony contender in several categories, acting and direction (Carrie Cracknell) among them. Closing night is Thursday, September 26 and tickets are tight. Just Saying!
Speaking of Six Degrees of Separation, both actors appeared in "Sea Wall/A Life" earlier this year before it moved from the Public Theatre to Broadway. Coincidentally, they also worked together, albeit each in their own separate scenes, in Netflix's over the top cliché-ridden film Velvet Buzzsaw (2019).
Much to the benefit of this two act-play, both Gyllenhaal and Sturridge share a history with each of the playwrights who penned their respective "Sea Wall/A Life" glove-fitting monologues.
Gyllenhaal appeared in Nick Payne's Roundabout Theatre Company's production If There Is I Haven't Found It Yet in 2012 at the Laura Pells Theatre, and in Payne's Constellations in 2014 where both actor and playwright made their Broadway debuts.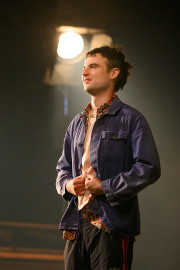 Tom Sturridge. Photo by Richard Hubert Smith.
English actor Sturridge made his stage debut in 2009 in Simon Stephens' Punk Rock in London. His 2013 Broadway debut in Lyle Kessler's Orphans which earned him both a Tony nomination and Theatre World Award. In 2017 Sturridge returned to Broadway, to exceedingly strong reviews, in an adaptation of George Orwell's thriller 1984.
The action of both one acts take place on a somber and forebodingly lit two-level stage (Guy Hoare) whose toweringly high solid brick back wall (Laura Jellinek) forewarns the audience that we are not at the Moulin Rough. Nor are we in Kansas. A chair, a desk, and a piano may appear briefly but for the most part both monologues take place on a bare stage, all the more forcing us to see what we are hearing.
While the characters in "Sea Wall" and "A Life" have their own tales to tell, each of their stories, universal in nature since we have all been there, center on the major life-changing events in their life. Intensely told, emotionally delivered, and heartrendingly felt by both audience and actor, we get to live through their individual courtship, marriage, becoming a father, and facing a loved one's death, the latter most harrowingly delivered.
First up is "Sea Wall." Here we see the 30 something Alex (Sturridge), the more philosophic of the two story tellers – he actually contemplates on God's whereabouts, the limits of knowledge and the number pi – sitting high up on the second level with a drink in his hand. A photographer by trade, Alex is sifting through photos some of which fall to the floor. Slowly descending a staircase and coming down stage center, we are immediately taken by his modestly clothed (Kay Voyce) youthful appearance.
Taking up the major part of Alex's tale is his love of his wife Helen, the birth of their daughter Lucy, and the family's trip to the seaside in the South of France where Helen's father lives. It is here that Alex discovers the sea wall, a sudden and unexpected drop in the ocean's floor, and tragedy rears its ugly head. One could say that the Seawall is a metaphor for both one acts.
What makes Sturridge's performance above and beyond is his unique and compellingly sincere delivery. Often stopping in mid-sentence, jumping from one happening to the next, sometimes finishing neither thought nor sentence, we actually get to see and feel a grieving heart and an active mind at work. His, as well as ours.
"A Life," Payne's beautifully written second act in which Gyllenhaal gets to pull out all stops, is an actor's dream. It is also the perfect companion piece to Stephen's Sea Wall. Both stories contain heaps of gravitas and slivers of anxiety- lessoning humor, the latter mostly evident in A Life. And both are equally marbled throughout with joy, love, losses, and the inevitable pain that life brings.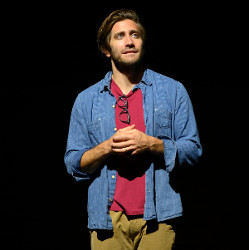 Jake Gyllenhaal. Photo by Richard Hubert Smith.
Gyllenhaal, better known for his film work – (Brokeback Mountain (2005), Nightcrawler (2014), and his 2017 star turn in the revival of Stephen Sondheim's Sunday In The Park With George (who knew he could sing so well?) – is making his third appearance on Broadway. Though more a perfectly-timed performance than full-fledged acting, each Gyllenhaal's spoken words, gestures, facial expressions, and bodily movements appears to be tightly tethered to Payne's script. Still, from the moment he steps foot on stage the audience is in his hands. And through thick and thin he never let's go.
Abe, the 30-something music producer, Gyllenhaal's story centers primarily on his girlfriend and soon-to-be mother of their first child and his serious ailing father. Playing the extrovert to Sturridge's introvert, in both his delivery and his energetic use of the stage, Gyllenhaal switches in his telling from one story to another. These sleights of hand and jumps in time are so fast I found myself having to fathom which story he was on to at this juncture. Once I caught on to the playwright's the non- linear style, the bumpy road was smoothed out.
The most humorous bits in the play, at least for the audience (all frenetically enhanced by his running about the stage), were Abe's unexpected reactions to both his wife's pregnancy and the birth of their first child. He likens a sonogram which shows his soon to-be-born baby to "an X-ray of a pile of kitten bones." After watching his wife give birth, seemingly more traumatic for him then her, his comment is, "It is nothing like I seen it in films."
The father's failing, told in great detail, is the saddest and most emotionally moving story in either act. There was not a dry eye in the audience when Abe, mouthing Payne's words talks about the three kinds of death: "the physical death when the body stops functioning, the emotional death when the body is buried, and the eternal death when our names are spoken aloud for the very last time on earth." Sobs were heard throughout the theatre. In fact my eyes are welling up now remembering it all.
The night I attended, a lady in the first row was wailing nonstop and few knew exactly where this wailing was coming from. Mercifully, Gyllenhaal taking note, walked backstage, albeit none too soon, and came back with a handful of tissues which he quickly handed to her. Yes, it did lower her shrill-filled decibels to a sob. Not surprisingly, during an after-play talkback helmed by comedian Michelle Cohen, both actors admitted that this was a common occurrence.
So, if you plan on attending a performance of "Sea Wall/A Life," you can save Jake Gyllenhaal, a lot of trouble by bringing your own box of tissues. That is, unless you are hell-bent in meeting him face-to-face. [ER]
Cast:
Jake Gyllenhaal, Tom Sturridge
Technical:
Scenic Design: Laura Jellinek, Costume Design: Kaye Voyce & Christopher Peterson, Lighting Design: Guy Hoare, Sound Design: Daniel Kluger, Properties Design: Luke Halls, Original Music: Stuart Earl.