The Confession Of Lily Dare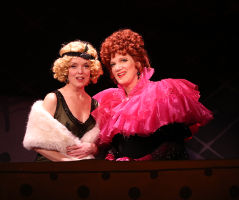 Nancy Anderson and Charles Busch. Photo by Carol Rosegg.
"The Confession Of Lily Dare" opened on Wednesday, January 29, 2020 in New York City at the Cherry Lane Theatre 38 Commerce Street. It closed on Thursday, March 5, 2020. Written by Charles Busch and Directed by Carl Andress. Running Time is 2 hours with one intermission. For more information, or to buy tickets click on primarystages.org or call 866-811-4111
In or out of drag, whether on stage or page, the 65-year-old actor playwright Charles Busch, with some forty years of show business under his belt, is a force to be reckoned with. His signature calling card is in his allover inventiveness, his humorous tongue-in-cheek playfulness, looking outrageously spectacular in a gown and wig, and most importantly, a straightforward honesty in everything he touches. In short, Busch is entirely believable even when he is not.
Dare Kendal Sparks, Charles Busch, Christopher Borg, Nancy Anderson, Jennifer Van Dyk. Photo by Carol Rosegg.
The Confession of Lily Dare, Busch's latest outing as both playwright and lead actress, at the Cherry Lane Theater in New York City, is a humorous, fast-paced dish of delicious camp, a perfect antidote to calm one down in this age of age of anxiety.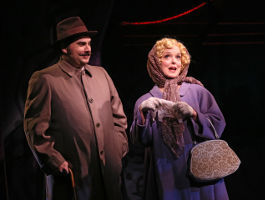 Dare Kendal Sparks and Nancy Anderson. Photo by Carol Rosegg.
The year is 1950, and Confession opens and closes at Lily Dare's graveside with prostitute Emmy Lou (Nancy Anderson) and Mickey (Kendal Sparks) paying respects to their life-long friend. Told in flashbacks, the play traces the vertiginous rise and fall of Lily Dare channeled by Charles Busch in the melodramatic style of Hollywood's pre-code films of the late thirties.
Jennifer Van Dyck, Christopher Borg, Charles Busch. Photo byu Carol Rosegg.
Many of these films were peopled by woman, both fallen and not, who, in dire straits (most often because of a man), were forced to give their children up for adoption or turn to the streets for a living. Lily Dare, with talent to spare and luck mostly on her side, until not, is one of these larger-than-life women.
Confession, with more plot undulations than a snake on LSD, casts an unblinking eye on the innocent sixteen-year-old Lily, festooned with a million fabulous costumes (Jessica Jahn) and wigs (Katharine Karr), being kicked out of a Swiss convent after her mother is killed in an avalanche, finding a home in San Francisco at her Aunt Rosalie's (Jennifer Van Dyck) bordello, and becoming a popular cabaret performer until she loses her voice.
Howard McGillin and Charles Busch. Photo by Carol Rosegg.
Further gilding his Lily, we follow Lily's higgledy-piggledy trajectory as an unwed mother who puts her daughter Louise (Nancy Anderson) up for adoption, an owner of a string of highly successful money-making brothels, who ends up in jail taking the rap for Blackie (Howard McGillin), over the theft of diamond earrings. Of course, as the man that done her wrong, he gets his comeuppance, this by the murderous hand of a vengeful Lily.
As far as the mixture of Lily Dare's acting styles employed by Busch in this play, he begins by donning the innocent demeanor of silent-film stars Mary Pickford or the Gish sisters, and then, as Lily continues to age over time, jumps right into emulating the highly stylized walk, talk, and facial expressions of yesteryear's cinema queens of camp, Mae West and Joan Crawford.
"Pirate Joe," the big show-stopping number has Busch conjuring up nostalgic memories of Dietrich. I could just see him (if only!) coming downstage and singing "Falling In Love Again."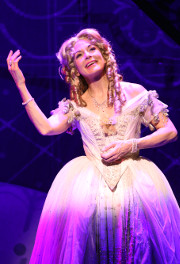 Jennifer Van Dyck. Photo by Carol Rosegg.
While the ensemble cast, most playing several roles, are simply wonderful, it is Jennifer Van Dyck, solidly inhabiting each of her four extremely diverse, scene-stealing characters, who runs away with the show. Her crowning moment is as Lily's grown-up, opera-singing daughter Louise. Van Dyck lip-syncing "Siempre libera," Violetta's aria from La Traviata, brings the house down. The brilliance of this scene alone is worth the price of admission.