2 ½ BREATHS

"2 ½ BREATHS"
Playwright: Bridgette Loriaux
Director: Bridgette Loriaux
Choreographer: Bridgette Loriaux
Music: Katherine Cartusciello
Chain Theatre, 312 West 36th Street
Website: craintheatre.org
Phone: 646-580- 6003
Opened: Thursday, May 19, 2022
Closed: Sunday, June 5, 2022
Reviewed by Edward Rubin
What is it to become a word? To become or even create an emotion that doesn't exist…at least not yet. How much power does the artist have to convince and make believe? The awesome power to make one believe. How much potential does movement theatre actually have? In this world? Now. These questions have been the driving force in writing this piece – Playwright Bridgette Loriaux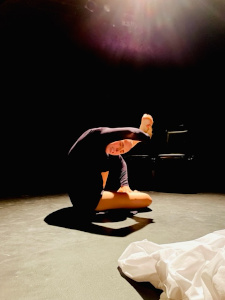 Adrian Deane (Diana) contorts the body as she moves through the pain and aggressive nature of her terminal disease. Photo by Bridgette Loriaux.
Every once in a while, a little-known theater company, usually from a distant city, mounts an amazing ground-breaking theatrical production, brings it to New York City for a limited run, and then returns to their home base leaving us all lusting for more.
As luck would have it, this season NYC was graced by two such works of genius. First to open and running from May 19-June 5 for 15 performances was Las Vegas-based Loriaux House Of The Arts production of "2 ½ BREATHS," which played at the Chain Theatre.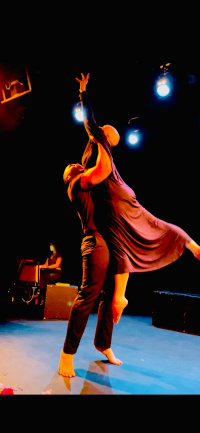 Ed Gonzalez Moreno (Aidan) and Adrian Deane (Diana) dance to search for time to the music of Katherine Cartusciello in opening prologue of 2 ½ Breaths. Photo by Bridgette Loriaux.
Second to bring audiences to their feet was Needham, Massachusetts-based Arlekin Players Theatre's production of "The Orchard" starring big name draws Mikhail Baryshnikov and Jessica Hecht. Not counting previews, which began on June 7, the play officially opened at the Baryshnikov Arts Center on June 16 and ran through July 3rd for some 15 performances.
"The Orchard," based on Anton Chekhov's play, The Cherry Orchard could be viewed both live in the theatre, as well as streamed virtually. See my review here.
As for "2 ½ BREATHS," an extremely intimate play with dance and music, and numerous scene-introducing light and sound cues, it was a live in-theatre production only.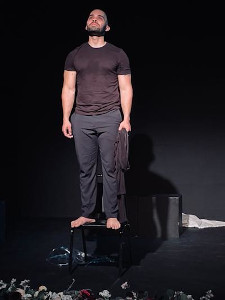 Ed Gonzalez Moreno (Aidan) in the final scene, contemplates his life and struggles with the ghost of Diana. Photo by Bridgette Loriaux.
The play, a poetic soul-searching love story, opens with an otherworldly prologue that introduces the play's two characters, Aidan (Ed Gonzalez Moreno), and Diana (Adrian Deane).
The actors dressed in black are first seen stepping into an ambient light accompanied by NYC-based composer, musician, and sound designer Katherine Cartuciello's heavenly music. One gets the distinct feeling that they are being born before our very eyes. I could not help thinking of Adam and Eve.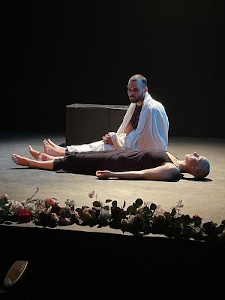 Ed Gonzalez Moreno (Aidan) sits in anticipation as Adrian Deane (Diana) lies in a coma. Photo by Bridgette Loriaux.
The time being represented, not unlike that of "Waiting For Godot," appears to be a mélange of past, present and the future, an eternity all rolled into one.
Aidan's first word's hinting at what's to come are "From a distance, the Earth…We are so insignificant…alone, simple matter in the atmosphere. Spread wide across the infinite universe." Diana's, "In your presence I can exist. This I know is real."
Aidan's telling response, a highly romantic Cyrano de Bergerac moment, is "Your love bookmarks my existence."
For the next hour and fifteen minutes we follow through 12-time juxtaposing scenes Diana's and Aidan's mystical life; the various ways that they engage, communicate, capture and insulate their commitment and love for one another.
It is a sublime roller coaster of exposed emotions, through glad and sad, thick and thin; a breathtakingly beautifully choreographed journey which gives voice to our own loves, lives, and fears. Though the stage is small, the locations where each scene take place, at the marketplace, at home, on a rooftop, at a park, at the edge of a cliff, at a doctor's office, and hospital, though never named outright, by the words spoken alone, the audience is fully aware of each of the settings.
Most notably, other than the play's poetical dream-like atmosphere strongly supported by Loriaux's writing, is the actor's relationship to each other. They talk to each other, to themselves, and occasionally directly to the audience. Their changing bodily and facial expressions lay bare their innermost feelings.
Among the glad times that I mention above, which includes playful and flirtatious humor is Diana's and Aidan's first meeting which takes place outdoors at a flower market. Like the star-crossed lovers in "Romeo and Juliet," it is love at first sight.
In talking about their meeting Diana says, "I could have eaten him up right there and then. He was delicious. I think what topped it off was him holding those blush-colored peonies." On the same wavelength Aidan remembers when he first sees Diana that "The entire world stopped. Constellations took form so I didn't move. If I did, she would have vanished. Her brilliance, her fragrance, the subtle pucker of her lips as she spoke. The sound of that voice. She was timeless. Effortless. Beautiful. I loved her right there and then." Nature taking its course they were soon found to be making love at Aidan's home. They both return to this joyous scene a number of times during the play.
As for the sad, we learn that Diana has a tumor pressing on her brain. Through several intensely heated scenes, along with a distraught Aidan who is trying to maintain his sanity, we watch Diana, having two realistically choreographed epileptic seizures, slowly deconstruct. She eventually dies a painful death, but not before they make love for the last time.
The bone of contention, played out in several scenes, is Diana's refusal to see a doctor, or seek medical help. When she finally agrees at Aidan's insistence to enter a hospital it is far too late to do much good.
As the play draws to an end we find Aidan, still in mourning, a year after Diana's death, placing flowers on her grave as he has done every day since she died. The last scene, a tearful one at that, has Diana and Aidan removing their wedding bands and placing them center stage. As they leave the stage we see, lit by a single spotlight, that the two rings signaling their everlasting love form a near-perfect infinity sign.
Cast: Adrian Deane (Diana), Ed Gonzalez Moreno (Aidan)
Technical: Set, Costume Design: Bridgette Loriaux, Lighting Design/Stage Management; Seth Garrett.