Darkness On the Edge Of Town: "The Mountains Look Different"
"The Mountains Look Different"
By Michael mac Liammóir
Directed by Aidan Redmond
June 8 to July 14, 2019
Mint Theater at Theatre Row
410 West 42nd Street, NYC
Reviewed by Eric Uhlfelder June 26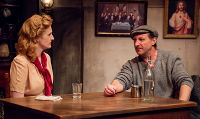 Brenda Meaney and Con Horgan. Photo by Todd Cerveris
The challenge of finding peace in spite of all the innate gifts we've been given is a theme that reverberates through much of the 25 years of Mint Theater productions. Its success is based on artistic director's Jonathan Bank's willingness to bring to the stage stories that tackle life the way it is for many.
The Mountains Look Different, written just after World War II in 1948, is one the most intense, stripped down versions of this kind of tale where man's worst traits run rough shod over his better angels.
Bereft of the wit and humor that often colors the Mint's other ventures into the Irish experience, The Mountains Look Different is a relentless declension into darkness. The shifting ethereal lighting of a stone thatched-roof farmhouse, distant lands and mountains, clouds, and heavens across the day and evening and night glows in stark contrast with the chaos and destruction that man leaves in his wake.
Brenda Meaney and Jesse Pennington. Photo by Todd Cerveris
That may be enough to turn many away from this production. But the Mint is unabashed in its exploration of the human condition. And The Mountains Look Different achieves this to extreme effect.
Like most Mint productions, few in the audience will have likely heard of the play. But discovery of obscure plays and playwrights from another time is at the core of the Mint's mission.
Written by Michael mac Lammóir (né: Alfred Willmore), The Mountains Look Different continues Bank's exploration into lost 20th century Irish theater.
The play centers around life in and around Martin Grealish's (Con Horgan) farm in the town of Rosbeg in Western Ireland, between the Christian and pagan holidays that petition for bounty and warding off ill-minded spirits. When Martin's son Tom (Jesse Pennington) returns home from London with his recently wedded wife, Bairbre (Brenda Meaney), it seems their fortunes have been blessed and cursed by these celebrations.
We soon learn the costs Bairbre paid as a curious young girl who had previously sought a better life in the city, the hypocrisy of Victorian morality, and how even a commitment to a better life in the country can be crossed by fateful moments that occurred many years earlier. Making things even more unbearable, Mac Lammóir throws in doubts about how well we ever can know those we love.
Pathos, contradiction, suffering, dashed with slivers of hope characterize much of this genre, which the cast plays with conviction.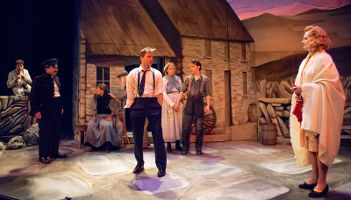 Liam Forde, Ciaran Byrne, Cynthia Mace, Paul O'Brien, Jesse Pennington, McKenna Quigley Harrington, Daniel Marconi and Brenda Meaney. Photo by Todd Cerveris
When asked why Irish theater can be so dour, the 45-year-old director Aidan Redmond, a native of Meath, doesn't know exactly why that is. He surmises it's connected to a people who had only gained their own independence in the last century. "I'm sure it has something to do with our search for ourselves as a people, our search for a national identity," explains Redmond, "which forces us to look within, and by doing so facing dark truths is inevitable."
He posits part of this suffering could be the loss of tradition in the face of demands of modern life that inevitably encroaches upon even the most distant corners of the countryside where this play takes place.
While the story takes aim at the big city as the source of our moral undoing and better nature, it also reveals little solace gained from country life. Struggling to discern reality from illusion is at the heart of the play.
Such conflict colored much of the playwright's work and persona. So perhaps it's little surprise that more than a decade after mac Liammóir's death in 1978, the literary world found this most celebrated Irish auteur was in fact English.