Rome Calling
CAESAR & CLEOPATRA
Written by George Bernard Shaw, adapted and directed by David Staller
Gingold Theatrical Group
GingoldGroup.org
212.-947-8844
Theatre Row, 410 West 42nd Street
Through October 12
Reviewed by Eric Uhlfelder
Running Time: 2 hours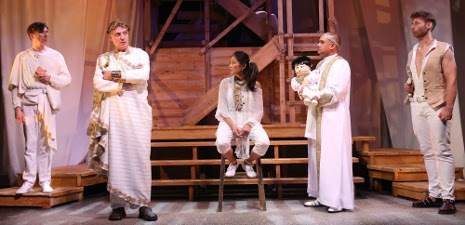 Left to Right: Jonathan Hadley (Britannus), Robert Cuccioli (Caesar), Teresa Avia Lim (Cleopatra), Rajesh Bose (Pthinus, Ptolemy, Sentinel), and Jeff Applegate (Rubio). Photo by Carol Rosegg.
No one should envy the challenges director David Staller takes on in staging the Roman conquest of Alexandria within a 40-foot-wide set.
Battles rage, leaders debate and quarrel, and an enemy queen turns protégé of Rome's Caesar…all within the confines of a stepped, wooden archaeological structure—a conduit to the past—that also serves as a royal palace, promenade, and lighthouse, while the theater's single aisle is tasked as an entranceway and the sea into which several Romans cast themselves.
The great thing of demanding so much from so little is it requires the audience to be that much more imaginative and engaged. Staller's rapid-fire 2-hour production of this brief visit back to ancient times and his superb casting enables us to make the trip without a trick of stagecraft.
But foremost, credit such a successful voyage to the dialogue and storytelling of one of theater's great playwrights.
Robert Cuccioli (Caesar) and Teresa Avia Lim (Cleopatra). Photo by Carol Rosegg.
The works of George Bernard Shaw, who passed nearly 70 years ago, used to be a mainstay on and off Broadway. But fashions change, with remakes of movies and revivals of theatrical spectaculars more capable of courting the pocketbooks of theater owners.
While Shaw ventured into many historical tales (Saint Joan being my favorite), I don't recall him revisiting times before Christ. And so he did in telling his own version of when Caesar met Cleopatra and schooled her in the arts of leadership.
While that doesn't especially suggest a scenario in which Shaw could explore his wit and wisdom about the follies of human behavior, especially between the sexes, he does so splendidly, with more nuance by keeping Caesar and Cleopatra romantically apart.
The casts' cream white attire gives the play an other-worldly quality, reinforced from its purgatorial start with Ftatateeta (Fa-Ta-Tee-Ta), Cleopatra's nurse and confident, played full body by Brenda Braxton. As the evening's narrator, she sets the story, leading us from Caesar's invasion of Alexandria through events that brought her to the afterlife.
Even if you don't know any of this history (as I didn't), the play spins its tale compellingly by moving at breakneck pace due to a first-rate cast that easily transforms our reality into theirs.
The story is propelled by the dynamic relationship that unexpectedly evolves between our lead characters. Cleopatra (Teresa Avia Lim) starts off as a silly teenage Queen, who one could imagine bopping about to Cyndi Lauper's "Girls Just Want to Have Fun."

The contrast with the affably soft-spoken and wise Caesar (Robert Cuccioli) couldn't be any greater.
Cleopatra, however, falls under Caesar's spell, who guides her to maturity with a such a light-handed touch that he imparts knowledge as subtly as he gleans it from his opponents: "Come. You may watch me discover secrets" he explains to the young Queen, "without saying a word."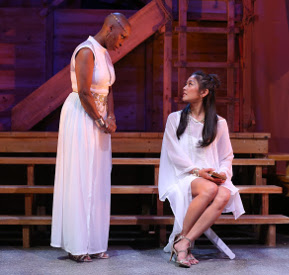 Brenda Braxton (Ftatateeta) and Teresa Avia Lim (Cleopatra). Photo by Carol Rosegg.
While revisiting ancient times doesn't exactly sound like a fun way to spend an evening, Staller and his cast provides a delightful rump through a long-forgotten era because the story Shaw tells is timeless.
Caesar warns us: "Old men are dangerous: it doesn't matter to them what is going to happen to the world."
His advisor, Britannus, cautions: "Just keep in mind that progress is impossible without change, and those that cannot change their minds cannot change anything."
And just before the curtain falls, Cleopatra realizes the paradox of wisdom:
"From you I've learned that nothing can be unconditional: consequently nothing can be free. You have left me queen of Egypt. We have shared unspeakable happiness during this time of your conquest. You gave me the courage to seek and the tools to find. Freely. But I have paid the price, and I do not forgive you."