Persuasion

"Persuasion"
Written by Jane Austen and adapted by Sarah Rose Kearns
Directed by Eric Tucker
https://www.bedlam.org
September 11 through October 31
Connelly Theater, 220 East Fourth Street
212-352-3101
Reviewed by Eric Uhlfelder
Running Time: 2.35 hours
Cast of Bedlam's "Persuasion." Photo by Ashley Garrett.
To see a Bedlam production constrained by a proscenium stage is like seeing a Bengal Tiger caged in a zoo. He'll meander the edges, constrained by the barriers. But he'll repeatedly test his confinement through all means possible.
That's what Eric Tucker's latest colorful creation feels like.
The previous configuration of the Connelly Theater provided no such constraints the last time Bedlam occupied this space where audience and actors shared the stage. Such proximity has often been a trademark of the company that breaks theatrical rules and barriers, making attendance to it shows so much more involving for theater goers.
Seated just five rows above the stage in this intimate 100-seat theatre, I wondered why Tucker decided to reel in his choreographic imagination. The last time he directed a transcription of Jane Austen (Sense and Sensibility), he had transformed the novel into an unimaginable romp in the basement gym at Judson Church on Washington Square. I'm quite sure given its rousing success, Ms. Austen would've happily forgone such formal homage.
To borrow a line from the play's closing thoughts: "it makes no sense." Then I remembered: Covid.
With this reviewer feeling a bit rusty after a nearly two-year hiatus from live theatre, it was a bit of a challenge to follow the various evolving plots, rapid fire dialogue and wit flowing across the first half of the production.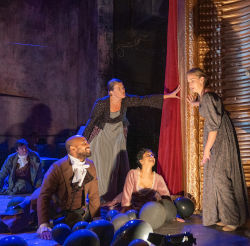 Arielle Yoder, Annabel Capper, Yonatan Gebeyehu, Nandita Shenoy, Jamie Smithson in "Persuasion." Photo by Ashley Garrett.
I was hearing but not fully understanding. Better memory of this Regency era novel would've surely helped. Having a playbill would've allowed me to keep better track of the multiple characters each actor plays, along with scenes, dates, and geography. Or perhaps a wee less stage mayhem might've made it easier to follow as playwright Sarah Rose Kearns rolls out the story's extensive cast of characters, led by the families Elliot, Musgrove, and Croft.
What evolves from Kearns' transcription of the novel, first published in 1818, are themes of marriage denied, societal and romantic norms and prejudices, stifled passions, faux deaths, desperate leaps of love that come crashing down, the desire for wealth and position to make life what it should be, and ultimately the failure of wisdom to guide youth.
In the mix there are pleasant keyboard melodies, pratfalls, a cacophony of high-pitched voices as young sisters seem bent on shattering glass, the kooky amplified repetitive overlay of a name being bantered around in dialogue as if one was in a comedy club, and whimsical suggestion of a bucolic setting via actors providing birdsongs.
With everything that's going on, it felt as if the script and direction were not quite in sync, with the production baying to break beyond the constraints of the stage à la Bedlam.
Action in the second half does just that as the story becomes more focused and turns full circle as love initially denied is regained. Throughout, the comedic-drama is embellished with music, singing, dancing, and plenty of hilarious stagecraft.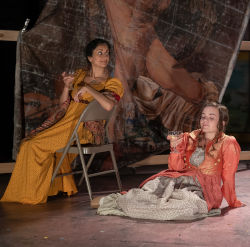 Nandita Shenoy & Caroline Grogan in "Persuasion." Photo by Ashley Garrett.
The actors are all in good form. The lovely and talented Arielle Yoder plays the leading protagonist, Anne Elliot, whose affections Frederick Wentworth (Rajesh Bose) pursues with dramatic reserve throughout the story (despite the fact we have no idea why they like each other).
Shaun Bennet Fauntleroy (Mary Musgrove et al) gives a full-bodied performance, as does Randoph Curtis Rand ( Sir Walter …), and Jamie Smithson (Charles Musgrove …). Nandita Shenoy (Elizabeth Elliot and Captain Benwick) does well playing both sexes without missing a beat.
But Yonatan Gebeyehu (Mr. Shepherd, Admiral Croft, Surgeon, Shop Assistant, and Lady Dalrymple) steals the show with his effusive moods, remarkable talent and goofiness in which he plays his multiple personalities.
Various characters effectively deliver a number of well-crafted speeches and spoken letters. But the play's coda, spoken by Lady Russell (Anabelle Capper), is the most compelling as she comes to realize the shortcomings of her well-intended guidance to Anne, her deceased best friend's daughter, while also providing Austen an opportunity to comment on the human predicament:
"It makes no sense! But real life is so often like that, I find. Irrational. Alarming. Painfully. Uncertain. It is difficult to know what to think, whom to trust, how to rely upon anything . . . anything . . . in this world of luck, and chance, and revolutions, and changes. I used to expect that, as I grew older, people and events would become clearer, neater. Now it seems exactly the reverse. Everything grows more and more mysterious to me. If Anne can be happy, I shall be happy, too. I love her so. And love, perhaps, is the great thing, after all. If only we could know—somehow—precisely what that means."
The curtain could've easily dropped after that last line. But perhaps this soliloquy, a nod as well to the pandemic we all have been living through, was too somber a note on which to end. Instead, Bedlam sends us off on a more uplifting note with a joyfully choreographed ending of song and dance, which I was hoping would've spilled out into the aisles.