By Glenda Frank and By Edward Rubin
***
By Glenda Frank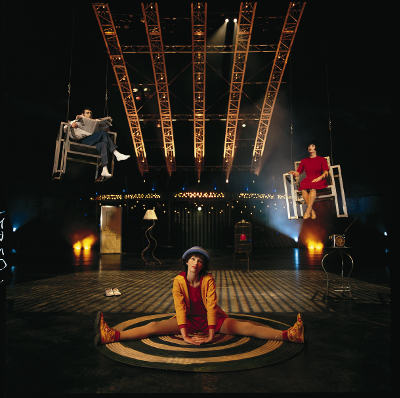 "Zoe, Mother, Father" being performed as part of "Quidam" at Barclays Center. Photo courtesy of Cirque du Soleil.
"Quidam," Cirque du SoleilBarclays Center, 620 Atlantic Ave., Brooklyn, NYC.
July 24-28, 2013. Wed.-Sat. 7:30 PM. Sat. 3:30; Sun. 1:00 and 5:00 PM.
$40 - 125 plus tax.
Tickets are available at 1-800-745-3000; www.cirquedusoleil.com/quidam; www.ticketmaster.com; www.barclayscenter.com; or at the American Express Box Office at Barclays Center
Cirque has changed since its inception. It continually creates new shows, and the shows are more varied. One is based on water acts; another is set on a giant revolving platform; new ones involve music legends, like the Beatles and Michael Jackson. "Quidam" (1996), too, the ninth Cirque creation, has changed. I saw it in Washington, D.C., in 1998 -- and loved it! (It was one of the productions that made me a Cirque addict.) The latest version at the Barclays Center -- Cirque's first visit to Brooklyn -- is better -- more focused, more affecting, but just as breath-taking and surreal.
The story line is a mere bookend but it taps the imagination. Zoë (Alessandra Gonzalez) and her parents (Carol Valim, Patrick McGuire) are enjoying a quiet evening at home when a visitor, Quidam (or Anyone), knocks at the door. He wears a raincoat and carries an umbrella and a bowler hat, perhaps because he is headless. No one sees him but Zoë although she tries to alert her parents. He leaves his hat, which Zoë places on her head and enters a magical kingdom of hoop twirlers, silk contortionists, and surreal figures, the denizen of a strange parallel universe somewhere on a crowded street or transportation hub. John (Mark Ward), the ringmaster with his tragically spare hairdo, and Target (Lisa Kinner), a silver acrobat just Zoë's size, are her guides and companions. From time to time, she sees her father, most notably as he slowly walks through the air suspended from a téléphérique, a 120-foot arch above the stage. He wears a suit, a newspaper around his face, and no shoes. He does not see her. The girl and her parents do not reconcile until the last scene, but Zoë (or even multiple Zoës), is ever present on-stage, carrying a larger and larger red balloon.
The frenetic energy typical of many Cirque shows has been replaced by the artists' concentration. Rather than six diabolo tossers, we get one, Wei Liang Lin. We can focus on the wonders possible with a rope stretched between two sticks and one, two, or three Chinese yo-yos, oversized chartreuse spools spinning through the air, caught and twisted between his legs, and circling in improbably arches around his body.
"Statue" is a stunning act. It is romantic, evocative and filled with surprises. The Chiennes Blanches, a silent , dehumanized chorus dressed in what look like white OSHA contamination suits, circle and then collapse in a heap. A half-naked man (Yves Décoste) emerges from this pile, slowly like a mythic figure. He is soon followed by a scantily clad woman (Valentyna Sidenko). Carefully, and with absolute trust in one another, she bends atop his back, and he rises from a kneeling position, lifting her. As they shift positions, they also shift balance, joined only at the back of the neck. His handstand with her on his back is breath-taking. At the climax, this slim woman lifts him in an extended horizontal. The act becomes a metaphor -- for partnership or art.
One of the technical motifs of "Quidam" is the rope. It is featured in "Skipping Ropes," sophisticated variations of double-Dutch and other school yard games involving 20 acrobats in mirror and contrasting routines. Throughout the two act, swings appear from the téléphérique with different characters. At one point three trapezes are lowered with figures (puppets or immobile performers) in extremely long gowns -- like the Three Fates. The show has fleeting hints of many cultures and art styles, especially Greek and Egyptian, as befits an international cast of 52 world-class acrobats, musicians, singers and characters.
The most impressive rope routine is "Spanish Webs." Five acrobats fly across the stage on ropes and then, twisting them around their bodies, they drop in various formations. Some stop halfway, some almost reach the floor, some twirl' before they ascend again in a rope-climbing sprint -- reconfigure the ropes -- and offer new sculptural variations that mirror or contrast. The aesthetic is as impressive as the feat.
"Clown Cinema" is a perennial favorite, which I have seen in other Cirque shows. A director (Toto Castineiras) asks four audience members to enact a silent-screen murder/romance. He instructs them in exaggerated gestures -- the woman to gyrate her hips and lift her breasts as a parody of sexiness; one lover to be so hot he rolls around with her on the floor; the jealous suitor to enact dismay and then explode in a volley of gunfire; the grip to scratch his butt before he announces each take. As a source of comedy, the director is helped by the unexpected -- the hesitant or daring volunteers. I've seen the director forced to carry the whole show -- but at the Barclays Center, the volunteers were all so game and so good, they deserved a standing ovation.
The most complex acts are saved for Act II. The fifteen athletes in "Banquine" close the show with tumbling, leaping, and human pyramids. As in all Cirque show, costumes (by Dominique Lemieux ) are key. ("Quidam" was the first Cirque show to use everyday clothing, mostly in a stretched linen. Among other items, there are 30 hats in the show.) The tall males wear raggedy outfit while the diminutive females wear white mini-dresses and blonde curly wigs, a look that the lighting (designed by Luc Lafortune) loves to follow as they become the fourth in a human tower or a tossed plaything.
These superb athletes are all marvels, as impressive as the creative forces behind the scenes: Composer and Musical Director, Benoit Jutras; Jim Brevan, Band Leader (the music is live and continuous); Debra Brown, Choreography; Michel Crête, Set Designer; Director Franco Dragone ; and the guy with the vision, Guy Laliberté, Founder and Creative Guide. Cirque celebrates its 30th birthday next year.
This was a short visit of a first-class production. I hope Brooklyn extends an invitation for a longer stay.

***
Cirque du Soleil's "Quidam" at Brooklyn's Barclays Center
By Edward Rubin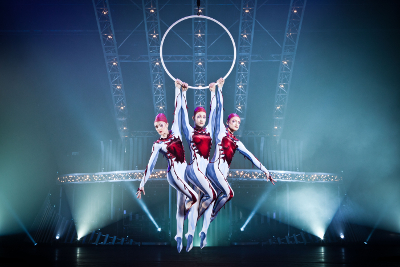 "Cerceaux" being performed as part of "Quidam" at Barclays Center. Photo courtesy of Cirque du Soleil.
"Quidam"
Writer and Director: Franco Dragone
Director of Creation: Gilles Ste-Croix
Composer: Benoît Jutras
Barclays Center
620 Atlantic Avenue 11217
Seven performances July 24-28, 2013
Wed- Friday 7:30pm; Sat 3:30pm, 7:30pm, Sun 1pm, 5:00pm
$60-$125. $40 General, and $20 Student Rush tickets available.
Tickets are available online at www.cirquedusoleil.com/quidam; www.ticketmaster.com; www.barclayscenter.com or by calling 1-800-745-3000 or available at the American Express Box Office at Barclays Center
Reviewed by Edward Rubin: Wednesday, July 24, 2013

Six years ago ATCA, the American Theatre Critics Association, held one of their two yearly conferences in Las Vegas. As part of the package members and their guests were wined and dined by the entire city. Steve Wynn feted us at supper. The Mirage cut their rates in half. Theatres tripped over their feet to give us tickets, and the Cirque du Soleil, generously blessed us with primo seats to their productions of O, La Reve, Ka, Zumanity, Mystere, and Beatles Love. At the time these, high tech, one-of-a-kind, richly produced extravaganzas – new to many of us – catapulted us to near heaven by the otherworldliness of their sets, sumptuous music, ornate costumes, and the harrowing, often death defying, split second timing required of all performers. Equally exciting, which enlarged our Cirque experience, were our backstage guided tours and the crazily ornate Vegas hotels that housed most of these productions.

Having seen six Cirque du Soleil productions in one week – too much of a good thing can kill – I was dangerously close to ODing from too much Cirque. The result being on leaving Las Vegas my desire to see another one of their extravaganzas was dead in the water, that is, until their Randall's Island production of Ovo came to New York City a several years ago. The calling card was Randall's Island. I just had to see how the troupe would fare in a totally different venue. I figured a touch-up wouldn't kill me. Surprise of all surprises, again I was overwhelmed by Soleil's glorious pomp and circumstance coupled with the intimacy of the tented venue which allowed me to feel that I was part of each act. An excitingly full house – the venue was bursting at the seams with the oohs and aahs of an audience well pleased – further added to my enjoyment.

I wish I could say that Quidam, Cirque's recent offering at the Barclays Center – another calling card venue – was an equally joyous occasion. But alas the evening, with many empty seats, too few oohs and aahs, and numerous late arrivers' trekking down the aisles, was riddled with disappointment. Other than Benoît Jutras' rapturous music which actually made me swoon, I found this Cirque du Soleil experience tedious. Half of my dissatisfaction was with the venue itself. More a concert and sports arena – it may have worked for Barbra Streisand's voice, as well as her nose – but this edition of Quidam was swallowed up by the venue's cavernous surroundings. From my seat, it was like watching ants move about the stage. A large video screen would definitely have helped. More disappointment came with the production's all too familiar 'innocent character' storyline, overly used by many of Cirque's productions to house their jugglers, acrobats, and clowns—in this case Zoe, a innocent young girl, alienated and ignored by her parents, dreams up a whimsical world.

I found the following two hours with one intermission and ten acts, though flawlessly executed by the troupe's nubile and accomplished performers – I'd like to see you hang, twirling without net, some fifty feet in the air like Tanya Burka, or pivot through the air on hoops suspended above the stage (Julie Cameron, Lais Camila) or for that matter be the top guy on a pyramid – tedious. Too soon, I was desperately craving a sense of surprise, something that I never had seen before – variations of these same acts have been around forever – which this Quidam was not offering. As my attention started to wander thoughts of the old Ed Sullivan TV variety show which ran for 23 years (1948-71) started to flood my mind. For those young ones who have no idea what I am talking about Sullivan's shows also featured acrobats, jugglers, and an occasional clown. But Ed didn't stop there. He added magicians, popular comedians, singing stars, a hot jukebox favorite, a figure from legitimate theater, an athlete, and for the kids, a visit with puppet" Topo Gigio, the little Italian mouse." In a retro mood, I wanted to return to the 50s.

Bitching and moaning aside – this is what we curmudgeonly critics sometimes do – I am sure that newcomers who have not had the Cirque du Soleil experience, folks who are addicted to circuses in any form, shape or venue du jour, and children who are so easily pleased, a great many thrills may still can be had. Quidam, is still on tour, and 18 other Cirque du Soleil shows are currently holding court at venues in both the US and around the world. To find what Cirque is playing on what continent, in what country, in what city, and when it will be coming your way, log onto www.cirquedusoleil.com. Here you can buy tickers, posters, CDs, T-Shirts, and gift cards.