"A Rite," a dance-theatre creation based on "Le Sacred du Printemps" by Igor Stravinsky.
Conceived, directed and choreographed by Anne Bogart, Bill T. Jones, and Janet Wong. Bill T. Jones/Arnie Zane Dance Company and SITI Company.
Howard Gilman Opera House at the Brooklyn Academy of Music, Peter Jay Sharp Building, 30 Lafayette Ave., Brooklyn, NYC.
Oct. 3-5, 2013, at 7:30.
Tickets start at $30.
Tickets at 718-636-4100 or www.BAM.org.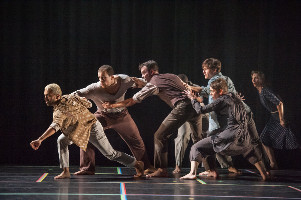 Photo by Stephanie Berger.
Even before the middle of the first act, the Parisian audience was jeering the premiere of "A Rite of Spring. By the second act, there were fist fights that spilled out into the street. In 1913 audiences expected the exquisite delicacy of "Swan Lake " and the harmonies of Mozart. Stravinsky brought them atonality, dissonance, confusing pauses, rituals, and questions. Not to mention the jolting experience of the sacrifice at the finale. But when Igor Stravinsky worked hand in hand with Sergei Diaghilev's Ballets Russes and choreographer Vaslav Nijinsky, modern classical music was born.
The Brooklyn Academy of Music, for over 150 years a home for edgy creations, dedicated three nights of this season's New Wave Festival to "A Rite," a collaboration of director Anne Bogart; choreographer Bill T. Jones; Janet Wong, the associate artistic director of Arnie Zane Dance Company; and the ghost of Igor Stravinsky, in a mischievous, unsettling, beautiful, electrifying, very smart production. Extraordinary dancing and movement, historical and cultural allusions, dialogue and the score meld into something unique and fresh; inviting, poignant -- and funny. Bogart called it a rethinking of the original "but containing the complexities and paradoxes of our own times." It was an important moment for Bogart, in 2012 a celebration of 20 years with SITI, her troupe; and for Bill T. Jones, 30 years with his troupe the Zane Dance Company.


Photo by Stephanie Berger.
"A Rite" sometimes weaves in and out of Stravinsky's score, sometimes shadows it, sometimes makes its own path, but always follows a distinctive vision about the individual and society, the historical and the personal. These are the themes of our time. The childlike playfulness and mock wars that opened Nijinsky's original highly stylized choreography become muscular, energetic dance -- one of the most exciting segments of the evening. The stage is busy with individual movement from floor work to jetes, that then returns to choral routines, many of them, such as the whole body tremble or one arm bent across the heart, homage to Nijinsky's choreography. The dancers are barefoot and in contemporary casual clothing, bringing us closer to the experience, evoking not the Native-American myth-making of the original but our daily lives. There is a kind of wonderful randomness to it all, as though each dancer were soloing, until the discipline of the chorus interrupts, giving shape and order to the whole. Everywhere you look, the eye is delighted, and the musical selections, although canned, are masterful.
Our guide through the work are two historians: a musicologist (Ellen Lauren) in a polka dotted dress, bangs and glasses who sounds like Frances McDormand in "Fargo"; and a traumatized and wounded World War I veteran (Will Bond), an eye witness to history, whose monologues were composed from the diaries of Great War veterans. He is both the sacrifice – "heavy in the head, "not thinking clearly" – and the aggressor, who murders the dancers in a disturbing closing movement. "What is it about that particular [opening] night [riot]?" the musicologist based on Severine Neff muses. "If you think about it on an axis," she observes, the concert is "a metaphor for the artist set free" from conventions, commanding and demanding. Ideas swirl through "A Rite." A performer becomes physicist Brian Greene, who posits parallel universes. Other performers reference Jonah Lehrer's bestseller "Proust was a Neuroscientist," about the intersection of science and art. The work itself frees, stretches, and speeds up time as silence, sound, and movement in an aural montage. Take what you want or just sit back and enjoy the scenes.
Photo by Stephanie Berger.
The Bogart-Jones collaboration is seamless. Their two companies meld into one, which speaks in a range of international accents. Bogart, a professor at Columbia University, has won many awards. But for me, long absent from dance, the creative heart of the work is the choreography. Bill T. Jones has been praised as an irreplaceable Dance Treasure and received Tony, Obie, Callaway, Kennedy Center, and a MacArthur genius awards. The dancers surpass even high expectation. Everything is a surprise, but best of all is his use of chairs. A loose chain of dancers, who sometimes free in mid-motion, toss chairs to each other to set up a scene. So simple -- so fine! In another, a dancer repeats "I dreamed that Spring was coming" as she steps or is lifted from one elevated stool to another. The stools, set in place by the whirlwind troupe, appear from nowhere. Walking the winding path is an act of faith: She never hesitates and the split-second appearance of each stool always seems capable of a near miss. It is as beautiful as it is mesmerizing.
The musicologist advises us to consider the concert as particles and implies that the music is a being, which can stretch and reshape itself. And so the corps fits a Charleston, a tom-tom [as in the original], some singing, and other seemingly alien elements -- that fold surprisingly smoothly -- into the score. There is a rare intimacy between the performers and the music. They seem to stand inside it, and their performance is the record of their experience. Perhaps this is what Nijinsky discovered in his magnificent circle dance, where the chorines trace circles within circles. Jones's dancers move in their own circles, in small groups, or as a whole – like particles caught in the storms of history and their own lives. Then once again they reassemble into a unit. The individual and the group -- a story that takes many forms.