"Fuerza Bruta: Wayra," created and directed by Diqui James
Daryl Roth Theatre, 200 Union Square East, NYC. June 27, 2014 - open run.
$30 (rush tickets), 49.50 (TheaterMania discount), $99 at www.fuerzabrutanyc.com or www.theatermania.com
212-239-6200 or 212-947-08844; or in person at the Daryl Roth Theatre.
Tues.-Fri. 8 PM; Sat. and Sun. 7 PM; Fri. 10:30 PM; Sat. 10 PM.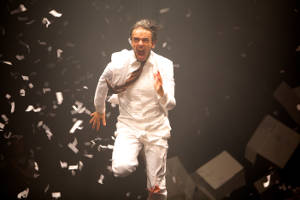 Liam Lane in WAYRA. Photo by Jacob Cohl.
What could be better on a muggy summer night than water! Lots and lots of water! And so "Wayra"! This part-circus, part-happening at the Daryl Roth Theatre is an eighty-minute adventure for the young at heart. There are no seats. There is lots of dancing (and you're invited -- if you want), and more than enough mesmerizing acts to enchant. It's psychedelic -- without the poppers and pills. Anyone who has caught the first two version of "Fuerza Bruta" knows the elation, and this version offers something new.
Once the lights dim, the drums and incantation begin on a raised stage. The ed audience becomes a tribal community. As the soft plexiglass ceiling lowers -- hands are raised both to touch the "dome" and to ensure standing room. The defensive gesture is totally unnecessary but freeing. As the shape and the lighting of the room change, the collective audience is drawn deeper into the world of "Wayra."
Acts follow. When the ceiling lowers again, a water ballet with four mermaids is performed above our heads. Their slow reconfigurations and exhilarated dashes from corner to corner, accompanied by changing lights and wave patterns, are like moments from a dream. A face appears, hands, the sweep of a body -- lovely and mysterious! The third time the ceiling lowers, there are openings through which harnessed performers swing down to us, lifting some audience members aloft.
Cast of WAYRA. Photo credit by Jacob Cohl.
The storm/water theme is repeated, for example, in a rain of paper confetti. But the most exciting moments are the double faces of a suspended, spinning moon. This huge silver object is buffeted by hurricane-like winds as two performers, male on one side, female in crinolines on the other, in a modern aerial ballet, are tossed about-- sideways, upside down, clinging with one hand, groping for a better hold.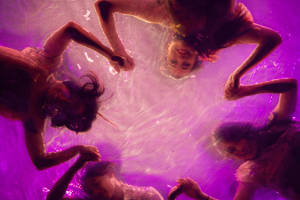 Performers in WAYRA. Photo credit by Jacob Cohl.
The most interesting floor act uses a treadmill. A man in a white suit (Liam Lane) walks counter to the direction while other performers in outdoor costumes step on, flow back, fall off. Sometimes he taps them and they turn, a temporary cadre. Sometimes he performs tasks, like setting up a table and four chairs as he walks. It's all in the timing. And the continual question is whether they can all keep the tempo.
"Fuerza Bruta" premiered in Argentina in 2005 and has toured London, Lisbon, Cordoba, Puerto Rico, and the Edinburgh Fringe Festival, where it won the Bank of Scotland Herald Angel award. Angela Buccinni, one of the performers, said the cast is trained in many tracks (acts) but they don't know until half an hour before the show what they will be performing. It keeps the show fresh and everyone on their toes. The night I attended, she was one of the mermaids and floor dancers and premiered as a drummer.
"The incredible thing about theatre is that it's not an individual experience, it's a social encounter," says director Diqui James.