THEODORE BIKEL: LIFETIME ACHIEVEMENT AWARD AND THE SCREENING OF A NEW FILM
by Glenda Frank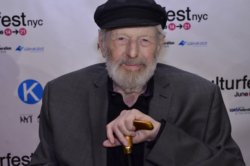 Theodore Bikel. Photo by Kate Hess.
In his twenties, invited to Buckingham Palace, he sang Yiddish songs to the royal audience. He has recorded maybe 40 albums – with songs in Yiddish, English, Hebrew and over 23 other language. He speaks six languages well -- and is not known for his modesty. On Sunday, June 21, the National Yiddish Theatre Folksbiene honored Theodore Bikel with a Lifetime Achievement Award at the Museum of Jewish Heritage in Lower Manhattan. He was introduced by actor Alan Alda, a longtime friend, after the New York premiere of a moving documentary titled "In the Shoes of Sholom Aleichem," the great Yiddish story teller, who created the character of Tevye. Alda narrated the film, which was directed by John Lallos; co-produced and written by Lallos and Marsha Lebby. At 91, Bikel sits in a wheelchair, but the voice and wit remain vibrant. When asked if he would sing "Edelweiss," in his famous rendition from "The Sound of Music," Bikel told us that he had no instrument to play. "Shall I play Acapulco?", he quipped.

Someone observed about Bikel's enormous range that he could play Shakespeare in the morning, Tevye from "Fiddle in the Roof" in the evening, and comedy in the afternoon. Bikel has played Tevye more than 2000 times as well as performing in films ranging from "The African Queen" (1951) and "The Russians Are Coming, The Russians Are Coming" (1966) to "Crime and Punishment" (2002). And then there is his stage career and his presidency of Actors' Equity.

"In the Shoes of Sholom Aleichem" illuminates Bikel's quintessenially jewish experiences with immigration to the new world, Civil Rights and anti-war activism. Bikel tells us in the film: "I lived through the Nazis. I know what it costs when good men are silent."
It is a beautifully crafted film, that has been enjoying sold out performance as it travels through major cities in the United States as well as Israel, Australia, and Canada. Scenes from Sholom Aleichem's tales, quotations from the Bible and Talmud are interspersed with stories told by Bikel and photographs from the personal lives of the men and twentieth century Jewish history. The well-documented – immigrant photographs – is combined with the less familiar. I saw pictures – for the first time – of the 200,000 people who thronged to mourn at Sholom Aleichem's funeral, and I enjoyed an annual memorial service, held to this day by his family, in which one of his stories was read aloud. Bikel's narration about his father's love for the Yiddish language was poignant.
The filming and award celebration capped the last day of KulturfestNYC, the first season of a new international festival of Jewish performing arts celebrating the global impact of Jewish culture. There were 100 events throughout New York City, including Joe's Pub. It was an endeavor by National Yiddish Theatre Folksbiene, which is celebrating its centennial season, in collaboration with UJA-Federation of New York. Folksbiene is the oldest extant theatre company in the country.