Alice in Black and White
reviewed by Glenda Frank

by Robin Rice, directed by Kathi E. B. Ellis
at 59E59 Theatre, between Madison and Park Avenues.
Produced by Looking for Lilith Theatre Company. NYC.
Aug. 3-14, 2016. Tuesday – Thursday at 7:30 PM; Friday and Saturday at 8:30 PM; and Sunday at3:30 PM. Tickets are $17.50 and $25. Call Ticket Central at (212) 279-4200 or go to www.59e59.org.
By Glenda Frank
Elizabeth Alice Austen, born in 1866 to an upper middle class family, lived her golden years in poverty, her photographs and glass negatives forgotten in a trunk in the Staten Island Historical Society. She was rediscovered shortly before her death. Her work has become a chapter in the history of American photography, but her name is not familiar to the general public. Playwright Robin Rice has brought her iconoclastic life to the stage in "Alice in Black and White."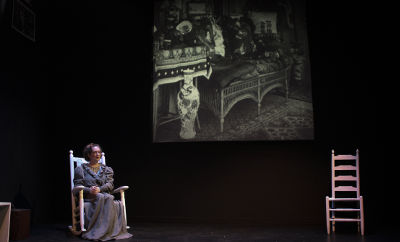 L-R: Jennifer Thalman Kepler and Laura Ellis in ALICE IN BLACK AND WHITE, written by Robin Rice and directed by Kathi E.B. Ellis, at 59E59 Theaters. Photo by Holly Stone
Although the play spans over 60 years, from the age of 10 until her death, the focus is on three periods: her childhood when she (Jennifer Thalman Kepler) discovers her passion for the new art form much to the dismay of her conventional mother (Shannon Woolley Allison); her realization of love for Gertrude Tate (Laura Ellis); and her final years as Clear Comfort, the family home on Staten Island, literally crumbles around her. An unnamed man (Joseph Hatfield as Oliver Jensen) wanders in and out of her scenes and is featured in the 1951 interludes, as he tracks down Austen's work, determined to include it in a book he will title "The Revolt of the American Woman" and in an article for "Life" magazine.
The most affecting moments are the scenes between the two women as they discover their affinity and march off in conversation, forgetting the two male suitors who introduced them. There are real sparks as they discuss their interests (some unusual facts about snail slime) and seem to accept their instant affinity without qualms. Perhaps. Alice at this time was 51, old enough to recognize her chance for love. Her announcement to her family is met with the expected dismay but her clarity lifts the scene. Their trip out West has a charming lightness as they shout out their feelings for each other and enjoy the echo. And framing Oliver Jensen's hunt for the glass slides as a detective yarn brings a welcome dramatic twist.
Shannon Woolley Allison in ALICE IN BLACK AND WHITE, written by Robin Rice and directed by Kathi E.B. Ellis, at 59E59 Theaters. Photo by Holly Stone
Rice identified Alice's grandfather's (Ted Lesley) unwavering faith in the tenets of Transcendentalism as a primary source of the photographer's unquestioning devotion to her craft. He quotes the writings of Henry David Thoreau mostly, some Emerson, even a little Fuller. The grandfather, always supportive of his beautiful but odd offspring who read "Popular Mechanics" and repaired the lawn mower, supplied the trust fund that enabled Austen and Tate to enjoy world travel. The investments were lost in the Crash of 1929 and Austen's male relatives refused financial aid. Slowly she was forced to sell the family treasures, and the tea room she opened was a failure. How ironic that she never thought to take portraits! But as the earlier scenes explain, she was not reared to consider earning a living.
Actor Jennifer Thalman Kepler is Alice from 10 to 85, no mean feat. She plays the later years more convincingly than the child, who is often too overexcited and shrill. Laura Lee as Alice's companion is a lovely presence. Shannon Woolley Allison does a convincing job in three roles. The continual slide show of Austen's work by Christé Lunsford set the scenes and was a tribute to the artist.
___________________________________________________________________________________________________
SNAPSHOTS THROUGH A GLASS DARKLY
reviewed by Beate Hein Bennett
August 3 to August 14, 2016
59E59 (Theatre C), 59 E. 59th Street (bet. Park & Madison Aves.)
Presented by Looking for Lilith Theatre Company
Tues. – Thurs. at 7:30; Fri.& Sat. at 8:30; Sun. at 3:30
$25 ($17.50 for 59E59 members)
Ticket Central at (212)279-4200 or www.59e59.org
Running time: 2 hours and 5 minutes with one intermission.
Reviewed by Beate Hein Bennett
"Alice in Black and White" by playwright Robin Rice was premiered by the Looking for Lilith Company in Louisville, KY and is now presented at 59E59 Theater on the occasion of the 150th anniversary of Alice Austen's birth. Robin Rice won the Stage Write Women's Theatre Initiative Award for this play. The plucky Looking for Lilith production in the lively direction of Kathi E.B. Ellis presents a whirlwind tour through the life of Alice Austen from 1876 to 1951.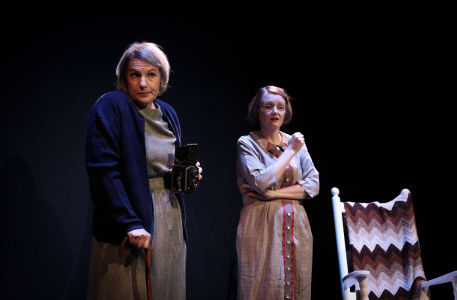 L-R: Jennifer Thalman Kepler and Laura Ellis in ALICE IN BLACK AND WHITE, written by Robin Rice and directed by Kathi E.B. Ellis, at 59E59 Theaters. Photo by Holly Stone.
The two-act play feels like a series of snapshots, alternating between occurrences in Alice Austen's life and a mid-twentieth century historian's search for her. It is an appropriate dramaturgical structure given the fact that Alice Austen was an avid photographer, probably the first woman street photographer who documented New York life from the streets of the Lower Eastside to her elegant ancestral home, "Clear Comfort" on Staten Island. She was given a camera by an uncle when she was just ten and fell in love with the idea of being able to preserve the fleeting moments in life as fixed images to be collected and looked at when they are long past. She says at some point in the play: "I am a preservationist. My photographs are history not art." And yet her photographs prove that she had an artist's eye by how she framed those moments and even how she set up the shots. Alice Austen (1866-1952) never married, had a long relationship with Gertrude Tate, a dance instructor from Brooklyn with whom she shared her middle and old age in Clear Comfort until their utter impoverishment forced them out--the stock market crash had wiped out Alice's inheritance. Gertrude went to live with some relatives in Queens while Alice was committed to a poorhouse in Staten Island.
L-R: Jennifer Thalman Kepler and Laura Ellis in ALICE IN BLACK AND WHITE, written by Robin Rice and directed by Kathi E.B. Ellis, at 59E59 Theaters. Photo by Holly Stone.
The intimate space of Theater C lends itself well to the production's modest yet functional setting by Christe Lunsford (scene and projections design). The audience is seated on two adjacent sides of a mostly empty square space. One wall accommodates large projections of black and white photographs from the Austen archive. On the walls behind the audience are suspended smaller prints of her photographs of late 19th century New York life. Three pieces of white painted furniture are distributed around the periphery of the playing space: a simple bench, a rocking chair, and a saddleback chair. In one corner between the two audience sections a large 19th century camera sits on a tripod. Bluish light with subtle gobo effects of leaves creates an outdoor ambience; a steamship whistle is heard in the background. Lighting designer Tom Willis and composer/sound designer Nathan Roberts are to be commended for the delicate atmospheric changes with which each brief scene is framed and defined in terms of time and place. The costume design by Lindsay Chamberlin was suggestive of period and allowed for the necessary quick changes required not only by the double and triple casting of characters but also for rapid changes in period.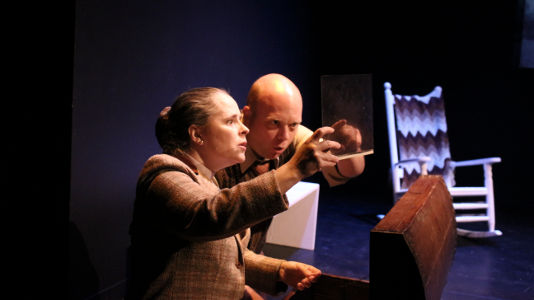 L-R: Trina Fischer and Joseph Hatfield in ALICE IN BLACK AND WHITE, written by Robin Rice and directed by Kathi E.B. Ellis, at 59E59 Theaters. Photo by Holly Stone.
The first act takes us into the intimate and comfortable world of Alice. Foremost in the Clear Comfort household is her grandfather John Austen, owner of the Staten Island estate, and transcendentalist friend of Ralph Waldo Emerson whom he likes to quote; his daughter Elizabeth, Alice's strict and prim mother who was abandoned by her husband before Alice's birth; his other daughter, Minna, a more liberal spirit whose husband Oswald gave Alice the camera which fascinates the curious child. John Austen, played by Ted Lesley as a sympathetic and patient man who adores his grandchild Alice, follows her development from age ten to age fifty-four with a mix of curiosity, indulgence, and concern for her future. Alice's mother, Elizabeth is played by Shannon Woolley Allison as a severe, somewhat dour woman who tries to curb her wild child and mould her into a marriageable young lady; in one particular scene Alice sets her up to photograph her in "her apple-green dress"--it is a lovely mother-daughter scene that captures their complex relationship full of fondness, envy, and attempts at control. The challenging role of Alice is played by Jennifer Thalman Kepler with great vivacity, charm, and credibility. In the course of the play she has to portray the child, the adolescent, the young woman, the woman past childbearing age –Alice's option not to marry and have children is an ongoing family issue —and finally old age. Megan Adair plays pretty Aunt Minna who maintains the charm counterpoint to her "proper" sister Elizabeth until, at the end of the first act, she is mute and demented.
L-R: Jennifer Thalman Kepler and Laura Ellis in ALICE IN BLACK AND WHITE, written by Robin Rice and directed by Kathi E.B. Ellis, at 59E59 Theaters. Photo by Holly Stone
The second act takes us from the 1920s to 1951. It follows Alice's trajectory of success as a photographer, now with a portable Leica camera, with which she can capture the far-away places she visits with her companion Gertrude. Her life is full of passion and freedom of movement until poverty and illness confine both women to Clear Comfort which is falling apart around them. She finally has to surrender it and ends up forgotten in the Staten Island poorhouse; a trunk with her original negative glass plates and her photographs is stored in some basement. This brings me to the author's structural device by which she dramatizes the resurrection of Alice Austen.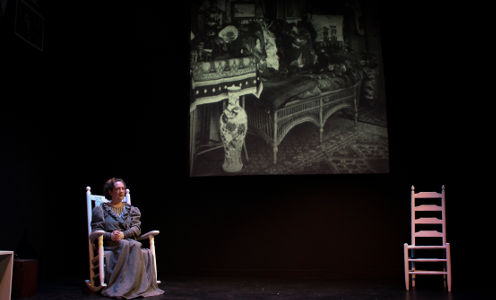 Shannon Woolley Allison in ALICE IN BLACK AND WHITE, written by Robin Rice and directed by Kathi E.B. Ellis, at 59E59 Theaters. Photo by Holly Stone.
Interspersed throughout the play are scenes, set in 1951, between Oliver Jensen, the historian/author of the book "The Revolt of the American Woman" who searches for Alice Austen and her photographic legacy and a fictitious figure, Sally Lally, receptionist to the local Historical Society. Joseph Hatfield as Oliver Jensen and Trina Fisher as Sally Lally have the difficult task of periodically interrupting the major narrative flow. However, the rediscovery of Alice Austen and her photographic treasure trove is of equal importance to the drama. Robin Rice deals in her play not only with a biography but also with the issue of historical preservation and public memory. The play demonstrates the fragile and arbitrary survival of historical documentation and public awareness and how this survival often depends on the passion of an individual whose discovery leads to unexpected results.