"Pollock" by Fabrice Melquiot
"Pollock"
By Fabrice Melquiot, directed by Paul Desveaux
Underground Theatre at the Henry Treet Settlement, Abrons Art Center, 466 Grand St., NYC
Produced by Compagnie L'Heliotrope, co-presented with the Cultural Services of the French Embassy in New York
February 15 - 25, 2018
Tuesdays - Saturdays at 7:30 pm, Sundays at 3:30 pm
Tickets: (866) 811-4111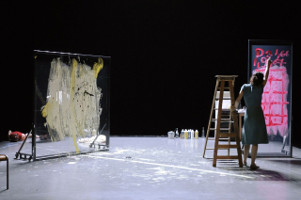 Photo courtesy of Underground Theatre.
Jackson Pollock was a major twentieth-century innovator, whose iconoclastic paintings helped to shift the center of modern art from the post-Impressionist France of Picasso and Matisse to the Abstract Impressionism of the United States. His life is a legend, the tormented genius, the out-of control alcoholic who died in a tragic car accident at the age of 44, but who was loved by Lee Krasner, a major artist, and Peggy Guggenheim, his patron.

Playwright Fabrice Melquiot has done extensive, impressive research on the artist. His two-hander "Pollock," one of a trilogy of tormented artists that includes Janis Joplin and Diane Arbus, is currently at the Underground Theatre on Grand St. It was produced by Compagnie L'Héliotrope and the Cultural Services of the French Embassy in New York. It should be better than it is.

In a talk-back after the show, Melquiot and director Paul Desveaux described the work as impressionistic rather than biographical. But even impressionist work needs dramatic structure, revelations, discoveries, reversals, and maybe even a dénouement – some reason for the audience to sit and watch. It's obvious from the first 20 minutes that Pollock is a moody, abusive alcoholic and perhaps, at least according to his wife, a genius. "[Genius is] on your face on every single one of your paintings," she says, "poor love my poor love and as your face helps you see where to put your feet like the paintings help you stand up straight."
The staging by Paul Desveaux is fluid. Two microphones flank the stage. Most of the play is set in Pollock's studio(s) so there is the paraphernalia of paint cans, brushes, etc. A large cloth covers the floor. It is an open space that invites the viewer in.

There are some lovely moments. Jackson delicately walks around an imaginary canvas on the floor and drips out a spidery dance in black paint. Lee is furious that he stayed out all night with Tennessee Williams when they are on Cape Cod, and that Williams later made himself their guest. Lee and Jackson wrestle on the floor in anger. Jackson rips through paintings with a palette knife. There is some interesting discussion of Jackson's fractal patterns – scientific studies of the artist's intuitive understanding which density would create the best art. He destroyed the paintings in which the algorithm failed.

And there are moments that seem to offer no insight into the painters or their relationship. We see him throw yellow paint at the large plastic "canvases" hung vertically and wipe paint on Lee's face. Lee wipes paint on him. (I kept wishing for that wonderful moment in "Red" by John Logan when painter Rothko and his assistant prepped a large canvas in a seemingly choreographed dance.) While he is throwing tantrums or verbally abusing her, Lee smiles sweetly and offers him eggs. She is a caricature of the good little wife. There is no chronology, which can be a great advantage in plays like Paula Vogel's "How I Learned to Drive." Here it is disorienting.

Although predictable, the role of Pollock had some nuance and mood. It offered actor Jim Fletcher an interesting range, and he ran through the emotions well. Good timing. But Birgit Huppuch as Lee had so little subtext and action that she was almost part of the set. The playwright and director claimed the play was as much about her as about Jackson, but Lee Krasner, whose work ranged from the dense, Klee-like Little Images to the large, highly expressive later painting, was simply a foil.