MARY STUART
Mary Candler (Mary) and Jory Murphy (Melville). Photo by Allison Stock.
"Mary Stuart" by Friedrich Schiller, in a version by Mike Poulton
directed by Emily Lyon.
Produced by Hedgepig Ensemble at
Access Theatre, 380 Broadway, NYC.
April 11-20, 2019. Wed.-Sat. at 8:00; Sun. at 2:00.
Tickets $10-25.00
Tickets:bit.ly/HedgepigMaryStuart.
Sometimes the best theatre experience is at the small, off off-Broadway houses, like Access Theatre. It can begin with the journey – up the many stairs to the fourth floor space or the wait, while the company sends the elevator down to you. And it's even better when the company brings its passion to the stage, as Hedgepig Ensemble did to their revival of Mary Stuart.
Olivia Williamson (Elizabeth) with Zia Lawrence (Aubespine),
Jory Murphy (Bellievre), Greg Carere (Leicester), Atticus Cain
(Shrewsbury). Photo by Allison Stock.
Mary Stuart by Fredrich Schiller offers two stellar roles for actors and Mary Candler as Mary and Olivia Williamson as Queen Elizabeth revel in these strong, smart women, who are as much victim of historical currents as they are in command of their fate. Candler and Williamson founded Hedgepig Ensemble in 2012 to "elevate voices of women by elevating the classics."
The play opens with Mary, imprisoned in the Tower of London by Elizabeth, her cousin and "sister-queen." The contrast is between grace, in all its connotation, embodied so well by Candler in a flattering blue gown (costumes by Somie Pak), and the burden of state, represented by Elizabeth's red and gold. Candler exudes supple charm. Williamson is sturdy as "the good prince" but torn apart by personal emotions. In one of the last scenes she becomes almost comical in dealing with these conflicting demands, as she orders Davison, a frightened courtier, both to deliver and not deliver Mary's death warrant.
The cast was of mixed ability, with several actors doubling. Jory Murphy's performance as Davison was scene-stealing in his panic to serve the Queen's wishes but not being able to understand them.
I have major problems with Schiller's play. I can easily suspend disbelief in other works but the playwright's skewing of history is troubling. The play, which premiered in 1800, was part of the Sturm und Drang movement in German letters, a highly romantic outpouring in which the individual, especially the rebel, is superior to established institutions.
There is more than Schiller reveals to the beloved Mary. Mary was a devout Catholic, who secretly baptized her son, the future King James I of England, while professing tolerance in a nation that was anti-Pope. After marrying the man accused of killing her second husband (a Scot), she was exiled. Her cousin took her in but set her in the Tower, as a threat to her kingdom.
History teaches some cruel lessons. After the deaths of King Henry VIII and his son Edward, Mary, Henry's first daughter, a Catholic, took the throne and soon became known as "Bloody Mary," for her persecution of Protestants. In 1572 (15 years before Schiller's Mary was executed), France, where Mary was reared, killed thousands of Protestants (70,00 is one estimate) in the St. Bartholomew's Massacre. Schiller, using dramatic license, set up a charged encounter between the two queens. Mary, infuriated, tells Elizabeth she is the true successor, that Elizabeth is not legitimate.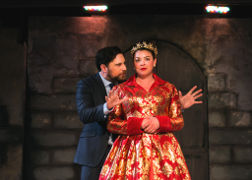 Olivia Williamson (Elizabeth) and Greg Carere (Leicester). Photo by Allison Stock.
So why did Elizabeth hesitate? Simply sisterly feelings? Ann Boleyn, Elizabeth's mother, was beheaded by her husband on charges of infidelity. By condemning her cousin to the block, she would become her father, condoning his decision -- which kept her in royal succession. But she had a country to protect, and she had relinquished marriage and children in order to ensure the kingdom's safety.
It's hard to forget this history as I watched other productions of the play, but Hedgepig's staging, direction by Emily Lyon, made me more comfortable. Until the last few scenes, the queens are in balance. We watch Elizabeth navigate court intrigues and her personal emotions, surrounded by male traitors who want power. We see Mary, in an unending twilight, desperate for release and hope and the men who make promises. Only Sir Amyas Paulet (Jason Guy), her warden, shows integrity and honor. The verbal attack by Mary on Elizabeth in the garden, the turning point, comes as a shock. And only then, when she has lost hope, does the production shift toward an ennobled Mary.