A test of human courage in a world of shifting values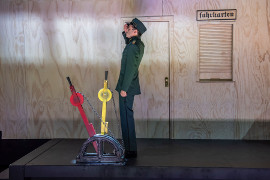 Luke Kirby (Thomas Hudetz). Photo by Stephanie Berger.
"Judgment Day" by Ödön von Horváth,
adapted by Christopher Shinn, directed by Richard Jones
Park Avenue Armory, 643 Park Avenue (66-67 St.), NYC
Dec. 5, 2019 until Jan. 10, 2020.
Thursday at 7:30 pm; Friday at 8:00 pm; Saturday at 8:00 pm; Monday at 7:30 pm; Tuesday at 7:30pm.
Tickets start at $35 (Previews) | $55 (Performances) and can be purchased at armoryonpark.org/ (212)933-5812
Sometimes fate forces us into lives that are too large, too complicated, too challenging. If the station master had not been so handsome, the train wreck would never have happened and 17 people would still be alive. Director Richard Jones has transformed Ödön von Horváth's 1937 Expressionist drama into a comment on fate. "Judgment Day" is a test of human courage in a world of shifting values, where guilt and innocence are not just intertwined, but sometimes integral. The satire is incisive, comical, and part and parcel of the tragic. Jones' surgically precise, sure-footed direction is ideal for the 55,000 foot theatre space of the Park Avenue Armory. This production is a work of art.
The play opens with a failing marriage. The station master's wife (Alyssa Bresnahan), 13 years older than her husband (Luke Kirby, 2019 Emmy winner for his depiction of Lenny Bruce), is in a rage, probably about his impotence. She is lovely and unpopular. The town gossip (a marvelous Harriet Harris), who detests her, shares tidbits with a traveling salesman (Jason O'Connell), who is waiting to catch his train. The salesman is discouraged, having found only one customer, Anna (Susannah Perkins), the innkeeper's daughter, for his cosmetic line. Soon Anne arrives at the station with her fiancé, a strapping butcher from one town over who adores her. But she has eyes for the station master, whose wife watches the flirtation from her upstairs window. And when Anne leans in to kiss him, the express train passes without his having changed the track switch.

Cast of Judgment Day. Photo by Stephanie Berger.
Even before the event, Director Jones transported us into the alien world of Expressionism, a dark, determinist school of drama from the 1910-1930s that inspired Eugene O'Neill in plays like "The Hairy Ape," which Jones directed to acclaim two years earlier at the Armory. (Obie Award for Bobby Cannavale is Yank.) The people waiting for the train laugh in unison that anyone would think the train would arrive on schedule. The actors pose and freeze, just enough to indicate the directorial stance. Trains pass frequently in an almost frightening frenzy of light and sound. It is clear we are in good hands and in for a ride. Period costumes by Antony McDonald, lighting by Mimi Jordan Sherin and sound by Drew Levy enhance the subtly shifting moods.

The townspeople are the Greek chorus, both as individuals and an entity. Their opinions are not only impassioned but change as frequently as the hands of a clock. When Anna lies to investigators about the Station Master to save him from blame, the town is vociferous, almost as loud as they are condemning him just before the manhunt. They are serious-minded buffoons and whoever does not conform incites their ire. They move as a body, upsetting the blocking balance of scenes. To Playwright von Horváth, they are as guilty as the Station Master. Of more interest is Alfons (Henry Stram), a pharmacist who is as despised by the townsfolk as his sister, the Station Master's wife. As the play unfolds, Alfons' low-key courage becomes monumental. He faces the mob in their lair, welcomes his sister into his home, and offers assistance to his desperate brother-in-law. He becomes the voice of sanity in a violent world. I couldn't help thinking about the Nazi invasions that von Horváth, an Austro-Hungarian, fled.
Photo by Stephanie Berger.
The mammoth set design by Paul Steinberg – using the Armory space brilliantly – is moved by hand, slowly, evoking the steady inevitability of fate. I was reminded of "Oedipus Rex" as the noose gradually tightens, but instead of cruel gods we must confront a design that had been present all along but invisible. It is very evocative as is the play. Yes, there are slow, almost dozing off moments, but the final effect is powerful and long lasting. At times awards are presented to acting ensembles but in "Judgment Day," creatives and performing teams worked in seamless unison.