THE GOOD SOUL AT IRONDALE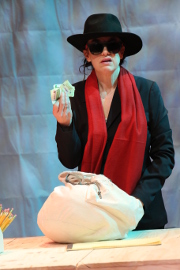 Carolyn Baeumler as the Good Soul. Photo by Gerry Goodstein.
"The Good Soul of Setzuan" by Bertolt Brecht
translated by David Harrower, directed by Jim Niesen
Irondale Ensemble, 85 South Oxford St., Brooklyn
Jan. 29 to Feb. 22, 2020.
Tickets $10- $35 at http://irondale.org/show-good-soul or 718.488.9233
Reviewed by Glenda Frank
"The Good Soul of Setzuan" is one of Bertolt Brecht's most challenging plays to stage. The cast is large -- over 40 characters including the Good Soul, a family of 8 and three gods just in the first few scenes. They are played by six members of the Irondale Ensemble. The Good Soul, both in their male and female guise, must convincing enough to fool Shen Tei's closest friends and lover. The Chinese names tend to blend into each other and the factory scenes lean toward the filmic. (I've only seen it done well once in Mexico City.)
Irondale Ensemble Theatre has been staging plays by Brecht since 1984 with the first "The Good Person of Szechwan." It was a wild, raucous production. Their "Life of Galileo" last Fall was an impressive achievement, full of clever surprises and invention. Their "Good Soul" has much to commend it but it is a work in progress. It is the second of three productions in the Brecht in Exile Series. "The Good Soul" adds gender expectations, maternal choices, and the nature of goodness to Brecht's usual themes of poverty and exploitation. The last installment will be "Mother Courage and Her Children" in an "exploration honoring ... Brecht's commitment to bring together art and politics to invoke a new way of thinking," according to the website.
Joey Collins as a police officer and Carolyn Baeumler as the Good Soul. Photo by Gerry Goodstein.
The production is set a workspace. The cast
enters in casual street clothing with winter jackets, backpacks, scripts and snacks. They discuss Brecht's biography -- his impromptu
flight from the Nazis, his construction of several masterpieces while moving from one hiding place to another. Joey Collins assigns roles. It's an early rehearsal. One actor complains that he hasn't read the script. "It never stopped you before," another actor quips. Costumes are few or ironic, a weakness because it distracts from the play.
When three gods descend to earth looking for good people, only Shen Tei, a prostitute, offers them shelter for the night. They reward her with 1000 pieces of silver to reform her life. She buys a tobacco shop and is soon exploited by poor acquaintances. She can't seem to say no, even to save the shop, so she disguises herself as a male cousin, who has no problem turning people out. It's a marvelous role for an actor and talent like Taylor Mac have turned it into a bravura performance. Production problems usually begin when the cousin takes over, and by cheating and manipulating opens a tobacco factory, which employs the poor of the neighborhood at starvation wages. At this point the Irondale version becomes confusing and disjointed. If I did not know the script, I would have been lost. Irondale is often adept at using video to enhance the staging and there is a bit of this. More would help.
Joey Collins as Yang Sung, the suicidal airman. Photo by Gerry Goodstein.
The ensemble, however, brought many insights to the script, often poignantly. Wang, the water seller who recognized the gods and found them shelter, lives in a sewer with rats. Good projections. In the original, he sells water from a cup with a false bottom, not something that has great significance for most of us. But Irondale has him selling sewer water in plastic bottles. Yet when he offers water to his friend Shen Tei it is clean. It's clear why the gods do not consider him a good person while overlooking Shen Tei's prostitution. The gods, biblical literalists, inform Shen Tei that she must obey the law but tht they don't "meddle" in economics. Another bull's eye for Irondale!
The carpenter who was never paid for his work is toothless, indicating his malnutrition as well as a metaphor. The song "I'm Just as Hungry as I Was Before" is set to a cheerful tune. Shui Ta, Shen Tei's male half, is not a business man but a gangster. As Brecht suggested in his notes on Epic Theatre, the actors combine dialogue with narrative. The most important contemporary note is that Shui Ta does not sell tobacco as in the original, but heroin. Sacks are loaded into the warehouse while one of the workers shoots up. These updates bring the message home, meeting Irondale's mission to keep Brecht's work alive.
The acting is mixed. In his multiple roles, Joey Collins was pure acrobat, his transformations instantaneous and nuanced. He was a real standout! Terry Greiss is always on his game and the banter at the opening of the play set the right, light
tone. But I have seen the other cast members display far more skill and stage presence.
A statement by Jim Niesen, Artistic Director, on the website highlights Irondale's selective approach. "How do our approaches to these plays and the performances we create address the concerns and the overwhelming challenges facing us that are so carefully detailed in the news stories of today? In "The Good Soul" our heroine's quest is reduced to just one word, a word that must be on many of our lips today-Help! This is the personification of the two sides of human nature in extremis. We see what it takes to operate so on the edge and what the impact it all has on relationships—personally and in business."