BLUES FOR AN ALABAMA SKY
"Blues for an Alabama Sky" by Pearl Cleage, directed by LA Williams
Keen Company at Theatre Row, 410 W. 42nd St.
February 4 – March 14, 2020.
Tues.-Thurs., 7 PM; Fri. – Sat. 8 PM; Sat. 2 PM; Sun. 3 PM. $28-$65.
Tix $28-$65. 212-239-6200, www.telecharge.com or http://www.keencompany.org/blues.
Reviewed by Glenda Frank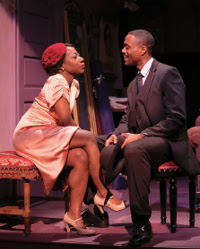 Alfie Fuller and Khiry Walker in "Blues for an Alabama Sky." Photo by Carol Rosegg.
"Blues for an Alabama Sky" by Pearl Cleage is a wonderfully old-fashioned drama about hope. Hope in the African American community and individual hope for happiness. It's set in 1930 in Harlem. The Harlem Renaissance is at its peak. The gifts of black artists and intellectuals have flourished and found new audiences. The Great Migration, the movement of six million African Americans from the rural South to the urban North, still offer promise.
But the Great Depression is beginning to gobble up everyone's dreams. We see that in Angel (Alfie Fuller), the protagonist. Her white gangster boyfriend has dumped her for a respectable marriage. Too impulsive for her own safety, she attacked him at the nightclub he owns and where she works. She is out of a job-- along with a breadline of other entertainers. Her flamboyant best friend, Guy (a charismatic John-Andrew Morrison), who came to her defense, finds himself unemployed. A handsome newcomer from Alabama (Khiry Walker) helps Guy carry the drunken woman home.
With only five characters, Cleage opens a rich world. Jazz, the new music, is in all the Prohibition speak-easies in Harlem. Sam (Sheldon Woodley), a handsome physician at Harlem Hospital, can't get enough of it. He is burning his candle at both ends. Delia (Jasminn Johnson), Angel's neighbor, talks about the sermons of the handsome Rev. Adam Clayton Powell and brings Margaret Sanger to Harlem to discuss birth control. (Yes, the play name drops. It is delightful to hear the gossip.) Sam falls in love with the proper (and much younger) Miss Delia. Life seems all forward motion. But having the wrong neighbors can be more than an inconvenience.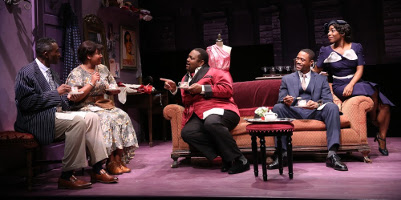 Sheldon Woodley, Jasminn Johnson, John-Andrew Morrison, Khiry Walker and Alfie Fuller in Premiere of Blues for an Alabama Sky. Photo by Carol Rosegg.
Although the ill-fated love match between Angel and her southern beau carries the dramatic weight of the play, Guy's story is a counterbalance, providing a more contemporary note. He has a big ambition. Since his days of turning tricks in the South along with Angel, he has dreamed of designing costumes for Josephine Baker, a star in Paris. Her portrait on the wall is like a religious icon. He writes her letters, invests in expensive fabric, and mails packages of sample outfits to her. It may be a long shot, but it's his life's blood.
The performances are mixed. John-Andrew Morrison in beautifully nuanced performance brings the character to life. (Costumes by Asa Benally.) He radiates concern, charm and audacity. The role of Angel is challenging. Alfie Fuller hits many wrong notes. Her desperation is played too head on. She seems to belong to a different play. The drama has its flaws but that does not undercut the playwright's considerable achievement in creating believable characters, beautifully evoking a time, and taking us on a ride where dedication and dreams triumph.