---
THREE TALL WOMEN, 2018
Glenda Jackson, Alison Pill and Laurie Metcalf in "Three Tall Women." Photo by Brigitte Lacombe.
"Three Tall Women"
Golden Theatre
252 West 45th Street,
Opened: March 29, 2018
Closing Date: June 24, 2018
Director: Joe Montello
Scenic Design; Mariam Buether
Costume Designer: Ann Roth
Lighting Design. Paul Gallo
Sound Design: Fitz Patton
Hair & Makeup Design: Campbell Young Associates
Cast: Glenda Jackson, Laurie Metcalf, Alison Pill,
The Role of The Boy played by Joseph Medeiros
Running Time: 1 Hour 45 Minutes
Tickets: 212 -239-6200
Reviewed by Herbert Simpson
It's only a few months before the 26th anniversary of the first American appearance of Edward Albee's masterpiece, "Three Tall Women," yet we've seen surprisingly few revivals. It's admittedly difficult to perform, but hundreds of our high schools have performed the extremely demanding constant dance numbers of "A Chorus Line" without even one cast member who can really dance. Certainly those who love Albee's plays can rejoice at this masterful new version. The legendary actress Glenda Jackson—who returned to the stage after 28 years in England's Parliament and got raves playing King Lear in Shakespeare's play at the Old Vic—stars with two admired, award-winning American actresses. And it's gorgeously designed (Miriam Buether) as well as excitingly directed by Joe Mantello one of Broadway's most honored director. Still, I think it needs some work.
It's generally known that Albee resented his coldly critical adoptive mother and attacked her in the form of Mommy, Martha, and other mother figures in his earlier plays, while affectionately portraying her mother as a grandmother figure. But in this complex play, "A", the mother figure in her 90s, is so multifaceted that we should find her bewitching and deserving a wider range of responses. In a recent interview, Glenda Jackson talks of her constantly working to understand her character fully and keep growing in her portrayal. As of March 25, 2018, I thought her spellbinding, commanding, funny, powerful, pitiably physically weak and in pain, foolish, mean, and frightening. But I did not think her yet expressing the surprisingly appealing and impressive old woman that Albee showed to reverse his earlier stereotypes. In the original cast , Myra Carter exemplified that softer character winningly.
Later the characters – A, B and C – morph from ancient old mother (A-Glenda Jackson), middle-aged Caretaker (B-Laurie Metcalf), and young helpful lawyer (C-Alison Pitt). In the later act they're the commanding oldest, A, a middle-aged manager version, B, and a young girl who will become the older two, C. They are three stages of one person.
Laurie Metcalf somehow incorporates these changes of perspective into a varied set of traits but always clearly the same consistent character. Jackson is almost too versatile to remain a single entity. And Pitt is charming but the least complex.
And in that last, most literal view of our tall women, a handsome young man visits, tries to connect to his mother, but hasn't one word to say. He represents the son, Albee, And he is shy and silent.
The tall woman whom we've seen fragmented by the three tall women, is now seen, and, perhaps, understood. And after a heartbreaking expression of resolve and vulnerability, she takes her leave—her son still unable or unwilling to speak to her.
This is an incredibly challenging experience, and this production meets the challenge perhaps more impressively than any other has.
Now, however, I would like to ask for the reader's indulgence.
The night before I saw this historically splendid performance of one of the defining plays of our time, I saw another at the Pershing Square Signature Center: Edward Albee's "At Home at the Zoo." I had not seen its two plays performed together: in fact, I'd not seen Act I, "Home life," performed at all. First staged in 2007 as "Peter and Jerry," it consists of "Home Life," written in this century, and Albee's famed 1958 play, "The Zoo Story." Edward Albee sent me the manuscript of "Home Life" with a note not to read it until I had re-read "The Zoo Story." It changes the perspective of that play by powerfully reinforcing that seminal, shattering, absurdist, almost nihilistic revolutionary 20th century artwork. The second play has Peter and his wife hardly taking any action but reexamining their flawed relationship in sometimes shockingly censorable personal terms and deciding to hold on to the value of their love despite sexual and intellectual incompatibility. Then Peter leaves to go sit on his favorite bench in the park, where, in Zoo Story, he will meet Jerry with horrifying results.
The production was simply designed, very well acted by Katie Finneran, Robert Sean Leonard, and Paul Sparks, and splendidly directed by Lila Neugebauer. Like "Three Tall Women," this is a richly complex and often very amusing example of contemporary involvement with unembarrassed self-knowledge and unquestioned vulgarity. (Both plays have drily comic speeches in which the men complain about their shrinking penises.) It displays their easy acceptance of unfamiliar backgrounds. It may feel less horror at others' pain and persecution, but it is also less aggressively cruel. Visiting these two late Albee plays wed to his earliest, I was struck by the continuing effectiveness of Albee's potently orchestrated social analyses.
---
"Three Tall Women" features mesmerizing Glenda Jackson
at end of unhappy stages of life.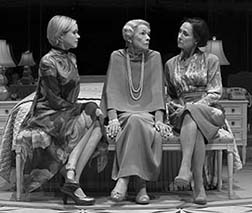 Alison Pill, Glenda Jackson, Laurie Metcalf. Photo by Brigitte Lacombe.
"Three Tall Women."
Written by Edward Albee, directed by Joe Mantello.
Golden Theatre, 252 West 45 St., New York City
212-239-6200, http://www.threetallwomenbroadway.com/
Opened March 29, 2018, closes June 24, 2018.
Reviewed by Lucy Komisar March 31, 2018
"Three Tall Women" features mesmerizing Glenda Jackson at end of unhappy stages of life
By Lucy Komisar
Edward Albee's 1991 play "Three Tall Women" is the attempt of a gay male to get into the psyches of three women, or rather of one women at three stages of her life, played by three actresses on stage at the same time. It is reportedly inspired by his adoptive mother, whom he despised.
So, you get a clueless young girl marrying a rich man for money, morphing into a cynical lady in her 50s, and a nasty old woman past 90. Mostly about their interactions with men, nothing about their own hopes or dreams. Joe Mantello is expert at making a fantasy naturalistic, even if I never believed it.
It starts with three women who don't have names: "A" an old lady of 91 or maybe 92 (Glenda Jackson), "B" a caregiver of 52 (Laurie Metcalf), and "C" a young lawyer of 26 (Alison Pill).
Jackson wears a purple skirt and tunic, long strands of pearls, and has gray marceled hair. She is soignée. She is ill, her arm in a sling, beyond repair. Her voice is high, musical, tremulous, crying out. She is mesmerizing.
They discuss age and death. Jackson dominates, a bit flaky, she breaks a glass, needs help to move to sit. Losing her inhibitions, a mark of dementia, she talks about a 'smart little Jew."
Glenda Jackson as A. Photo by Brigitte Lacombe.
"B," says, "At least she didn't say kike." But lawyer "C" complains about "A's" unpaid bills as well as anti-Semitism.
The old woman is angry, nasty, almost in a permanent fury, self-involved, her face frozen into sad terror, though at that age you tend to forgive it, because you know she is dying. A lady of means, she accuses servants: "Everybody's robbing me blind."
Then their identities morph into "A" at the varied stages of her life. You get a handle on her life, as the other two become her younger and middle years. Albee seems to want to show how she got that way. But he doesn't. She didn't have many choices, but he never deals with her except as an appendage of a man.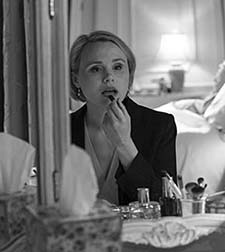 Alison Pill as C. Photo by Brigitte Lacombe.
Pill, the trendy lawyer, is elegant in a black suit and heels, then goes back decades as a silly juvenile fearful of the future: "isn't there happiness along the way?" We learn she married for money at 28. If this is 1999, that was the 1930s. Not a time for women who could manage to do much besides make a good marriage.
Her husband liked tall women, apparently what attracted him to her. But she didn't show much interest in him, didn't give him much joy. She wouldn't sleep with him.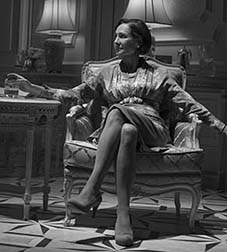 Laurie Metcalf as B. Photo by Brigitte Lacombe.
Metcalf, very fine as "B," is dour. diffident, cynical and wise, comments that men cheat a lot. "We cheat because we're lonely." Ah, something there. When "B" was the younger version of "A," she enjoyed riding. And bedded the stable boy. "He leads us into hay and down we go." Pleasure, then revenge. She gets him fired. A fire lights her eyes as she becomes the 50ish unhappy woman. "And you go around him. Once you fall, they won't hate you or quite as much, because you're not perfect."
The son left early on. As did Albee. Now "A" complains her son doesn't come to see her. Though he pokes in shadowy fashion around her death bed.
Curious that Albee made "C" a lawyer but never considers what "A" and "B" might have wanted to do with their lives. Being a lawyer wasn't an option.
And there is where Albee, the male who didn't have intimate relations with women, really does not understand the woman/women he is describing. Why they age so unhappily.
Metcalf played in a brilliant, feminist "A Doll's House, Part 2." I'd love to see a feminist "Three Tall Women, Part 2."