Meryl Tankard's "The Oracle"
Meryl Tankard's "Rite"
"The Oracle"
New York University Skirball Center,
February 7-9, 2013
Reviewed by Jack Anderson February 10, 2013
Photo by Regis Lansac.
Stravinsky's "Rite of Spring" is a century old this year, and with "The Oracle," the Australian choreographer Meryl Tankard makes her contribution to the anniversary celebrations. The clamorous score has tempted choreographers ever since its premiere on May 29, 1913. But until only recently, it also terrified them. With its strange harmonies and complex rhythms, many choreographers thought it defied staging and, possibly, the superstitious among them took it as an inauspicious omen that Vaslav Nijinsky, its original choreographer, went mad.

Then, as the music became increasingly familiar to listeners, choreographers became increasingly emboldened and, since the late 1950's, there have been successful versions, all of them group works, by such choreographers as Mary Wigman, Kenneth MacMillan, Maurice Béjart, Paul Taylor, Martha Graham, and Pina Bausch. Choreographers soon grew bolder still, challenging themselves, their dancers, and their audiences with solo treatments of the piece, among them remarkable solo versions by Molissa Fenley and Tero Saarinen. "The Oracle" belongs to this solo tradition.
"Rite" is no longer a rarity. And its anniversary year will surely prompt a host of new "Rites." But this raises a fresh problem. Both "Rite" and the types of choreographic responses it has tended to elicit over the years may be now be so familiar that new choreographers of the work may be tempted to struggle hard for odd images just in order to make an impression. "The Oracle" fortunately avoids gimmickry; nevertheless, it may impress some viewers primarily because of its theatrical effects, which are considerable, rather than for being a sustained dramatic or thematic narrative.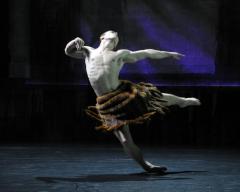 Photo by Regis Lansac.

Tankard, a former member of Pina Bausch's company in Wuppertal, has choreographed it in collaboration with Paul White, its soloist, a current member of the Bausch troupe. Given those Bausch connections, it deserves to be said that what they have devised bears no relation to Bausch's ballet. "The Oracle," an ingenious mixed-media creation with settings and video designs by Régis Lansac, begins with ghostly projections of White's face on a backdrop and snippets of mysterious recorded music by Joao Rodriguez Esteves and Jean Christophe Frisch. (Why that music? The choice remains unexplained.)

When the first notes of Stravinsky's score are heard in a recording by Kent Nagano and the London Philharmonic, White is revealed bending and stretching his long limbs across the floor. As the action progresses, he often struggles with a big piece of drab brown cloth, which he sometimes wraps around his waist, rests atop his head like a headdress, or lets dangle toward the floor like an enormous fall of hair. There are also scenes in which he is nude, moments in which he is held within a circle of light, and a sequence in which he steps forward in a path down a cloud of white dust.
Photo by Ian Douglas.
Video makes it possible for him to dance duets with himself. But the most fascinating mixed-media effects are those in which images of White's body are manipulated, replicated and projected on the backdrop like shapes in a kaleidoscope.

The tone is solemn throughout and White is an impressive figure, who often gestures prophetically. As Stravinsky's music draws towards its shattering climax, he hurtles through the air and flops to the floor. He sometimes resembles a priest; at other times, a sacrificial victim. Yet I was never really sure who, or what, he was supposed to represent or why anything he did happened. Although oracles are often intentionally enigmatic, the messages of this one, despite White's strong presence, struck me as too often unfathomable, possibly because he and Tankard do not provide a sufficiently strong and clear conceptual starting point from which to view the choreographic action. In the memorable solo "Rites" of Molissa Fenley and Tero Saarinen, it is immediately established that the soloist is some sort of warrior. What follows may take cryptic twists and turns, but the choreographers have managed to orient viewers to prepare them, for the mysteries ahead. In contrast, White can seem only an imposing gesticulator.