"TWO BY TAVEL," TRIBUTE TO DIRECTOR HARVEY TAVEL,
WITH TWO PLAYS BY HIS BROTHER, RONALD
"Kitchenette" and "Life of Juanita Castro" are ridiculously entertaining
"The Life of Juanita Castro" (L-R): Norman Glick (Director) feeds lines to Ruby Lynn Reyner (Fidel), Kika Child (Raul), Agosto Machado (Juanita) and Jorge Acosta (Che).
November 28 to December 14
Theater for the New City, 155 First Ave. (at E. 10th Street)
Thursdays through Saturdays at 8:00 PM, Sundays at 3:00 PM
Tickets $10 general admission, Box office (212) 254-1109, www.theaterforthenewcity.net
Reviewed by Kelly Aliano November 29, 2014
There are some great names in twentieth century theater: Bertolt Brecht, Samuel Beckett, even Charles Ludlam. But rarely are the other names associated with the Ridiculous Theater, besides that of Ludlam, remembered. Luckily, for a short time at Theater for the New City, one can catch two key works of the Theater of the Ridiculous by Ridiculous pioneer Ronald Tavel: "The Life of Juanita Castro" and "Kitchenette." This double bill should remind its audiences of how important this theater movement was and the brilliance of both Ronald Tavel and his brother Harvey, in whose honor the works are presented. These pieces deserve this, and many more, showings.
"Kitchenette" L-R: Norman Glick, Richard Craven (foreground), Eva Dorrepaal.
The production features these two short "scenarios," originally conceived for Andy Warhol's cameras and then reimagined for the stage. In that reimagining comes one of Tavel's most remarkable concepts: maintaining many of the cinematic conventions, like playing to a camera in "Juanita Castro," for the stage. In doing so, a kind of alienation effect, which often fails in the more famous plays of Brecht, succeeds with great effect here. The camera becomes a kind of silent character and, when paired with the presence of a visible narrator feeding the actors their lines and stage directions in "Juanita Castro," reminds the audience of the performative nature of all actions, even political or interpersonal ones. This first scenario is laugh-out-loud funny while still seeming subtly political and incisive.
| | |
| --- | --- |
| | |
| Agosto Machado portrays Juanita Castro with aplomb. | Jorge Acosta drives bed-swapping silliness in "Kitchenette" |
The second piece, "Kitchenette," is a wonderful twist on a common theater setting, the sitting room. In this case, the sitting room is modernized for the contemporary home, a half-finished half-kitchen littered with the accouterments of domestic renovation. The piece bristles with preposterousness, using this common stage conceit of the character's living quarters to explore uncommon hilarity. Bizarre innuendo and sexual slapstick is perfectly paired with social satire and ingenious wordplay to make for an entertaining romp through modern relationships and self-identification.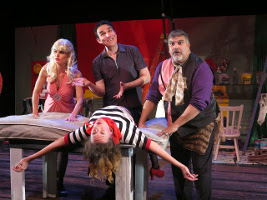 "Kitchenette" L-R: Kika Child, Richard Craven, Eva Dorrepaal (foreground), Jorge Acosta.
All of the performances are brilliant. The ensemble cast bravely face these strange scenarios with bravado. Of particular note is Agosto Machado, who portrays Juanita with aplomb. Machado plays both within the frame of the scene and directly to the audience, a kind of layering of character that seems essential to these nonrealistic plays. Jorge Acosta is the highlight of the night's performance, making Che Guevara a standout in the Castro family photo and driving the bed-swapping silliness of the same-named couples in the kitchenette. Director Norman Glick is a clear presence, being on stage for both skits, but his hand is most powerfully felt in the skillful orchestration of these esoteric, enigmatic mini-plays.
"The Life of Juanita Castro" (L-R): Kika Child (Raul), Agosto Machado (Juanita), Jorge Acosta (Che), Ruby Lynn Reyner (Fidel).
Theater of the Ridiculous is certainly beyond the Absurd; it not only allows room for laughter at the human condition, it encourages it, intentionally lacking the tragicomic edge of its theatrical predecessor. These plays find great meaning in their humorous moments. They also give us a wonderful opportunity to laugh.
The Tavel brothers deserve their place amongst the great names of the theater. This production is a great step in that direction--a reverent, and delightfully irreverent, night of entertainment.
Photos by Line Krogh.