An Interdisciplinary Journey
with Dance Visions NY
Actor Tzena Nicole with Beth Jucovy, director of Dance Visions NY. Photo by Steven Pisano.
Dance Visions NY
March 27, 2022
TADA, 15 West 28th Street, second floor
Presented by Emerging Artists Theatre
$20-$25 general admission; Box office (212) 838-3006
Reviewed by Karen Bardash March 30, 2022
There are times when performances cannot and should not be categorized. That is true for "Morning Afternoon Evening," a beautifully conceived interdisciplinary work choreographed and directed by Beth Jucovy, artistic director of "Dance Visions NY." Is this a dance piece, being that it is performed by a company named "Dance Visions NY"? Is it a poem with movement or a performance of a poem – as the focal point of the forty-five-minute piece is a poem with movement? Or is this a theatre piece of outstanding narration? I believe it is all of the above.
The scaffold of the work is a powerful poem written by Kyra Jucovy. "Morning Afternoon Evening" takes the audience on a journey, the personal journey of the author and, perhaps more importantly, the individual journey of each audience member. Is it a journey through time and space, through historical and societal events of late, or is it a journey through each individual's psyche? The viewer will find their own personal response.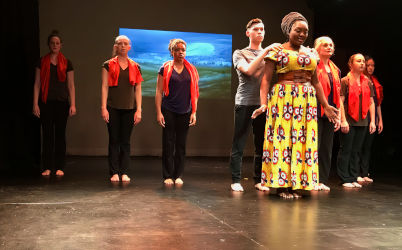 Members of Dance Visions NY. From left to right- Rebekah Mulkey, Olivia Parente, Michelle Tilghman, Eric Acevedo, (actor) Tzena Nicole, Beth Jucovy (director), Ligia Gaissionok, Chiemi Ip, Louisa Cathcart. Photo by Ilene Isseks.
The actor Tzena Nicole outstandingly narrates the poem; that, in itself is a marvel due to the complexity of the writing and the emotion it draws. Ms. Nicole meanders amongst the eight dancers. Her modulated voice and lyrical gestures both sooth and excite. As she speaks, the movement of the dancers coalesce with the words which are layered upon a varied soundtrack which beautifully blend with the images projected on the back of the stage.
This interdisciplinary work- the melding of bodies, word, voice, music, visuals - conjure nature; waterfall, wind, rivers, springs, sky, dales, darkness, light and everything in between. The themes of gravity, desire, and violence are interpreted through subtle choreography including that based on the dances of Isadora Duncan, and if you close your eyes, you might envision yourself on this journey since who among us has not had these experiences. The carefully selected images appear to ripple with the music as well, even when they are still photos, and something as simple as the almost imperceivable differences of the dancers' simple shirts contribute to the entirety of the performance.
What a journey this is and what a feat of interpretation!