Nancy Redman at anything but
her Wit's End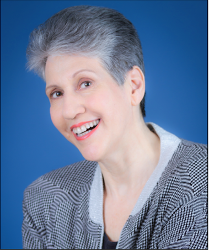 Publicity photo for Nancy Redman
Sunday Nov 17, 2019 at 4 PM
Theatre Row, 410 West 42nd Street, United Solo Festival 2019
Directed by Bill Cosgriff
Reviewed by Lyle Andrew Michael
Mrs. Maisel doesn't hold a candle to Helen Hall. That's the comic's stage name in her award-winning performance at the United Solo Festival, back by popular demand.
Well-known comic and actress Nancy Redman kept the audience at Theatre Row in splits with her one-woman show, "At Wit's End: A Home for Retired Comics," directed by Bill Cosgriff. In a red shirt, black trousers and a walking stick, she makes her way to the stage which is nothing more than a bare set up with a desk, chair and a hat, and a screen displaying Redman in her younger comic days. She's the fourth-floor representative at a nursing home for retired comics and we're all residents. A clever premise, indeed, one that works not just for the seniors in the audience but also for the younger lot such as us.
Redman's 90-minute set is novel and versatile, with topics ranging from old age sex involving ketchup bottles to Pinocchio's father at the pearly gates, and even some polar bear humor. It is filled with music from the 80s, dance moves on the one hand and slow, vigilant movements on the other. It reveals Redman's impeccable comic timing and ease in delivery, elevated by her acting prowess. Our favorite part of the show was watching her portray several characters in the nursing home who were called up to the stage to share the joke once Redman gave the punchline. What followed each joke was the answer to, "What can we learn from this?" which didn't fail to get a laugh each time.
Another ingenious tactic that had the audience engaged throughout was the inclusion of the comic's mother, her ex-husbands and lovers, friends, all passed, no wait, dead! That's the way her imaginary mother wants it said. Old age and death are the focal point in "Wit's End," where the message is clear. These are inevitable facets of life, they're true, but do they signify the end? No. Jokes about death exist, humor doesn't have an age-limit, and there is truth in it all.
'Truth in humor,' this is the essence of comedy, brought forth by Redman beautifully. Take for instance, another facet of "being a misfit." That's the polar bear joke for you. In a nutshell, a baby polar bear is trying to understand why he's "f-ing freezing" when he's supposed to be a "100% polar bear."
Redman's cautious movements with the cane and gyrating to pop tunes whilst sitting on her white wooden chair allude to arthritis and old-age related issues. Yet there's excitement in her eyes, her voice and her delivery. She's a comedic actress and you wonder, is the walking stick a real crutch?
She is a retired comic but why should she stop? This show is proof she shouldn't, no comic "past their prime" should, and comedy shouldn't have a retirement age. She's Redman, the one who appeared on Oprah way back when she went through a pig heart transplant and oinked her way through the screen interview. Or the one who ab-libbed in a New York City subway car when it stalled for an hour and a half, abating commuter woes with her gift.
Nancy Redman is a comedian and she tells jokes. And we're all nursing home inmates seeing life through a humorous perspective.