By Lucy Komisar and By Edward Rubin
* * *
In "The Revisionist," Masterful Vanessa Redgrave is Polish Holocaust Survivor Visited by Clueless American
By Lucy Komisar

"The Revisionist"
Written by Jesse Eisenberg
D irected by Kip Fagan.
Rattlesnake Theater at Cherry Lane Theatre,
38 Commerce Street, New York City.
866-811-4111; info@rattlestick.org; www.therevisionistplay.com
Opened Feb 28, 2013; closes April 27, 2013.
Reviewed by Lucy Komisar March 22, 2013.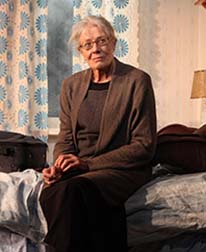 Vanessa Redgrave as Maria. Photo by Sandra Coudert.
Jesse Eisenberg's play about the importance of family to which a holocaust survivor clings takes life through the fine, transformative acting of Vanessa Redgrave. The story itself is a pas de deux, or better, a psychological duel between Maria (Redgrave), who was 4 years old when the holocaust in Poland took her parents and siblings, and David (Eisenberg), a not terribly successful New York writer who comes to visit his second cousin in a Polish town near the north coast. Director Kip Fagan makes us believe that the most unlikely events we see really happened.
David, in his 20s, arrives with street clothes and a stash of pot. Maria, 75, shuffles and has her gray hair in a bun. Her small apartment is filled with photos of family members in the U.S., all but one of whom she has never met. But she instructs David about the connections, who is married to whom, who is the child of whom, etc. She watches CNN on television, perhaps a connection to her American relatives.
Maria is dominating in a nice way. She wants to include him in her extended family. She makes chicken for his arrival. He is carelessly unappreciative and announces that he's a vegetarian. It's a way of saying their two worlds clash. She tells him to say a Jewish prayer over the food. He says, "You've got to be kidding."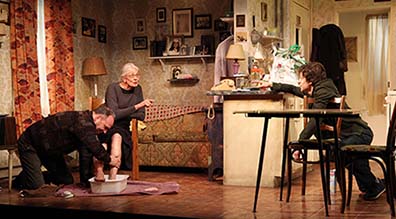 Dan Oreskes as Zenon, Vanessa Redgrave as Maria, Jesse Eisenberg as David. Photo by Sandra Coudert.
David wants to smoke pot and pushes open the window transom in his room even though she tells him not to because the heat is expensive. Turns out he arrived only because she was his last chance for a free room in which he could revise a book his editor found unacceptable. You really want to not like this flip guy.
But Maria is also challenging. She has framed the bad NY Times review of a young adult book he wrote. She wants him to sign it. He wants to tear it up.
He is offended when a middle-aged cab driver-friend (the blustery Daniel Oreskes) arrives to shave Maria's legs. She lets him do it because reminds him of his dead mother for whom he performed the same service. (Maria is a widow and doesn't seem to have other friends.)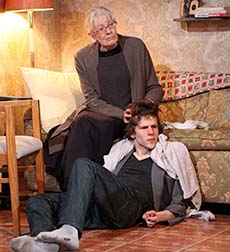 Vanessa Redgrave as Maria and Jesse Eisenberg as David. Photo by Sandra Coudert.
Rather weird, I thought. Is this the weird sense of family a 20-something playwright like Eisenberg might think of?
Emphasizing how bizarre David considers this world, we see him lying in bed reading a Lonely Planet book about Poland as if it were some travel curiosity.
All of this is prelude to the essence of the play. David wants to know more about Maria's past; she is reticent. Finally, she opens the vodka. She gets drunk; he gets drunk. And you learn what happened in 1939. It involves a big surprise about the family that means so much to Maria. But David the writer will not realize that this is a great story. Maybe that would have gotten in the way of the play, but it's the first thing that I, a writer, thought of. (There are a few other unlikely plot events that seem to be loose ends the playwright should have tied up.)
Eisenberg is very good as the insensitive young man who feels entitled to a free room at his cousin's place without displaying any of the niceties a host might expect.
Redgrave of course is brilliant in her subtle, understated performance as Maria. My standard for great theater artists is that they can express powerful emotions without raising their voices. She so thoroughly inhabits her character that the loneliness that drives her is palpable.
Visit Lucy Komisar's website: The Komisar Scoop
* * *
Vanessa Redgrave at the Top of Her Game in "The Revisionist"

By Edward Rubin
"The Revisionist"
Playwright Jesse Eisenberg
Director Kip Fagan
Set Design John McDermott
Cherry Lane Theatre
38 Commerce Street
New York, New York 10014
Opening Night Thursday, February 28
Extended through Sunday, April 28
Tues-Fri 8pm, Sat 2, 8pm, Sun 3 PM
All remaining performances sold out.
All Tickets were $86.00

Vanessa Redgrave and Jesse Eisenberg. Photo by Sandra Coudert.
The Revisionist which opened at the intimate Cherry Lane Theatre on February 28 for a limited run has been extended, with great good cause, a couple of times.
In this case, the great good cause is 76 year old Vanessa Redgrave at her incandescent best, a plateau, she, or any great actor for the matter, fails to reach on every outing. I am particularly thinking of her two most recent Broadway appearances.
In Joan Didion's, The Year of Magical Thinking (2007), though Redgrave demonstrated a riveting presence with a capital P – after all this is her calling card – she was unable to bring what was essentially a bunch of black words on a white page sufficiently alive.
It didn't help that she spent, as I seem to remember, more time tethered to a chair rather than standing. Though her performance was nominated for a Tony she lost out to Julie White in The Little Dog That Laughed.
In Eugene O'Neill's Long Day's Journey into Night (2003), for which she did win a Tony, her performance, boldly acted and exciting to watch – no stage actress is as wildly experimental, as extravagant in their acting choices, than Redgrave – you should have seen her clawing the walls and incessantly twirling her hair – in my mind's eye never quite captured the drug addled Mary Tyrone.
Vanessa Redgrave and Jesse Eisenberg. Photo by Sandra Coudert.
And while I'm at it, Brian Dennehy, most always a bull in a china shop by weight and size alone, was no great shakes as Tyrone either, this despite his winning a Tony.
Of course, bearing in mind Watson and Imprinting, A Long Day's Journey into the Night being the very first play that I ever saw – the year was 1956 – the roles of Mary and Tyrone, deeply embedded in my brain, still belong to Florence Eldridge and her husband Fredrick March. It is a memory that I will take to the grave with me.
The Revisionist takes place in Poland. The plot, at least outwardly, is quite simple. Inwardly, the inner lives of the characters are complicated. What makes the play seem more than it is are the strong performances of its three actors.

David, a self-centered young writer played by Jesse Eisenberg (who is also the playwright) arrives in Poland for a week's stay with his second cousin Maria (Redgrave) who he met once when he was 10, a meeting that he has no memory of.
He has come to Poland to revise his recently rejected novel though he spends more time smoking grass than working on his book.
Ignoring the generosity of his cousin who is both feeding and housing him – she even gives him her bedroom and takes to the couch – he spends his time, rudely, and often vociferously, worrying about his own creature comforts.
Daniel Orekes and Vanessa Redgrave. Photo by Sandra Coudert.
The third character in the play, adding a bit of humor, and a whiff of danger, is Zenon (Daniel Orekes), who in this play speaks Polish only. The son of Maria's recently diseased friend, Zenon's role in Maria's life is to help her with her shopping, as well as shave her legs once a week.
It seems, as Maria explains to David who is shocked at seeing this that Zenon used to shave his mother's legs and when she died he switched his attention to the still shapely legs of Maria. This could be an act of nostalgia, or maybe something more than meets the eye.
The thrust of the play, a kind of duel, if you will, are the verbal and physical exchanges, many of them heated , between the intractable Maria and the equally intractable David, as they try, mostly in vain, to open up their hearts to each other.
Yes, some secrets, like Maria losing her family in the Holocaust seep out. Others, left unexplored by the playwright, remain deeply buried.
Eisenberg, employing his usual jerky quirky movements and rat a tat talk – the same physical qualities that we experienced in his Oscar nominated performance in The Social Network, and in Asuncion, the first play that he wrote – does hold his own with Redgrave, that is, once you adjust to this annoyingly tick-like behavior.
Though appropriate for the David's character, if you want to grant him that, I could not help wondering if Eisenberg's jerky movements and rat a tat talk that tend to register as affectations, is all that we are ever going to get from this actor.
Vanessa Redgrave and Jesse Eisenberg. Photo by Sandra Coudert.
I am thinking of Matthew Broderick's cutesy pooh antics in Neil Simon's Brighton Beach Memoirs (1983). At age 17 such antics were both new and cute. Thirty years later, Broderick, now in his early 50s, is still playing, with far less effect, the same card, all of which brings me to Nathan Lane. Here too we have an actor saddled with a similar reputation that of playing the same schtick over and over.
Of course, underneath Lane's funnyman façade – for starters think The Producers, A Funny Thing Happened on the Way to the Forum, and The Addams Family – rests a serious set of acting chops, most recently seen in his portrayal of Hickey in O'Neill's The Iceman Cometh at the Goodman Theatre in Chicago.
The joy of the evening was watching – studying is a more accurate word – Redgrave as she limberly negotiated John McDermott's set, a small, highly detailed apartment, perfectly outfitted for an old lady.
As I always did when watching Uta Hagan, another great actress that demanded attention be paid, my eyes were glued to Redgrave's every move, action, facial expression, and eye movement, looking for a spot where she falls out of character. This never happened.
Just as each actor gets the perfect amount of attention from Redgrave, in this prop heavy play, there was no dress, blanket, spoon, bottle of vodka, radio, TV, or telephone, or family photographs, that Redgrave didn't make us believe she had been living with for decades.
Did I tell you that she also speaks pure Polish, as well as Polish accented English in the play?
Now this is great acting.