Avignon Festival avant garde and traditional dance-theater pieces tell haunting stories of life and politics
Avignon Theatre Festival http://www.festival-avignon.com/en/
Avignon "Off" Festival (the fringe) http://www.avignonleoff.com/
Avignon, France; July 5 to 30, 2013. 8/2/13.
Reviewed by Lucy Komisar July 5-7, 2013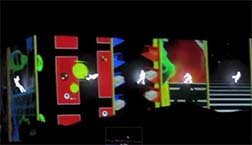 dancers on perpendicular wall with projection of factory, video by Bernard Gilhodes.
Tiny white figures move over projected scenes on the high perpendicular wall of a former factory. The figures appear to catch and throw boxes from a conveyer belt. The video changes from the factory to a prison to a road with speeding cars that seem to run over the curious shapes.
The music is clanging, electronic, repetitive, sometimes with an Asian or African feel. The white forms scamper over the wall, sometimes appearing to be at 90-degree angles to the ground. We can see thin black ropes that keep the spectacular gymnastic dancers defying gravity.
"Ouvert!", the production by the celebrated French Groupe F and directed by Christophe Berthonneau, marked the opening of the 67th year of the Avignon Theatre Festival.
The political mood was echoed in other performances I saw. Think avant garde, video projections and non-western influences. Admittedly they were just a few of the dozens of shows on the main stages and hundreds of fringe productions that included serious and satirical versions of the classics and contemporary plays.
The three-week Festival, supported by the national culture ministry and other French government agencies, gets as many as 40,000 paying customers and thousands more to free events. Most are French; 10 percent are foreigners. Most of the plays are in French, but dozens of events, dance, music and English-language theater, are enjoyed by people who speak only English.Dance-theater productions with Chinese, Nigerian and Middle Eastern themes were among them.
Dancers in "Deceitful Appearances," photo Denis Rion
"Deceitful Appearances" (Apparences Trompeuses) is a modern dance-projection piece created by Feng Jiangzhou and Zhang Lin for the Beijing Fringe Festival. Very political, it uses two men and two women dancers to pass critical judgment on the illusions and failed hopes of rural workers who move to the cities. The device is the construction and deconstruction of the city that parallels the hopes and lost dreams of its inhabitants.
The dancers move before multiple screens that show videos. The men are barefoot, in black pants and white shirts or tank top, barefoot, white figures. A window opens in a center screen to show two sultry women in long hair and black strapless dresses. The men walk towards them, leaving background farms behind. A video shows an office building gate closing, and the men are in suits.
The women pose, one photographs the other. Both the men and women run, buffeted by a storm. The men are thrown out of a train, move on stairs, into crowds. In a factory, they become like machines. The women remain sultry, well-dressed, in the window.
"Qaddish" is a dance-theater piece in English by Qudus Onikeku, a Nigerian, who tells of the death and his memory of his father. It evokes Yoruba tradition as it attempts to explore the connections between human memory and a past that one thought forgotten. The father is played by young men in white robes. The son conjuring him makes slow muscular movements, athletic jumps and twists. He jumps, he bends to show life. He declares that there is "no more beating around, no more fright of the surroundings." But "He's not gone away."
In the background are sounds are from a traditional African instrument, a bass fiddle and an electric guitar (music by Charles Amblard and Umberto Clerici) and the soprano of Valentina Coladonato singing Kaddish, the Jewish prayer for the dead.
The most novel "character" of the production is an electric wheel chair that turns, moves around on stage as if it were a personage. An effective visual metaphor! The guitar becomes frenetic.The father/son wears a Nigerian robe over sports pants. He moves to the chair, it moves away, it races to him. It becomes like a living thing. He fights it, his challenge to death.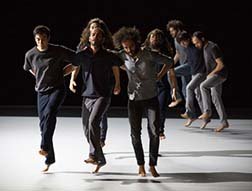 "Based on a True Story" dancers, photo Christophe Raynaud de Lage.
"Based on a true story" (D'Après une histoire vraie), choreographed by Christian Rizzo, is inspired by the traditional male dances of Middle Eastern and Mediterranean countries, including Turkey. The fact that they are male is not an accident, because those countries are patriarchal and exclude women from many facets of life. There is a male buddy aspect to these dances.
Eight men are dressed in black. Most have beards. Some have long hair they flip back and forth. Perhaps calling up male tribal militarism, there is repetitive ritual drumming.
At first the steps seem like calisthenics; the dancers move on the floor, twist, lift their legs. Then they move to a circle and hold their arms high and cross one foot over the other as they step around. It reminds one of Greek dancers. The men move into the circle and go under the others' clasped arms. Two performers walk and twist as one. They lean on each other, push against each other.
Sometimes they appear to deconstructing the steps. It is fascinating and creative, but also disturbing because of the absence of women. The blurb in the Avignon website called them "a united and fragile community, a virile and abandoned gang."
"Ouvert!" by Group F, directed by Christophe Berthonneau, choreography by Bendan Shelper, electronic music by Scott Gibbons, video by Thierry Dorval, Jean-Luc Pennetier and Yann-Loic Lambert; performers Pavlo Antonov, Susan Beiro, Dennis Cent, Claudia Greco, Alper Turgay, Elizabeth Williams. Another video.
http://www.festival-avignon.com/fr/Artiste/217
http://www.youtube.com/watch?v=hg_4sVTWytc
http://www.youtube.com/watch?v=4ik-mmS2gQE
"Deceitful Appearances" ("Apparences trompuses"), Company of the Beijing Fringe Festival, concept and direction by Feng Jiangzhou and Zhang Lin; directed by Zhang Jian, Wu Jilke and Ren Yuan; Performers Sun Yucheng, Zhang Jue, Zhang Gongchang, Liu Hui and Liu Shuang. http://www.avignonleoff.com/programme/2013/spectacles/A/apparences-trompeuses-9562/lieu/golovine-theatre-1172/
"Qaddish," choreography and conception by Qudus Onikeku, performed by Emil Abossolo Mbo, Charles Amblard, Umberto Clerici, Valentina Coladonato and Qudus Onikeku. In English, with French subtitles. http://www.festival-avignon.com/fr/Spectacle/3465
"Based on a true story," (D'après une histoire vraie) choreographed by Christian Rizzo. Music by Didieer Ambact and King q4. Performers Fabien Almakiewicz, Yaïr Bareilli, Massimo Fusco, Miguel Garcia Llorens, Pep Garrigues, Kerem Gelebek, Filipe Lourenço, Roberto Martinez. Produced by l'association fragile. Produced by l'Association Fragile. http://www.festival-avignon.com/en/Spectacle/3451

If you go:
The main festival has 35 to 40 productions, the "Off" – the fringe – has performances by more than 1,000 companies. You can book via the internet, but we could always get tickets at the door. Most visitors are from France, 10% come from abroad. The programs indicate the languages of the theater pieces. The "Off" program lists the dozens of productions that don't require knowing French.
Visit Lucy Komisar's website http://thekomisarscoop.com/.