"Disgraced," a confused play about conflict between Muslims and Jews
"Disgraced."
Written by Ayad Akhtar; directed by Kimberly Senior.
Lyceum Theatre, 149 West 45th Street, New York City.
(212) 239-6200 or (800) 432-7250; http://www.disgracedonbroadway.com/
Opened Oct. 23, 2014; closes Jan 18, 2015.
Reviewed by Lucy Komisar Oct 30, 2014.
We're in a gorgeous Upper East Side apartment with floor to ceiling windows. Amir (Hari Dhillon) is a lawyer and wife Emily (Gretchen Mol) a painter. The first bizarre thing is that she is painting him while he is dressed in a proper business suit above the waist but only boxer shorts below. What is that about? Playwright Ayad Akhtar never makes that clear, and it's not the only conundrum
Gretchen Mol as Emily, Hari Dhillon as Amir. Photo by Joan Marcus.
Emily is also getting ready for what appears to be a normal dinner party of two very successful modern couples. It will be riven by heretofore hidden emotions revealed in an explosion of ethnic tensions.
The issue is serious and deep. So, flashback. Amir was born Muslim of parents who were from India or Pakistan (that becomes an issue). He learned at age 5 about the hatred that Muslims harbored for Jews and probably everyone else who was "other." He had become friends with a girl named Rivka. When he mentioned her to his mother, she said, 'She's a Jew.' Back at school, he spit on her.
But growing up, he turned apostate, among other things out of loathing for the Muslim religion's hostility toward and mistreatment of women.
So, now he's a successful lawyer. Mergers and acquisitions. He had been a public defender, i.e. then he was a good guy, but now he's a rich guy.
Danny Ashok as Abe, Hari Dhillon as Amir. Photo Joan Marcus.
Meanwhile, something happens to push Amir back to his roots. His nephew Hussein Malik (Danny Ashok), who has changed his name to Abe Jensen (Jewish? Never clear why he changed his name), lobbies him to attend the court hearing of an imam who is accused of being a terrorist. He says the imam is represented by Jewish lawyers, but wants a Muslim lawyer.
Emily, who has become enamored of Islamic art, argues he should do it. So he does. And the daily paper reports comments Amir gives about the trial. He wasn't speaking as the imam's lawyer, but his law firm partners, who turn out to be Jewish, are not impressed.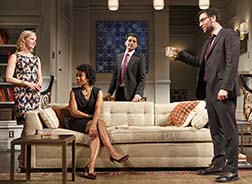 Gretchen Mol as Emily, Karen Pittman as Jory, Hari Dhillon as Amir, Josh Radner as IsaaC. Photo Joan Marcus.
Now for the big dinner party. Amir and Emily have invited Jory (Karen Pittman), a lawyer at his firm, and her husband Isaac (Josh Radnor), a museum curator. Isaac is considering putting some of Emily's paintings in an exhibit. There's some nonsense art-speak: She talks about some works as "part of who we are. Well, it's really not who we are. But it depends on how you define we." Huh?
Emily is preparing pork tenderloin, which must mean that neither the Muslim nor the Jew (obviously, Isaac) is observant. How secular can you get?To avoid spoiling, I won't say who, but two of the individuals have had a one-night stand in the past. And when their spouses conveniently leave on an errand, then return, they see them in a clinch.
This gets too much like soap opera.
Moving along, Amir wants to go into business with Jory. He says, "We are the new Jews."
Amir thinks Islam is a backward way of thinking and being, but in a weird turn, he suddenly explodes into his inner angry Muslim.
Isaac says that every religion has idiosyncrasies. "My ancestors didn't like lobster. Who doesn't like lobster?" But Isaac also has his moments. Though he announces that he is a liberal and doesn't agree with the Israeli government, he lets slip something about Muslim "animals."

Later, Amir's "inner Muslim" displays the virulent and violent sexism of his fundamentalist Islamic culture.
Hari Dhillon as Amir, Josh Radner as Isaac. Photo Joan Marcus.
What is the point, that cultural racism is inbuilt? Though Emily and Jory don't show it, just the men. Is it just Muslim-Jewish hatred? Does Amir, "disgraced," lose control out of anger that his Jewish law firm doesn't like what he said about the imam's case? (Law firms usually have rules about talking to the press.)
What about how Amir treats his wife? For me, then, all bets are off. Or is Akhtar saying that the bad things westerners think about Islam and women are true?
Near the end, we see the painting with Amir shown in his lawyer's suit to the waist. So what was the point of having him pose in his underwear? Is that the true guy? The painting shows his suited intellectual half but not (we are to believe) his uncontrolled animal half? Just guessing.
This play hits so many ethnic and religious buttons, you feel like you are playing a computer game. Kimberly Senior's direction keeps all the faced-paced action on the surface. The actors are a professional lot and more believable than the script.
This play won the 2013 Pulitzer Prize. I can't figure out why, except that the judges wanted a play that dealt with the emotional roots of Muslim-Jewish conflict. It's as engrossing as any soap opera, but it's not a great play.
Visit Lucy Komisar's website http://thekomisarscoop.com