In "War Paint," cosmetics titans Rubenstein and Arden must deal with male execs as well as the market.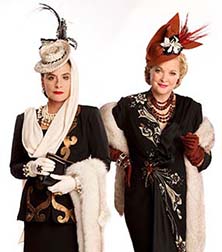 Patti LuPone as Helena Rubenstein and Christine Ebersole as Elizabeth Arden. Photo by Joan Marcus.
"War Paint."
Book by Doug Wright, music by Scott Frankel, lyrics by Michael Korie, directed by Michael Greif, choreographed by Christopher Gattelli.
Nederlander Theatre, 208 West 41st Street, New York City.
877-250-2929, http://www.warpaintmusical.com/
Opened April 6, 2017.
Reviewed by Lucy Komisar April 12, 2017.
This imagining of the lives of two powerful women who founded cosmetics empires has been created by men – book (Doug Wright), music (Scott Frankel), lyrics (Michael Korie), direction (Michael Greif), choreography (Christopher Gattelli). It's a great production. But think of it as guys' take on women..
The invented heroines are Helena Rubenstein (Patti Lupone) and Elizabeth Arden (Christine Ebersole), real women who built their fortunes on the desires for beauty of rich ladies of the 1940s.
Rubenstein was from Cracow: "It isn't chic to be Jewish; chic is Episcopalian." Her cosmetics were designed in the laboratory. Arden was an Ontario farm girl. For her, it was all marketing. "Women run to pink." Arden made a great jar in pink.
In this story of two exceptional women, everything seems to revolve around men. When these corporate megastars achieve their success, they still have problems with sex roles. At a restaurant, Helena orders for Harry Fleming (Douglas Sills), an executive who works for her. He interjects that he wants something else, and then adds, "I thought it was customary for the gentleman to order on the lady's behalf." And she says, "And customary for the gentleman to pay the bill?" Why are the guys who did the show fixated on such sexist nonsense?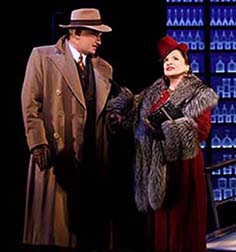 Douglas Sills as Harry Fleming, Patti LuPone as Helena Rubenstein. Photo by Joan Marcus.
More into a competition common in business. Harry did the ad campaign. He wants more credit. And he suggests she needs him, a gay guy, to tuck her into bed at night so she can stave off the loneliness. Her husband is in Switzerland with a young girl. Harry has another life, with a sailor.
Except, suppose a male company founder had a female who did the ad campaign. Would she dare to insist she deserves a promotion and point out that he needs her to tuck him in at night, though she is a lesbian? How long before she got the boot?
And then Arden offers Harry a job. How do we know that is true? He is ready to give up Rubenstein's secrets. Maybe. Is that true or fake news?
And Tommy Lewis (John Dossett), who works for Arden, switches to Rubenstein to bring Arden down. The main problem is you don't know where truth ends and imagination starts. Is any of it true? If so, such scurrilous men! (What would male execs do with such scurrilous women?)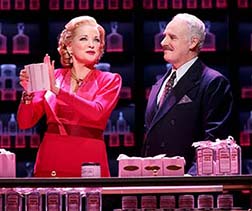 Christine Ebersole as Elizabeth Arden, John Dossett as Tommy Lewis. Photo by Joan Marcus.
Lewis will go to the Federal Drug Administration to tell them Arden puts lead in lipstick and mercury in mascara. Indeed, there were Congressional hearing on cosmetic safety that led to requirements for product ingredients labeling. It turns out they were putting very funny stuff in those expensive jars and bottles.
The rich ladies sing, "They betrayed us." Well, my dears, this is capitalism. What did you expect? It's how your husbands made their money. (That's not in the play, but I would add it.)
So, in the end, this is about marketing. Helena Rubenstein makes day and night creams that are the same, but her deceived clients buy both for the different labels.
Christine Ebersole as Elizabeth Arden, Patti LuPone as Helena Rubenstein, and company. Photo by Joan Marcus.
Arden gave free lipsticks to the Suffragettes. They promoted cosmetics during the war. Politics or marketing?
Also, fascinating, how Charles Revson (Erik Liberman) moved into their territory and made a fortune by selling lower-priced cosmetics to working women at the five and dimes.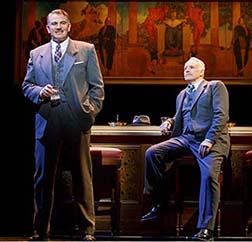 The men Rubenstein and Arden should not have trusted: Douglas Sills as Harry Fleming, John Dossett as Tommy Lewis. Photo by Joan Marcus.
There's a nice bit about Rubenstein not getting into a coop on Park Avenue because she is Jewish and Arden being rejected by the Mayfair Club. For Arden, the problem was that her money wasn't old money, she'd earned it. Rubenstein ends up buying the building and moving into a triplex with paintings by Dali and Picasso.
Ebersole and Lupone are both fine performers and singers. Scott Frankel's music by is pleasing if not memorable. The story certainly kept my attention. And director Michael Greif can put on a show.
But, somehow, with the mix of what is true and maybe invented, I never got a sense I really knew Rubenstein and Arden. Part of the problem is that in spite of the visuals, the two women never met. The whole is less than the sum of its parts.