"Prince of Broadway" remembers great musicals
but forgets the politics
Tony Yazbeck and Kaley Ann Voorhees in "West Side Story." Photo by Matthew Murphy.
"Prince of Broadway"
Book by David Thompson; Co-direction and choreography by Susan Stroman; Directed by Harold Prince.
Samuel J. Friedman Theatre 261 W. 47th St.
212-239-6200; http://princeofbway.com/
Opened August 24, 2017; Closes October 29, 2017.
Reviewed by Lucy Komisar Aug 25, 2017.
Harold Prince produced and directed some of Broadway's brilliant musicals: "Cabaret," "Candide," "Evita," "Kiss of the Spiderwoman," "Fiddler." Those shows were about politics and ideas. I was glad to see a reprise of famous numbers, but I was sorry this production did not deal with Prince's vision. It was more "and then I directed/produced" rather than this is why I put on this show. David Thompson's book should have made the point that they were very political shows. That and their artistry is why they succeeded.
Prince starts as a young man, and we see him through seven decades, with various actors playing the role, all with glasses perched on their heads in his signature style. Prince explains that his success was about the luck of being in the right place at the right time. But that's not how he choose his shows. It was his political vision.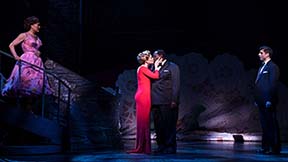 Karen Ziemba, Emily Skinner, Chuck Cooper, Tony Yazbeck, in "Follies." Photo by Matthew Murphy.
He helped Sondheim with "West Side Story," the riveting play about ethnic strife. Then we see "She Loves Me," a feminist take on relationships. "Superman" didn't work. It was just fantasy.
His favorite was "Follies," which he directed. Mine too. Complex, sophisticated, feminist, about what happens to former show girls decades later when their lives depend on the men they married.
Chuck Cooper, in "Fiddler on the Roof." Photo by Matthew Murphy.
And "Fiddler," about repression in Czarist Russia. Chuck Cooper is very good as Tevye. Black guy, Jew? Makes sense for one to play the other. They share repression. And tradition.
"Cabaret" of course was based on the growing Nazi power in 1930s Germany. Prince got a Tony for directing the show in 1967. Brandon Uranowitz, with painted face and pink vest, is good as the MC performing "Willkommen." And in the chilling words sung to a gorilla (Karen Ziemba), "If you knew her like I do, she doesn't look Jewish at all."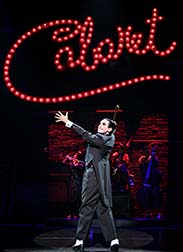 Brandon Uranowitz in "Cabaret." Photo by Matthew Murphy.
Ziemba is terrific as Fräulein Schneider, the German trying to get by, in "So what?" Bryonha Marie Parham brings Sally Bowles to life. In her jazzy rendition of the title song, her voice has the power of a sweet musical horn.
By the way, it must be said that the cast is uniformly excellent, in voice and acting. And Susan Stroman's choreography is as usual vivid. She is also co-director.
In "Company," an erector set stage features the terrific "Here's to the ladies who lunch….a matinee, a Pinter play." Again about women and their choices, or that they didn't have many. Prince directed.
Back to serious politics, "Evita" declares that the voice of the people cannot be denied. It's nicely, militantly staged as the crowd lifts protest signs.
Interesting that Prince put on three plays about innocent men imprisoned and brutalized. "Parade" is a soul-smashing musical about the 1913 trial of Jewish factory manager Leo Frank (Tony Yazbeck), who was accused and convicted of raping and murdering a thirteen-year-old employee. The yellow press (which was all of it) boiled up anti-Semitism, and when Frank's death sentence was commuted to life in prison, he was kidnapped from prison and lynched.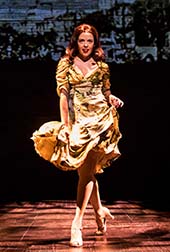 Janet Dacal in "Evita." Photo by Matthew Murphy.
In "Spiderwoman," a gay man (Uranowitz), who is a window dresser at a store, and a leftist revolutionary are both tortured in a Brazilian prison. (The U.S. government beginning with Lyndon Johnson supported the Brazilian generals' coup and the 21-year dictatorship 1964-84.) To survive the abuse, the gay Molina has movie fantasizes about "the Spiderwoman" (Janet Dacal).
And another prison story, "Sweeney Todd," which Prince directed, is about a man (Cooper) who returns after being unjustly condemned to 15 years in a penal colony. He learns that the judge raped his wife, who then poisoned herself. And that the judge is keeping his daughter. He will be revenged. Karen Ziemba is very good as the gruesome pie maker.
"Phantom," one of the most successful musicals in U.S. theater history, is a fantasy that turns on personal longing and despair. And it worked better than "Superman," the fantasy that never got out of cartoonland.
Prince had a genius for producing and directing plays that dealt with social and political issues. If this production makes people aware of that, it deepens their understanding of the best in American musical theater.
Visit Lucy's website http://thekomisarscoop.com/
---
"Prince Of Broadway"
Previews: Thursday, August 3, 2017
Opened: Thursday, August 24, 2017
Ending: Sunday, October 29, 2017
Company/Producers: Manhattan Theater Club with funding from Gorgeous Entertainment Inc, The John Gore Organization, James L. Nederlander, The Shubert Organization, Kumiko Yoshi
Company Website: https://www.manhattantheatreclub.com
Running Time: 2 hrs 30 minutes with one intermission
Director: Harold Prince
Co-director and choreographer: Susan Stroman
Reviewed by Ed Rubin
One might think after winning a record 21 Tony Awards for producing or directing (and sometimes both simultaneously) many of Broadway's most popular and critically acclaimed musicals of the past 70 years, that the return of Hal Prince to The Great White Way with his latest venture, Prince of Broadway, would have been a shoo-in.

The show is unabashedly a compendium of popular songs culled from his greatest hits like West Side Story (1957), Fiddler on the Roof (1964), Cabaret (1966), Company (1970), Follies (1971), Sweeney Todd (1979), Evita (1979) and The Phantom of the Opera (1986), – the last still up and running after 30 years and the longest running musical in history.
But a shoo-in? Not so!
Tony Yazbeck in" Company." Photo by Matthew Murhy.
Retrospectives on composers, directors, and choreographers such as Sondheim on Sondheim (2010) and Jerome Robbins' Broadway, the 1989 Tony winner for Best Musical, were money-losing ventures. When making money is the bottom line, retrospectives seem formulaic and have failed to generate sufficient box office heat. Would-be producers, even those that have worked with Prince in the past and profited well from the connection, were not running to the front of the line with oodles of greenbacks. In fact, there was no line per se.

It appears that the bottom line for Prince of Broadway was $13 million, as two sets of producers said before they quit, was too big a nut for them to crack. Especially problematical was the excessive set changes involved – one for each play represented – which would make traveling the musical to other cities where much of a Broadway production's money is made, a virtual nightmare. To shed light on rising costs in general when Follies opened on Broadway in 1971 it was the most expensive musical ever done. The cost was $800.000.

Adding to this mix are the Broadway audiences who have to shell out the big bucks. They love musicals, and especially love big name star-turns like Bette Midler. Her advance sales for Hello Dolly were in the mega millions, some $41 mil to be exact. And let's face it, memories are short, and after being actively away from the Broadway scene for ten years – Prince's major hits, other than Phantom, were during the 1960s and 70s.

And his last Broadway directorial project, produced as a limited run by the Manhattan Theatre Club at the Biltmore Theater in 2007 was Alfred Uhry's LoveMusik. The name of Hal Prince, if known at all by the younger set, has been relegated to the dustbin of yesteryear. What they want now is hot, happening, sexy, and often on the loud side.

But fret not, for those that love Hal Prince and want to revisit his past, as well as their own, the Manhattan Theatre Club has taken the lead with additional funding from Gorgeous Entertainment Inc, The John Gore Organization, James L. Nederlander, The Shubert Organization and Kumiko Yoshi to make this retrospective possible. Also credited as originating producers are Umeda Arts Theater, Tokyo Broadcasting System Television, and Amuse, all based in Japan, the site of two tryout productions mounted in 2013.

Much to the delight of the 89-year-old Prince, Prince of Broadway is currently being housed at The Samuel J. Friedman Theater.
This 2 ½ hour musical with nine award winning actors hand-picked by Prince performing numbers from 17 of his favorite musicals opened on August 24. It is a limited run and closes on October 29.

Well honed actors aside, Prince of Broadway is saturated with top-of-the-line technical talent, from his co-director and choreographer Susan Stroman, to Jason Robert Brown's, new songs, arrangements, orchestration and music supervision, Beowulf Boritt's scenic and production design, William Ivey Long's costumes, and Howell Binkley's lighting designs; all are multiple Tony Award winners giving their all.
Unfortunately, the weak link of the evening which overshadowed everything good was the musical's run-of-the-mill book by David Thompson, which gives little insight, if any, into Prince's craft or vision, or for that matter his personal life. Where, for instance, was his wife of 55 years, or for that matter, his two children while Prince was building his legendary career?

What we do get in the way of story, dropped in between the musical's 35 songs, are a series of dinky biographical snippets, a virtual laundry list of 'Prince did that and then he did this' delivered by cast members playing surrogate to The Great Man himself.
To make sure that the audience gets comfortable with this conceit, all of mostly black and white costumed actors, each adopting Prince's well-known signature, are made to wear a pair of glasses perched atop their heads while dispensing Thompson's tidbits.
After a less-than-exciting overture, and a barrage of flashing titles trumpeting Prince's most famous productions, the action begins with actor Brandon Uranowitz approaching the lip of the stage. Facing the audience he boldly announces, "My name is Hal Prince. I've been directing on Broadway for seven decades."

Though the overture was a predictable sampling of iconic songs, a greatest hits trailer, it did wake me up. It even brought on some eye-welling tears, as memories of the iconic actors who starred in the original Broadway musicals, and in some cases its filmed versions, came flooding back in spades, alas bringing in its wake my younger years.
First to enliven my senses was the memory of the late great Elaine Stritch singing "The Ladies Who Lunch" from Company followed by another late great, Glynis Johns singing "Send In The Clowns" from A Little Night Music, and of course, Angela Lansbury, now 91, singing just about anything from Sweeney Todd. And then the many wonderful songs from Follies – "Could I Leave You?" "Being Alive," "Losing My Mind" and "I'm Still Here" came sauntering by.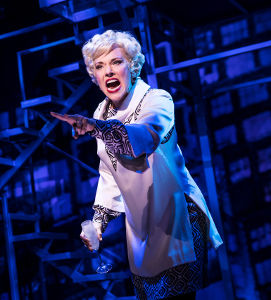 Emily Skninner in "Company" . Photo by Mattew Murphy

As you probably gathered by now, the second star of the Prince On Broadway, in the number of productions featured in this musical alone, is the 87-year-old Stephen Sondheim, Prince's longest-lasting collaborator. For the record Prince's favorite musical, according to a recent interview he gave is Sondheim's Follies.
As so often in our own history we find ourselves confronting the same details again and again – in the case of theater I am thinking of theatrical revivals in general, and specifically the resurrected songs and scenes in Prince of Broadway – wondering if these shards of old can still yield any life once they have reached the age of nostalgia.

For the most part the answer is no. For as talented as the actors are, and as hard as they tried, most were unable to erase, overcome, or even temporarily stall my memory of the actors who originally sang these same iconic songs, and who in many cases helped make both song and the play from which they were taken, famous.
Yes, history has a way of favoring those that get there first. For those with a scientific bent, look at it this way. The first bounce of the ball is usually the highest. For those that need a steaming hot visual, in this case a non-musical, think of Brando in A Streetcar Named Desire. On both stage and screen, he will always be our Stanley.

Certainly for those long in the tooth, not unlike myself, Mary Martin will always be South Pacific, Barbara Streisand Funny Girl, Carol Channing Hello Dolly, Ethel Merman Gypsy, Liza Minnelli Cabaret, Angela Lansbury Mame and Sweeney Todd, and Patti LuPone Evita, and perhaps in a weak and generous moment Sweeney Todd too. Point of fact is that I have never seen a revival, musical, or for that matter a drama, no matter how brilliant, better than the original. Equal? Yes! Different? Most definitely! But better? Well, that's highly debatable.

In all fairness, part of this failure of the Prince of Broadway actors to fully impress, or for that matter make the songs that they are singing come alive, is that every standalone number in Prince of Broadway is out of context. Kidnapped from its own history, with nothing to connect these fast-moving songs and scenes to its overall plot and with no past or future to clutch onto, we get a smorgasbord of song and scene with little staying power, rather than a full and deeply satisfying meal.

On the upside, two incandescent performers on the night that I saw Prince of Broadway did manage to run away with the show. While most of the musical numbers have faded from memory, Tony Yazbeck's breathtaking delivered song and dance – "The Right Girl" from Follies – is still alive and kicking inside my head. And I expect it to stay there a long time. In a dazzling tour de force that quickened my heart, Yazbeck was able to emotionally tell a whole story of love and loss. Beautifully choreographed by Susan Stroman, Yazbeck's exhilarating star turn was the longest number in the show. Every time I thought "The Right Girl" was coming to an end, it was born again as Yazbeck hit us with a renewed fusillade of exploding energy. Yes, the audience went crazy, first at his athletically challenging performance, and again at his curtain bow.

Equally compelling and as enthusiastically received was Karen Ziemba singing a heartbreaking rendition of "So What?" from Cabaret. It is a sad song of resignation that goes right to your heart. Playing Fraulein Schneider and looking a lot older than she really is thanks to Paul Huntley (hair and wig design), Angelina Avallone (make-up design) and William Ivy Long's costuming, I did not even recognize Ziemba. I actually had to consult the program to see who this actress was. Now that is acting.

Honorable mentions: I would be remiss not mentioning the names of some of the other talented actors who supplied the best side dishes to Yazbeck and Ziemba's main meal star turns. Standing out was Janet Ducal's rendition of "Buenos Aires" and "Don't Cry For Me Argentina" from Evita, and Emily Skinner, in fine trifecta form, singing "Now You Know" from Merrily We Roll Along, "Send In The Clowns" from A Little Night Music, and the aforementioned "The Ladies Who Lunch" from Company.

Surprisingly unpleasant was Chuck Cooper's rendition of "Ol' Man River" from Showboat. Cooper appeared to lack the presence, the voice, and the gravitas needed to pull off that classic. For most Paul Robeson (1898-1976), having made this song soar on both stage (London, 1928, Broadway, 1936) and film (1936) still holds the title to "Ol' Man River." Equally subpar was Cooper's rendition of "If I Were A Rich Man" from Fiddler On The Roof. Here Cooper, lacking the presence and comedic timing of both Zero Mostel and Herschel Bernardi, and obviously going for laughs, supplied a lot more humor and body mugging than the role required.

Equally off-putting – perhaps condescending is a more accurate word - was the musical's cheesy Hallmark self-help ending. Trying to give an uplifting message to all that we just saw – no doubt after running out of ideas– the full cast assembled to sing "Do The Work," an original song with music and lyrics by Jason Robert Brown. Here the audience was counseled, with a nod to Prince's own work ethic, to "Do the work. Get it done. When you're finished, you start the next one. Will it last? Will it count? Time will tell. Fill the space. Do the work, pal, And do it well." How this treacle of a signoff passed the muster of both Prince and Stroman is beyond me.