"Mary Jane" is an absorbing drama of how mothers cope when kids have incurable illness.
"Mary Jane."
Playwright Amy Herzog, Director Anne Kauffman.
New York Theatre Workshop, 79 East 4th St., New York City
212-460-5475; https://www.nytw.org/show/mary-jane/
Opened Sept 25, 2017, closes Oct 15, 2017.
Reviewed by Lucy Komisar Sept 23, 2017.
Mothers coping with seriously ill children who will never be healthy and normal, is the theme of Amy Herzog's new play.
Sounds depressing, and it is, but it's also curiously rather uplifting. Because it's about the women's trying to maintain normality, loving their children with a kind of forcefulness and desperation as if that could will a cure. With Anne Kauffman's naturalistic direction, the play never gets near soap opera.
Carrie Coon as Mary Jane and Susan Pourfar as Brianne. Photo Joan Marcus
Herzog brings you slowly into the story and the life of Mary Jane (the excellent Carrie Coon). Things in her apartment seem normal. The super (Brenda Wehle) is attempting to fix a clogged sink drain. You don't really know the facts until suddenly, subtly, they are apparent.
Mary Jane's son Alex was born early and had brain damage. Now he is almost 3. He can't communicate. He has seizures. Her husband couldn't handle that and left them.
Mary Jane's interactions are real and poignant. She helps Brianne (Susan Pourfar), a new mother of a sick kid, with advice about a baby carriage that is good for carrying oxygen. At the hospital, she chats with an Orthodox Jewish women, Chaya (also Pourfar), who talks about the help that comes from her community. You wonder where these women get the fortitude to handle these personal tragedies with such composure.
The child has round-the-clock nurses. We meet Sherry (Liza Colón-Zayas) who sets up IVs. Sherry's niece (Danaya Esperanza) remarks on Alex's great hair. The music therapist (also Esperanza) sings to him. Mary Jane insists that Alex, who can't talk, really understands her when she talks to him. You never see him.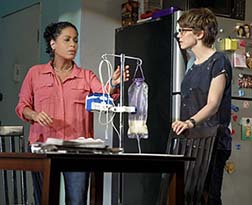 Liza Colón-Zayas as Sherry, a nurse,
and Carrie Coon as Mary Jane. Photo by Joan Marcus.
There's a problem when a seizure leads to a 7-week hospital stay. Mary Jane insists on staying at the hospital, and that threatens the job she got because her boss went to college with her sister. Losing the job would cancel her health insurance, which covers home nursing. We don't know how that works out.
We see the tension, but the crises are dealt with so matter-of-factly. Under Kaufman's direction, this is utterly naturalistic, real life, not exploitative tear-jerking TV.
I wondered why Herzog did this play. It's not a usual topic. Did this happen to her or a friend or member of her family?
It was depressing. Still, I'm glad I saw it for Herzog's artistry. For the challenge of taking on such a difficult subject and making an audience uncomfortable but moved.

Visit Lucy's website http://thekomisarscoop.com/
---
"Mary Jane" by Amy Herzog. Directed by Anne Kauffman. Produced by New York Theatre Workshop, 79 E. 4 St., NYC. Sept. 6 – Oct. 29, 2017. Sun., Tues. , Wed. at 7 PM. Thurs. - Sat. at 8:00. Sat. and Sun. at 2:00. Tickets are $49 - 79 at 212-460-5475 and info@nytw.org. Reviewed by Glenda Frank
Liza Colón-Zayas and Carrie Coon. Photo by Joan Marcus.
Mary's Jane's toddler may not appear on the stage of New York Theatre Workshop, but he is never absent – in the sound of the respirator from the next room; in conversations with nurses, doctors, other mothers; even as the superintendent of Mary Jane's building she snakes a clogged drain. He is the tiny, intubated form in the hospital bed. "Mary Jane" by Amy Herzog (Pulitzer Prize finalist for 4000 Miles), commissioned by Yale Repertory Theatre, focuses on the mother of a dying child. But it is also about the caretakers – mothers, sisters and daughters -- who place their dreams and careers on hold without complaint.
Mary Jane (Carrie Coon, Emmy nomination for "Fargo") seems chipper. She is upbeat when she advises the mother of a handicapped infant (Susan Poufar) how to deal with funding agencies, questions to demand answers to, the best equipment to hold the child erect, to secure his head, to monitor his vitals. She is cheerful when she talks about Alex to his nurse (Liza Colón) and her niece (Danaya Esperanza). But the super (Brenda Wehle), whose sister battled cancer, recognizes danger signs, a body tension that she warns Mary Jane could lead to illness. She advises yoga, a good diet, and a recognition of the price she is paying for being a good mom.
Mary Jane has a curious hold on reality. She knows the medications, the best wheelchair, and benefit allowances. She understands if she keeps missing days of work to be at the hospital, she will lose her job and her health insurance. But when her son has a seizure, she does not recognize the significance of it. In the hospital she worries about daily x-rays, and is taken aback when the doctor reminds her that possible radiation damage won't manifest for 20 years. Even after 7 weeks of hospitalization, she has not come to terms.
She meets another mother, the sharp-tongued Chaya (Susan Poufar), who has many children, but she too suffers when her daughter is hospitalized. As a member of a supportive Jewish community, she wonders how Mary Jane can survive without "a village." Chaya's daughter has many visitors. Another child in the room cries continually and no one visits.
The Buddhist nun (Brenda Wehle) who visits Mary Jane left her job to nurse her dying mother before her mid-life conversion. Their conversation is a high point of the play, two women struggling through grief toward a new vision of themselves.
"Mary Jane" is more a dramatized essay than a play. Confrontations and rage are sidestepped, even when they seem important. The protagonist is forgiving of the husband who abandoned her, who probably isn't providing child support. The doctor calls her Mom, not Mary Jane. Does she know her name? The one time Mary Jane does get upset is with the music therapist, but by then the dramatic momentum has passed.
For those of us who nursed a sick child, gave up years and opportunities, the play is a valentine. A friend who struggled with her son through the early years was moved to tears. But a solid drama, like "Wit," could have affected everyone. We feel so much for that cold, demanding professor who, toward the end, learns the value of human comfort. The woman who faces death, eye to eye, but on her own terms.
Director Anne Kauffman (2007, 2015 Obie awards) has done an admirable job keeping the pace lively and the tone light. In their double roles Brenda Wehle and Susan Poufar are charismatic and distinct. I look forward to seeing them again on stage.