Lucy Komisar
"Carousel" is a gorgeous show with a hokey, simplistic, no-politics story.
Dancer at the hoedown. Photo by Julieta Cervantes.
"Carousel"
Book and lyrics by Oscar Hammerstein II, music by Richard Rodgers.
Directed by Jack O'Brien, choreography by Justin Peck.
Imperial Theatre, 249 West 45th St, NYC.
212-239-6200 http://carouselbroadway.com
Opened April 12, 2018.
Reviewed by Lucy Komisar April 13,2018.

"Carousel" is gorgeous. Book and lyrics by Oscar Hammerstein II, music by Richard Rodgers, produced in 1945. Well, I'll take the lyrics, not the book. The story is from "Liliom,"a 1909 play by the Hungarian Ferenc Molnar.
The balletic and acrobatic dancing is stunning, not surprising from Justin Peck who is resident choreographer of the New York City Ballet.
The vocals are thrilling, led by opera diva Renée Fleming who presents her solos as if they were arias.
And the naturalistic sets by Santo Loquasto, from the top of the merry-go-round to whaling boats in the sea and lobster cages are entrancing.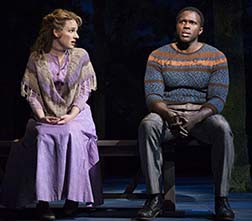 Jessie Mueller as Julie Jordan and Joshua Henry as Billy Bigelow. Photo by Julieta Cervantes.
But, the story is a little silly, hokey, a young cotton mill worker becoming infatuated with a carnival barker, but you must look at it as you would an opera or ballet. If only it was done in another language!
But as long as it is in English….
It is a small coastal town in Maine. Joshua Henry as Billy Bigelow, the carnival barker with attitude, is very clearly bound for disaster. Hostility seethes within his bones. It's nontraditional casting that he is black, but he very much fits the stereotype. He can't really be black in the play, because this is the late 19th century. Henry has a brilliant baritone and a powerful presence.
Jessie Mueller as the heroine Julie Jordan, who marries him, is sweet, though overpowered in voice by Fleming. Her soprano is fine if not operatic, she is charming, though she seems made for movies. And the couple are very unpersuasive lovers – no chemistry between them. Even some hesitation in "If I Loved You."
Seamen dancers. Photo by Julieta Cervantes.
They live in a company town. Women work in the cotton mill, men on fishing boats. Few options. Except Julie's older cousin, Nettie Fowler (Fleming), runs a spa on the ocean front. A great place for her "June is Bustin' Out All Over."
The mill owner Mr. Bascombe (William Youmans) is not positioned as a bad guy, though clearly the women are underpaid and Bascombe controls them to point of enforcing curfew, in, of course, the company housing.
The characters, mill workers and ship crew, are charmers, dancing at a clambake, "A Real Nice Clambake," celebrating whaling ships in a show-stopping number, with glorious high kicks and jumps.
Renee Fleming as Nettie Fowler and company. Photo by Julieta Cervantes.
There are other problems feminists could describe. Mrs. Mullen (Margaret Colin), the cackling carousel owner, makes you think of a bordello madam, insisting that part of Billy's job is to chat up the young female patrons. She wants a single guy who will come on to them. She fires him when he marries Julie. He is depressed. He hits Julie.
Julie's friend Carrie (Lindsay Mendez), with a terrific soprano, shows how thrilled she is in her fiance: "When I Marry Mr. Snow. Snow (Alexander Gemignani), is a stuffy fisherman, with of course a fine tenor.
Lindsay Mendez as Carrie Pipperidge and Alexander Gemignani as Enoch Snow. Photo by Julieta Cervantes.
However, an obvious corporate, he plans an expanding sardine concern and a family with eight kids, at which Carrie is not thrilled. "When the Children Are Asleep" doesn't allude to her likely exhaustion!
The women wonder, "What gets into men." And Julie sings, "What's the use of wond'rin if he's good or if he's bad, he's your fellow and you love him" — naïve, antifeminist, it will turn out bad.
Amar Ramasar as Jigger Craitin. Photo by Julieta Cervantes.
The darker side is Jigger (Amar Ramasar), Billy's buddy, a swarthy sailor who looks middle eastern. Dark in complexion as well as intentions, he persuades Billy they can easily get money. Bascombe will be taking $3 or 4 thousand in a satchel to the ship in the evening.
And here is Billy, desperate because he can't support his wife and a coming child, no job, no training, angry inside. But this story doesn't give him much sympathy. He is played as a fool who doesn't deserve any.
Jack O'Brien is terrific at staging, but another director might have delved deeper and more sympathetically into what this is really about – the sometimes desperate and tragic lives of working people.
It's a gorgeous show, if you forget the story.

Visit Lucy's website http://thekomisarscoop.com