"Gettin' the Band Back Together," a funny rock spoof helmed by incomparable John Rando

Book by Ken Davenport; Music and lyrics by Mark Allen; Directed by John Rando.
Belasco Theatre, 111 W. 44th Street, New York.
212-239-6200; https://gettinthebandbacktogether.com/
Opened Aug 13, 2018, closed Sept 16, 2018.
Reviewed by Lucy Komisar Aug 16, 2018.
John Rando is the best comic theater director I know. The creative wit who oversaw "Urinetown," "The Toxic Avenger," "The Heir Apparent" and "All in the Timing" takes a deliberately jokey rock musical by Ken Davenport and, with excellent timing and staging, pokes fun at the genre as well as the state of New Jersey. I don't much like rock. I liked this play.
Mitchell Jarvis as Mitch. Photo by Joan Marcus.
There's a central serious story served up lightly in "Gettin' the Band Back Together" about the hard-pressed working class, who suffer home foreclosures, job losses and loneliness. Mitch Papadopoulos (an appealing Mitchell Jarvis) at 40 has lost his Wall Street job and moves home to live with his widowed mom in Sayreville, NJ. (Search for exit 124.) But things are bad there. His mom Sharon (the excellent Marilu Henner) missed three mortgage payments and may lose the house.
The bad guy is the creepy metal band leader Tygen Billows (a kooky scary Brandon Williams) who has bought 70 percent of the local properties.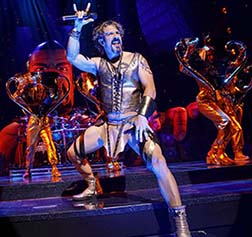 Brandon Williams as Tygen. Photo by Joan Marcus.
The kicker is that Tygen heads the band that lost in a competition to Mitch's group 25 years ago. He still harbors a grudge, and agrees to a deal to bet the mortgage against the old trophy in a rematch.
Mitch has to put a band together, and he find most of the old guys plus a few new ones: Rummesh Patel (Manj Narayan) who is working as a dermatologist in his father's practice, and Ricky Bing (the terrific Sawyer Nunes) a high school kid who plays a mean electric guitar.
The jokes fly fast. Ricky looks around: "Is this a meeting of the AARP?"
The Band. Photo by Joan Marcus.
"Tell me what you know, my little Wikileak."
Tygen can't remember Mitch's Greek last name and calls him Mitch Dukakis.
It helps to have arcane expertise in New Jersey rock lore. At one point in the band's difficulties, Mitch asks, "What would Joe Perry do?" My seat companion Camille patiently explained that he was the leader of a New Jersey heavy metal band, Aerosmith. At least I'd heard about New Jersey-born Bruce Springsteen, albeit not Bon Jovi.
The Band in jail. Photo by Joan Marcus.
Also fitting into New Jersey custom, there's a drunk town mayor who is often in the clink. Jersey majors have been often in the clink for more serious reasons. But this story gets them all into the clink.
The highlight was a goofy hip hop version of "Hava Nagila" curated by Ricky Bing who appears in a tallit and later admits that his real name is Goldstein. It's an Orthodox wedding, and guys in black hats and payis do a fast, furious, funny hip hop hora. "Fiddler" was never like this!
Understudy Becca Kött does a fine folk-rock delivery as the waitress who was Mitch's high school girlfriend. Her rebellious activist bright red-dyed hair daughter Billie (nicely portrayed by Noa Solorio) confides to Ricky that she secretly listens to classical music and belongs to the Society for Future Women Engineers.
The choreography by Chris Bailey sometimes reminds me of an exercise routine of guys preparing for a fight. Which they are. In this case, everybody won.
Visit Lucy's website http://thekomisarscoop.com/