"Midsummer: A Banquet" is charming Shakespeare plus tapas
"Midsummer: A Banquet."
Food of Love Productions and Third Rail Projects.
Written by William Shakespeare; directed and choreographed by Zach Morris. Adapted by Zach Morris and Victoria Rae Sook.
Café Fae (829 Broadway) bet 12 & 13th Streets, New York City.
(866) 811-4111 https://www.foodofloveproductions.com/
Running time 2 ½ hrs.
Opened July 24; closes September 7, 2019.
Reviewed by Lucy Komisar July 27, 2019.

A café performance of "Midsummer Night's Dream" is quite a delightful way to spend any mid-summer eve. And the actors of this production, who double passing out tapas and wine to patrons, are as good as any you'll see on the boards. In fact, most of them have been there.
If this is an "immersive" experience, I'm glad it doesn't include leaving your round black bistro table or interacting in the show. It just means the actors are close in and around you. And sometimes on platforms in the rafters, where the first welcome is staged by accordion and trumpet players. (Original music by Sean Hagerty). Think of it as an intimate chamber performance of Shakespeare.


Ryan Wuestewald as Theseus and Victoria Rae Sook as Hippolyta. Photo by Chad Batka.
It's Athens, a place of royals and fairies. The women wear black leather skirts and white blouses, the men brown pants, black boots, suspenders.
Theseus (Ryan Wuestewald), duke of Athens, and Hippolyta (Victoria Rae Sook), queen of the Amazons, are about to be wed. But other nuptial plans are contested. The father of Hermia (Caroline Amos) wants her to marry Demetrius (Joshua Gonzales), but she prefers Lysander (Alex J. Gould). To square the triangle, Helena (Adrienne Paquin) loves Demetrius.
Hermia and Lysander take flight into the forest. Demetrius follows in pursuit of Hermia and Helena goes after him.
The cast and Lauren F. Walker as Puck. Photo by Chad Batka.
Meanwhile, the fairy King Oberon (Wuestewald), is annoyed with his wife Titania (Sook), because she pays two much attention to a "changeling," the infant child of a follower who has been given to her. He gets the fairy Puck (Lauren F. Walker) to squirt the juice of a magical flower in her eyes so that when she wakes, she will fall in love with the first being she sees.
And while Puck is at it, Oberon has noticed the difficulties of the two erstwhile couples and orders the potion to douse the eyes of "the Athenian." He assumes Puck will target Demetrius, who will then fall in love with Helena.
Titania wakes to see Bottom, the craftsman, whose head is now that of an ass. Oberon is amused. But the other plan goes amiss. The flower juice lands in the eyes of Lysander, who falls for Helena. Don't worry, there is an antidote.

Charles Osborne as Bottom and Lauren F. Walker, Alex J. Gould, Caroline Amos and Adrienne Paquin. Photo by Chad Batka.
My favorite character and actor is the overwrought Bottom, played by Charles Osborne. Adrienne Paquin as Helena is terrific, and also a fine singer. I loved Lauren Walker, a charmer who plays Puck with gusto and has a strong, mellow voice. In fact, everyone is good.
The direction by Zach Morris is often magical, with actors walking around with class jars lit gold and red with candles or climbing a pillar which has turned into a tree topped with a garland of leaves (set by Jason Simms). There's a nice couples dance. Then it gets more physical, even a little slapstick, with the four lovers cavorting, jumping on tables and over each other.
For the food, the tables are set with plates of cheese, salami, veggies, dips, whole grain rolls. (Tasting menu by Emilie Baltz.) You get a glass of wine and can buy more. Premium tickets get you several other dishes, but the price isn't worth it. A glass with a mushroom, olive, dried apricot. Then a small bowl of beans, quinoa, tahini, tomato. Finally, actors throw out handfulls of cherries tied in cloth napkins. Everybody gets to toast the couples with champagne and wish them sweet lives with chocolate.

Visit Lucy's website http://thekomisarscoop.com/
---
Serving Shakespeare in a Different Way – "Midsummer: A Banquet"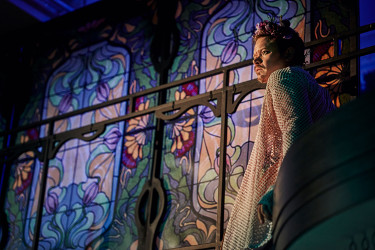 Ryan Wuestewald in Midsummer: A Banquet, Photo by Chad Batka.
Midsummer: A Banquet
Directed by Zach Morris
From July 15, 2019
Café Fae
829 Broadway
Monday-Thursday @7pm, Friday @8pm, Saturday @5pm and 9pm
Tickets: from $75
Closes Sept. 7, 2019
Reviewed by Paulanne Simmons Aug. 17, 2019
Food of Love Productions and Third Rail Projects turn A Midsummer Night's Dream into Midsummer: A Banquet in a very tasty tribute to the Bard. The show, directed and choreographed by Zach Morris, features a talented cast that sings, serves, dances and acts. All of the actors play several parts, and they slip in and out of their roles and tasks as seamlessly as day turns into night or the seasons change. Of all Shakespeare's plays, probably none goes better with a multi-course meal than this much beloved comedy.

A Midsummer Night's Dream chronicles the arcadian adventures of two amorous couples that keep changing their alliances. There are also six bungling amateur actors who are determined to present the newly wed Duke Theseus of Athens and Queen Hippolyta of Amazon with their dramatic rendition of Ovid's "Pyramus and Thisbe." The comedic confusion is aided by the meddling of Oberon, king of the fairies, and his estranged wife, Titania.
While the actors perform, the audience feasts. The menu, created by executive chef, Jacob Rosette, is of course, delicious, and quite healthy. There's also wine and champagne that's served at the end of the show.
But aside from the interesting concept, what makes this production truly innovative is Morris's whimsical and delightful direction. Morris makes excellent use of Café Fae's space: a pillar is turned into a tree, and actors descend from a catwalk. He supplements Shakespeare's transcendent dialogue with tremendous physical humor, especially in the fight and flight scenes. And he makes very clever and effective use of dance.
The cast is made up of eight talented actors: Caroline Amos, Joshua Gonzales, Alex J. Gould, Charles Osborne, Adrienne Paquin, Victoria Rae Sook, Lauren F. Walker, Ryan Wuestewald. Although they are uniformly excellent, Osborne is unforgettable as the clueless and clownish mechanical, Bottom. And Amos and Paquin prove formidable opponents as Hermia and Helena when they try to straighten out their confused lovers
Purists may complain that in adapting the play, Morris and Sook have cut too deeply into Shakespeare's text. Others may grumble that the menu offers many appetizers with no main course. But sometimes a gentle breeze on a summer night is much more effective than a winter's storm.