KT Sullivan is a smash in "Love, Noël: the Songs and Letters of Noël Coward"
"Love, Noël: The Songs and Letters of Noël Coward."
Written by Barry Day; directed by Charlotte Moore.
W. Scott McLucas Studio Theatre, 32 West 22nd Street, New York City. (212) 727.2737.
General seating. Opened Aug 1, 2019; closed August 25, 2019.
Running time 80 min.
Reviewed by Lucy Komisar 8/11/19.
KT Sullivan and Steve Ross. Photo by Carol Rosegg.
KT Sullivan is a smash as a comic Elaine Stritch in Noël Coward's "Why do the wrong people travel?"
"Why do the wrong people travel, travel, travel
When the right people stay back home?
What compulsion compels them
and who the hell tells them
To drag their cans to Zanzibar,
instead of staying quietly in Omaha.
The Taj Mahal and the Grand Canal
And the sunny French Rivera
Would be less oppressed if the Middle West
Would settle for somewhere rather nearer."
For that, she drops a few octaves down from her elegant soprano. And she doesn't just sing, she performs. I've seen her doing cabaret, but never knew she was such a good actress.
Sullivan is the reason to see this show, co-starring Steve Ross, which was written by Barry Day and directed by Charlotte Moore.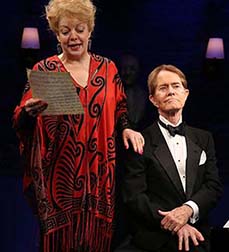 KT Sullivan reads a letter from the correspondence of Noël Coward (Steve Ross). Photo by Carol Rosegg.
Sullivan also does a terrific "Mad About the Boy." Her sweet soprano is nostalgic in the song from "Private Lives" where she plays Gertie Lawrence.
The story between the songs is Coward's life, told through his copious letters to friends and theater people. Steve Ross plays Coward and Sullivan various people in his life.
Some of the letters are rather pretentious, notably to his mother. Others are appealing and interesting, especially about the joys and perils of the theater life. There's lots of famous name-dropping: Marlene Dietrich, Greta Garbo, Lynn Fontanne and Albert Lunt, Winston Churchill and the British Queen Mother.
The downside: Ross, a long-time cabaret singer, at 80 no longer has the voice that made his name. And the venue, a small stadium stage with badly raked rows on two sides, provides some impeded views. Including mine.
Visit Lucy's website http://thekomisarscoop.com/
---
Love, Noël:
The Songs and Letters of Noël Coward,
The Elegance of Yesteryear

KT Sullivan, Steve Ross. Photo by Carol Rosegg.
Love, Noël: The Songs and Letters of Noël Coward
August 1 to 25, 2019 (closed)
The Irish Repertory Theatre, 132 West 22nd Street.
Devised and written by Barry Day
Runs 1:30
With: Steve Ross, KT Sullivan
Set Design: James Morgan, Lighting: Michael Gottlieb, Properties: Brook Von Hensbergen
www.irishrep.org or call 212-727- 2737.
There are probably greater painters than Noël. Greater novelists than Noël, greater librettists, greater composers of music, greater singers, greater dancers, greater comedians, greater tragedians, greater stage producers, greater film directors, greater cabaret artists, greater TV stars, and so on. If they are, they are fourteen different people. Only one man combines all fourteen different talents The Master, Noël Coward — Lord Louis Mountbatten's toast to Noël Coward on his 70th birthday.
Like a symphony of popping champagne corks, with shooting confetti filling the air, Noël Coward's witty, romantic, and cleverly penned songs and letters are being celebrated at the Irish Repertory Theatre by the explosively gifted and multi-talented New York City legends Steve Ross and KT Sullivan. Playing in repertory with Irish playwright Elaine Murphy's award winning Little Gem, Barry Day's Love, Noël closed on Sunday, August 25.
In this highly intimate cabaret show, beautifully gift wrapped in James Morgan's sleek black, silver and blue Deco set, and deliciously bathed in Michael Gottlieb's theatrical lighting, the eighty-year-old tuxedo-clad Ross plays himself, early and late Coward (1899-1973), all the male roles, and of course tickles the ivories for which he is justly famous.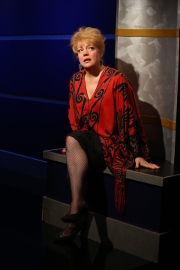 KT Sullivan. Photo by Carol Rosegg.
The beautiful KT Sullivan, Ross' co-star – dressed to the nines in a loosely flowing sparkling red dress and looking younger than springtime – gets to play her continuously smiling and lovable self, other women, and a few of Coward's more famous friends like Marlene Dietrich.
More than once both performers, thanks to Coward's deeply knowing lyrics bring down the house. Though laughs come aplenty, his nostalgically infused lyrics, not about to play second fiddle, continually remind us of lost loves and the inevitable fading of youth,
Alone and in duo, Ross and KT perform some two dozen Coward songs, read a number of letters and first night theater opening telegrams (remember those days) both written by and received from his fans, famous friends, and yes, you might have guessed it, letters both to and from his mother.
Some are truly funny, some sad, and a healthy handful, cleverly masquerading as innuendos, are deliciously risqué. And more to the point all showcase Coward's personal style on stage and off which an article in Time Magazine aptly described as "a combination of cheek and chic, pose and poise".
Speaking of famous friends, Barry Day the creator of Love, Noël floods the script with a bucketful of prominent personages. Quite a few Coward both wrote plays for and acted on stage with. Yesteryear luminaries such as Yvonne Printemps, Gertrude Lawrence, Mary Martin, Marlene Dietrich, Elaine Stritch, Lynn Fontanne, Virginia Woolf, Edna Ferber, Bea Lillie, Winston Churchill, and the Queen Mother, are vividly brought to life, some with a single line or two.
While a number of Coward's songs like Mad About The Boy (Sung by both Ross and KT) , If Love Were All (sung by KT), and I'll See You Again (sung by both), are considered American Songbook classics, many of the show's songs, rarely heard nowadays, as poignant and as beautifully worded as they are, are rarities. Mercifully Ross and KT are giving them new life.
One of Coward's most loved signature songs is Don't Put Your Daughter On The Stage, Mrs. Worthington. As sung by Ross it a drop dead show stopper. A rather long story-telling song, it starts out deceptively as gentle advice being-given to the mother of a young would be actress and ends up with Ross, verging on hysteria, imploring the mother not put her daughter on the stage.
Steve Ross. Photo by Carol Rosegg.
Turning a mite vicious, Ross sings, "One look at her bandy legs should prove she hasn't got a chance. In addition to which the son-of-a-bitch can neither sing nor dance. She's a vile girl and uglier than mortal sin. One look at her has put me in a tearing bloody rage that sufficed Mrs. Worthington, Christ Mrs. Worthington, Don't put your daughter on the stage."
KT is a show-stopper incarnate. Obviously with her extensive theater, TV, and cabaret background she knows exactly how to both capture and hold an audience forever. Though the script is light and airy and peppered with some dry spots, a couple of scenes allow KT's acting and singing chops to shine. In two mini scenes, too short to be more than a teaser, KT laughingly channels Dietrich, in another Garbo. Both bring laughs.
Two knock out numbers allowed KT to trumpet her formidable singing and acting chops. Her rendition of Why Do The Wrong People Travel had the audience rolling in the aisles, as did her 10 minute monologue in which she plays a pushy Coward fan.
This scene starts out innocently enough with KT saying to Ross' Coward, "You had a lot of highlights in your career. What were the low lights?" As it were his low light was when one fan that approached him for an autograph, and refusing to leave, ends up telling him the story of her life.
KT's brilliant comedic fan channeling – recognized by every one of us who ever asked for an autograph or offered a compliment to an actor – triggered a three minute rounds of applause. The monologue is a hoot. And knowing what the audience was craving KT happily milked this scene to a fare thee well.
The play ends, as it begins on a wistful note with Ross and KT singing another Coward classic, I'll See You Again. It is a promise that I am hoping is fulfilled sooner than later.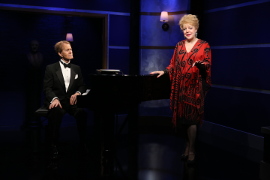 KT Sullivan and Steve Ross. Photo by Carol Rosegg.