Nathalie Schmidt is a French star in the Internet's new web series wave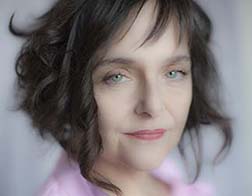 Nathalie Schmidt. Photo by Didier Goupy.
Why does an accomplished French theater and film actress want to act in an American web series? Nathalie Schmidt stars in "I Do," a story set in Brooklyn about Zoe and her screwball attempts to catch a husband. Each episode will be about another prospective guy.
Nathalie started as a child actor over 30 years ago. Her father Jean Schmidt, was a photographer and a filmmaker. She played in some of his films. Her mother, Dolly Schmidt, was a photographer and later a film producer.
When she was at the respected acting school at the Théâtre des Amandiers in Paris, she was sent in an exchange to the Eugene O'Neill Center in Connecticut. She says, "It was a revelation for me, I fell in love with American musical theater."
Then she won a Fulbright grant to spend a year to study musical theater at the American Musical and Dramatic Academy in New York City, with Karen Gustafson (the first woman conductor in Broadway shows), and musical directors Michael Sartor and James Stenborg.
This also meant discovering New York. She says, "It changed my life. I was fascinated by the creativity, the incredible diversity of the culture."
Nathalie Schmidt as a young actress in "Les Clowns de Dieu."
She worked for years in French theater and film as an actress or actress/singer, appearing in 30 dramatic and comic plays in Paris and on tour and acting in 30 films.
She had a featured role in "Europa Europa," a German film directed by Agniezka Holland, which won the Golden Globe for Best Foreign Film and was nominated for Best Foreign Film at the Oscars (1992). It also won the New York Film Critics Award for Best Foreign Language Film (1991 and prizes from the Los Angeles Film Critics Association and others.
But she felt a connection to the U.S. Three years ago, she came to New York to stay a bit longer. She performed shows as a regular lead singer at the Cornelia Street Café. She played in "The Time of Your Life," by William Saroyan at The Mirror Theater in Vermont.
And there was a new theatrical form that beckoned, web television, original episodic content produced for broadcast via the Internet. In Paris just before she came to New York, she had acted in "Weakness," a successful web series in French and English. She was determined to engage in that phenomenon in New York.
Nathalie Schmidt in "Weakness."
What is a web series? They are not the plays, even the one-acts, you are used to. They are a completely new dramatic form –short movies videoed for the web. They are game changers. They are the future of acting.
She became the lead actress for the comic "I Do," a series of six 20-minute episodes in the new media – on the Internet. For Nathalie, "it was a fantastic opportunity to have a great part."
How everything has changed
In the past, a film's director of photography had two assistants, one just to change the magazine. After ten minutes, the filming would stop. The reel would be developed at the lab, one could see the rushes through VHS videotapes."
Nathalie said, "People hardly remember that 20 years ago, films released in theaters were in 35-millimeter or super 16 blown into 35 – or 70 mm for big budget productions.
She explained, "From there came digitalization, a new technology that changed everything. Cut prices. With the invention of the iPhone, anyone could make a film. Steven Soderbergh, who won a Palme d'Or in Cannes when he was 25 for "Sex, Lies and Videotape," made two of his latest films with an iPhone."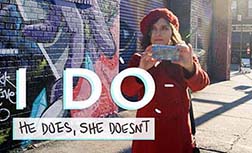 Nathalie Schmidt in "I Do."
When you see a movie — one movie is two hours – it's one story with beginning, middle, end. The web series are different. This is more like a TV series, though the TV series never end. In a web series you have chapters and they are much shorter, two to the longest, 20 minutes, rarely to 30.
Why do this web series? She said, "It was to do with the American dream to be in an American film. the creativity allowed by the production of the web series on the internet allows a lot to be done. It's a way to have a great part and star in a show that so many can see. It's an opportunity to act in English and show one's work in a broad context. Because of the streaming, it's worldwide."
Nathalie pointed out, "They are different from the soaps in content. Before the internet, when there were just TV channels, the boss would decide the content. Each channel had rules, editorial direction, a line. Soaps were very formula. Soaps for 55-year-olds, for teenagers."
Nathalie Schmidt in "I Do."
"Now," she said, "there are new audiences, many of them millennials. The landscape of the new media changes the audience. On the internet, you can find your audience. People who don't watch TV anymore, just watch shows on their phones or computers. That's one reason the episodes are short."
She said, "It's a critical moment, everything is changing so fast. With portable computers and smart phones, they can watch everything on their phones or computers: the major networks and what is posted on YouTube.
Why be in a web series?
She found that, "It's also a way to try new original material or experimental stories/productions which wouldn't exist nor be produced in the same way in regular TV programs. These "new media" productions are a sort of a New Wave. All kind of new creative material can be produced, invented by the filmmakers. That's why it is so exciting for actors too."
The oldest web series dates to 1995, when Rox, a public access program in Bloomington, Indiana, distributed an episode called "Global Village Idiots." The oldest festival is the Los Angeles Web Series Festival founded in 2009. The LA organizers have had ten years to watch the new genre's growing importance.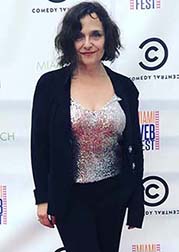 Nathalie Schmidt at Miami WebFest 2019, where "I Do" got a best pilot nomination. Photo Marcia Romero.
Nathalie recalled, "When I received my first award at the LA WebFest in 2017, the Outstanding Guest Actress in a Drama award for "Weakness" (created in English and French by Lucie Tournant), a panel there asked the question, "Acting in a web series: what's in it for me?"
The answer was that "new, established and famous actors were working on web series as launching pads for careers." It said the web series was "the new calling card" for young actors and "the new hip card" for established actors.
She said, "The director of the festival said on stage that a lot of famous actors choose to be in web series to expand their career, to have parts they would not have accepted before. There's a new group of lively, creative film directors who want to create something new with low budgets. It's a way to be shown, to be noticed, in my case, win awards. The "I Do" pilot has been on line since 2017, and people still watch it."
The pilot got Nathalie best actress nominations at the Brooklyn WebFest 2017, the Asian Web Awards (in Seoul) 2017, the Minnesota WebFest 2018, and the Southern States Indie FanFilmFest 2019. She won a best lead actress in a comedy award at the Central States Indie FanFilmFest 2019 and an "outstanding lead actress" award in the WRPN.TV Global Webisode Competition (WGWC) in 2019.
Watch for developments in this new wave. And for Nathalie Schmidt as one of its pioneering actors.
Visit Lucy's website https://thekomisarscoop.com/