In "Linda Vista" the view of a womanizer is not so pretty
"Linda Vista."
By Tracy Letts, directed by Dexter Bullard.
Helen Hayes Theater 240 W. 44th Street, New York City.
(212) 541-4516, https://2st.com/shows/linda-vista
Opened Oct 10 2019, closes Nov 10, 2019.
Reviewed by Lucy Komisar Oct 16, 2019.
2hrs 40min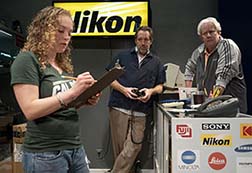 Caroline Neff as Anita, Ian Barford as Wheeler, Troy West as Michael, photo Joan Marcus.
In Tracy Letts' story of mid-life crisis, Wheeler (Ian Barford) is a guy of 50 who was ditched by his wife and still can't figure it out. He has a lot of the traits that should make trendy folks of his age like him. He likes Miles, Coltrane, Ella. Hates rock. Likes Fellini and Bergman. Hates movies made for men with 13-year-old minds. Likes to think of himself as sensitive, viz a photo he took of a child in a hospital years ago. He's acceptable-looking, with only a hint of a paunch.
Wheeler started out as a newspaper photographer, but now repairs cameras in a shop run by a gross, dirty-mouthed boss (Troy West). They are both hitting on the shop assistant, Anita (Caroline Neff), who needs the job.
Wheeler is deceptive, not just of others, but to himself. Why did his marriage fail? He had an affair. Why can't he connect to his 14-year-old son who shuns school, watches hate porn and seems on a path to self-destruction? Why does he wreck the chance of a terrific connection to a bright, sexy woman?
Maybe the crisis started a long time ago, and has nothing to do with mid-life. Barford plays Wheeler well as a man who you increasingly distrust, not helped by his pretend vulnerability.

Cora Vander Broek as Jules and Ian Barford as Wheeler, photo Joan Marcus.

"Linda Vista," the name of the San Diego apartment complex where Wheeler lives, also means pretty view. And the changing colors of the palm-tree and water views are stunning. But maybe a deceiving wrapper. It's pretty just on the outside.
His friends Paul (Jim True-Frost) and Margaret (Sally Murphy) set him up with the charming Jules (the very good Cora Vander Broek), in her late 30s. She's a psychologist with a degree in happiness. Is that a New Age joke? They connect. The nude sex scene goes beyond what you usually see on stage.
Director Dexter Bullard manager to keep the mood on just a serious theater side of soap-opera or sit-com. There are funny one-liners. Wheeler is divorcing. His soon-to-be ex-wife wants a lot of money, a figure "so high, only dogs could hear it."
Cora Vander Broek as Jules, Ian Barford as Wheeler and Chantal Thuy as Minnie, photo Joan Marcus.
But then there is Minnie (Chantal Thuy), a 20-year-old who he sees at the pool and takes up with. She is pregnant. What do you think of a man of 50 who adopts a kid over half his age and to pretend he's of her era, affects a black leather jacket and pork pie hat?
Jules tells him, "You may not be a psychopath. The jury's out."
Is the guy who thinks he's so cool, likes the right jazz artists and film directors, a prime creep, a fake? Is Wheeler screwed up or just a predatory man who manipulates women? Does that matter to the women? Curiously, as his moral self deteriorates, so does his body, a limp becoming pronounced.
"Linda Vista" is a male playwright's very astute view of a mid-life womanizer.
Visit Lucy's website http://thekomisarscoop.com/