"My Name is Lucy Barton" features excellent Laura Linney in a potboiler
"My Name is Lucy Barton."
Written by Elizabeth Strout, adapted by Rona Munro and directed by Richard Eyre.
Manhattan Theatre Club at Samuel J. Friedman Theatre 261 West 47th Street, New York City
212-239-6200; http://LucyBartonPlay.com
Opened Jan 15, 2020; closes Feb 27, 2020.
Reviewed by Lucy Komisar Jan 21, 2010.
Laura Linney creates a fine portrait of a women seeking to pull a life out of a harrowing childhood in a play that unfortunately descends into soap opera.
"My Name is Lucy Barton" was a book by Elizabeth Strout, here adapted by Rona Munro and staged by Richard Eyre. Director Eyre, like Linney very accomplished, does a good job, almost making you forget that this is a potboiler.
Into the melodramatic pot go childhood trauma, sadness, a distraught memory. A mother who is cold and distant, a father who has an unfortunate sexual habit that may be traced to his guilt as a soldier when he shot two young Germans in the back. (It does not involve touching her.)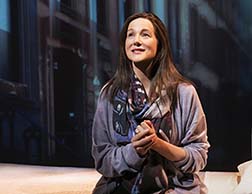 Laura Linney as Lucy Barton, and the Greenwich Village brownstone. Photo Matthew Murphy.
But Lucy is resilient, reaches for books, gets a college scholarship, marries a man with a postdoctoral appointment at a university, moves to a brownstone in Greenwich Village, becomes a writer. She wears thin black slacks, a gray cardigan, set off by a purple and gray scarf, stylish for someone of her new life.
She says, "A writer needs to be ruthless, means grabbing on to your own life," which in this case means brutally dissecting hers. She has one story she is selling over and over.
We learn it all when she is in a hospital for nine weeks, the result of a fever that hit after an appendectomy. Her mother, who she hasn't seen in years, shows up for a five-day visit. Linney plays both roles, Lucy as soft-spoken, intelligent, and the mother as a cackling harpie with an exaggerated mid-western twang.
Laura Linney as Lucy Barton remembering her rural childhood. Photo Matthew Murphy.
This is partly about class. They lived in rural Amgash, Ill. Her father worked on farm machines; her mother sewed. They were poor; the house was always cold. They were so poor that growing up in 60s, she had no knowledge of pop movies or music.
But it was more than that. Sometimes her parents locked her in a truck in lieu of a babysitter or as punishment. She screamed. She talks about "the thing" daddy did. (No, it didn't involve touching her.) Mother is furious and angry about neighbors' affairs. It's not clear why her mother was cold to her. Lucy almost cries at the kindness of the doctor.
Displaying her own motherly instincts, when her daughters, 5 and 6, come to visit, she marches them into the shower, because they are dirty.
Linney is good at portraying a woman who still experiences and suffers from her past sorrow. She is lonely in the room after her husband moves her out of a double because he couldn't stand the dying old woman in the next bed calling for help. If Lucy is seeking a compassionate soul, he isn't it.
Laura Linney as Lucy Barton, with the Chrysler Building seen through her hospital room window. Photo Matthew Murphy.
She sits on the hospital bed or in a plush chair. Luke Halls' projections create a rich background of rural cornfields, the Village, and, most surprising, a view of the Chrysler Building through the hospital room window. I can't imagine what hospital in Manhattan has that view.
Finally, the play becomes tedious. This might be a better print story than a monologue.
Visit Lucy's website http://thekomisarscoop.com/
---
"My Name Is Lucy Barton"
Lost In Translation
"My Name is Lucy Barton" opened on Wednesday, January 4, 2020
Samuel J. Friedman in New York City, 261 West 47th Street.
Closes on Saturday, February 29, 2020.
Written by Elizabeth Stout, adapted by Rona Munro, and Directed by Richard Eyre.
Running Time: 70 minutes with no intermission.
Info/tix: manhattantheatreclub.com or call 212- 239-6200.
Reviewed by Edward Rubin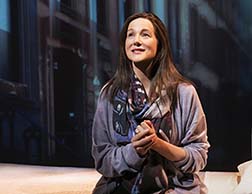 Laura Linney as Lucy Barton, and the Greenwich Village brownstone. Photo Matthew Murphy.
"My Name Is Lucy Barton," written by Elizabeth Stout and published to a chorus of Hosannas in 2016, is now a one-woman, two-character play, running through Saturday, February 29 at Manhattan Theatre Club's Samuel J. Friedman Theatre on Broadway. Adapted from the book by Rona Munro and directed by Richard Eyre, Lucy Barton stars Laura Linney, an actress whose every outing (be it film, stage and TV) seems to elicit a cascade of unanimous raves. Tellingly so, her Playbill bio lists countless nominations and acting awards. Linney's last Broadway appearance was in 2017 in Lillian Hellman's The Little Foxes where, alternating the roles of Regina and Birdie with Cynthia Nixon, Linney garnered her 4th Tony nomination.
I'd like to say that current edition of "My Name Is Lucy Barton," which debuted in in London in 2018 to rave reviews, blew me away. Alas, the entire 70-minute production, despite much talk about Lucy's varied life experiences, proves listless to the point of boredom. It is not that the director (and I imagine Linney too) don't try to breathe some life onto stage by adding a little bit of movement, as well using various location projections (Bob Crowley). But neither of which did much to quicken one's mind or pulse. The biggest problem, as I see it, is the play, still essentially a piece of literature, better read than seen. And it's far too intimate for such a large venue; it is all but lost in space.
Nevertheless, Lucy's story is sensitively told by Linney, mostly in quietly delivered decibels. But Lucy's journey, predictable from the get-go, offers no excitement, no surprises, and almost no humor, that is, unless you buy into the gossipy small-town stories told in a midwestern bark by her visiting mother (also played by Linney).
The play which covers Lucy's journey from childhood, leaving home, marriage, two kids, a divorce, and remarriage, to becoming a writer of a bestselling book, does offer a few strands of beautiful written and heart-felt thoughts for the audience to think about (or wallow in) if that is their wont.
Laura Linney as Lucy Barton, with the Chrysler Building seen through her hospital room window. Photo Matthew Murphy.
Setting the scene, the play softly, almost apologetically, opens in an obvious hospital room with only a bed and a chair on view, with the casually dressed Lucy, coming downstage and informing the audience tentatively that "there was a time, and it was many years ago, when I had to stay in a hospital for almost nine weeks. This was in New York City. I think it was in those nine weeks, during those nine weeks that this begins. What begins is this story, or rather…This is the memory I reach to, to begin this story. Perhaps that is because, in those nine weeks, I was, at times, uncertain of my survival."
As the story goes, Lucy went into the hospital to have her appendix taken out, and "after two days they gave me food, but I couldn't keep it down. And a fever arrived. No-one could isolate any bacteria, or figure out what was wrong. No-one ever did. Lucy informs us at this time she had a husband William who rarely visited her as he was busy running the household, busy with his job, and he hated hospitals, as his father died in one when he was fourteen. She also talked about missing her two young daughters who were at home.
Three weeks into her stay at the hospital and suffering from loneliness, Lucy wakes up, and, sitting at the foot of her bed is her mother who she hadn't seen in years. Hearing her mother call her by her long-ago pet name Wizzle calms Lucy down, "It was as though all my tension had been a solid thing, and now it dissolved. That night for the first time I slept without waking." Thus, begins the bulk of the play, around which most of the action, if you can call it that, 0ccurs. During her stay, Lucy's mother rarely leaves the set's one chair. This is her perch for the entire play. Lucy on the other hand, (not that it adds much variety), does have some 15 feet of free reign.
A certain sadness, one can call it a disconnect, exists between Lucy and her mother. No doubt they love each other in their own way, but there is too much baggage, and too many years to wade through, most of which remains silent, as neither ask the questions that would possibly pierce the protective wall surrounding them. The mother never asks about Lucy's husband, and Lucy never questions her mother about her still living father who fought in the second world war and suffered from post-traumatic stress disorder.
We do learn that Lucy and her siblings were beaten and deprived of TV, films, and magazines, and that her father once locked Lucy in his truck. A lot of time is spent during the mother's visit with each of them staring at each other, in wonder, if not disbelief.
After 5 days the mother leaves as abruptly as she appeared. "I have no idea if she kissed me goodbye, but I cannot think that she would have. I have no memory of her even kissing me," Lucy says. "She May have kissed me though; I may be wrong." Amidst telling the story of her life, both then and now, Lucy does manage to ask her mother if she loves her. The answer, indicative of their guarded relationship, "when your eyes are closed."
As far as Lucy opening up to her mother, "I wrote my mother a letter. I said I loved her, and I thanked her for coming to see me in the hospital. I said I would never forget that." The mother's answer, arriving on a postcard, signed 'M.' Lucy notes, I will never forget that either." A resigned peace seems to have taken place on both sides.